As promised, I'll still continue posting my Whole30 complaint recipes. Being the Asian girl that I am, I still can't live without Asian food. Particularly hot and spicy Thai food. Since we can't have rice during the 30 days, it doesn't mean I can't enjoy my curries right?
There are 2 ways to go about making the curry. If you are hard working enough, make it from scratch. If you are looking for a shortcut, then make sure you know how to read the label on the curry paste. I read EVERY SINGLE FREAKING curry paste that's in the 3 supermarkets I frequent to make sure it is compliant. All but one contain sugar, and/or soybean oil, which are whole30 no-nos.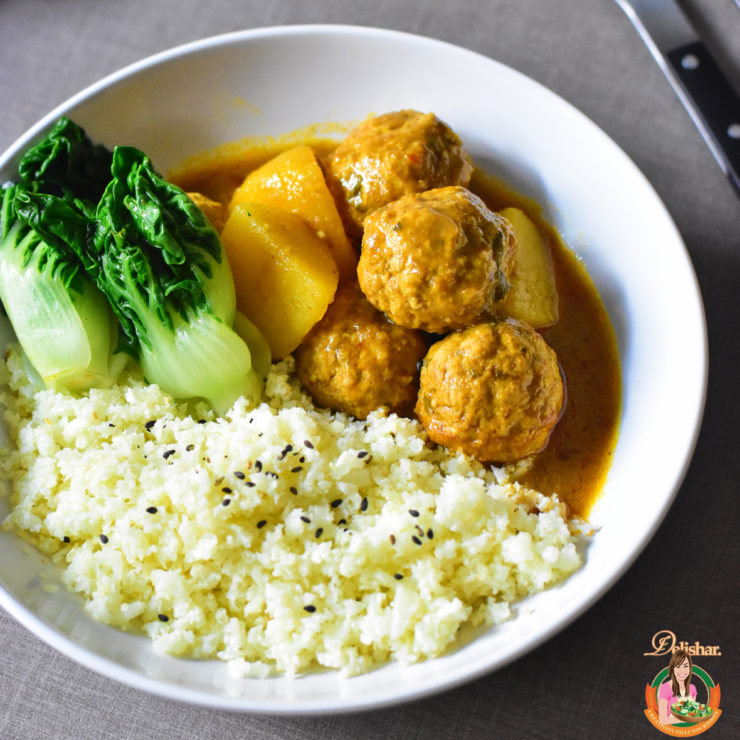 Then I found Brahim's chicken curry. Honestly, not the best tasting curry, but it'll do. I had to doctor it up with some more dried spices. Next time, I'd add some lemongrass, onions, garlic, and ginger paste too. Looking at what I'm typing, I might as well make my own curry paste. Hmmm, perhaps I should! Then freeze them in batches. Recipe idea! heeeeeeeee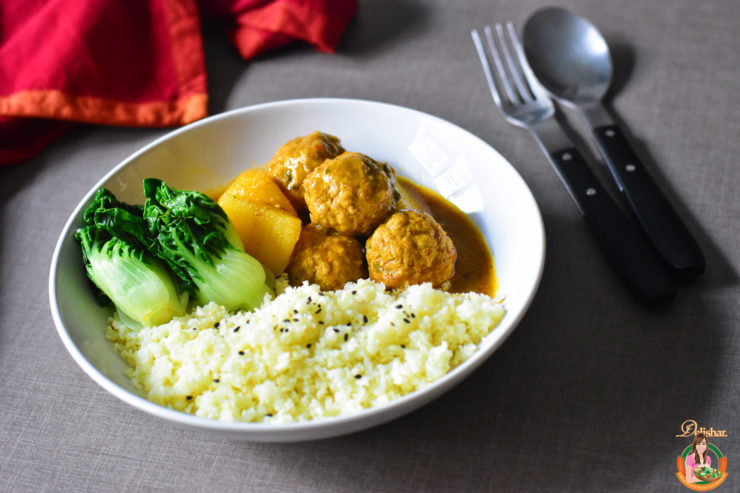 Of all the ways that I've made cauliflower rice, roasting it in the oven is my favourite method. Simply because it is a pretty hands off process, and it helps to dry the moisture of the cauliflower. This method yields fluffier texture that resembles rice grains. 
Do not skip the step of browning the potatoes. This gives the potatoes a little more of a crust which keeps it from breaking down into mush when cooking. It's so much more delicious when you take the time to do a little more with the ingredients. Without further ado, here's the recipe.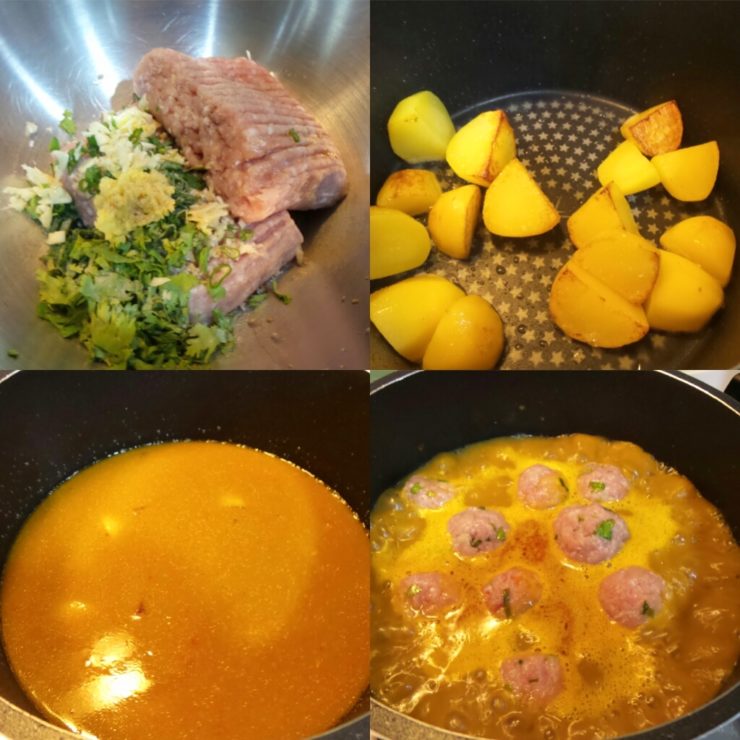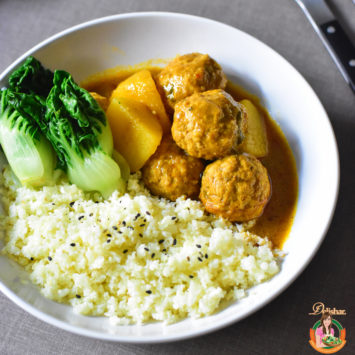 Asian Meatball Curry (Whole30, Paleo)
Delishar
Serves 4-6
Meatballs
500

g

minced pork

1

tbsp

minced lemongrass

3

cloves

garlic

minced

2

tbsp

chopped spring onions

2

tbsp

chopped cilantro

1

tbsp

grated ginger

1

tbsp

fish sauce

1

tbsp

coconut aminos

White pepper to taste

2

tsp

sesame oil
Curry sauce
Compliant red curry paste

I used Brahim's chicken curry

Water as needed

or coconut milk as needed, read your packaging
Potatoes
2

russet potatoes

cut into 1 inch pieces

1

tbsp

coconut oil
Cauliflower rice
500

g

cauliflower

cut into florets

1

tbsp

coconut oil
Mix all the ingredients for meatballs together and form 1 inch balls.

Heat a pot on medium high, and add 1 tbsp coconut oil.

Add potatoes and cook until slightly brown.

Add curry paste into pot to cook until fragrant.

Then add water, stir, and bring to boil.

Drop meatballs into the curry, and bring back up to a boil. Do not stir or meatballs will break up!

Cover, reduce heat to medium, and allow to cook for 15-20 minutes until meatballs are cooked through and potatoes tender.
Cauliflower rice
Preheat oven to 200C.

Process cauliflower florets in food processor until you get rice like grains.

Lay out cauliflower rice on a large baking pan, and drizzle coconut oil over.

Bake for 12-15 minutes until slightly brown on the sides.