Day 10! Based on the Whole30 timeline, day 10 & 11 is the time when most people who quit on the program caves. Day 9 was extremely tough for me. I was unusually tired, I crave sugar to get me going. Perhaps because of the lack of good night sleep the night before. My youngest came into my room in the middle of the night, crawled into bed, and asked me to snuggle her. I think she was a little anxious about having her cast and k-wires removed. Usually I'll send her back into the room, but that night I allowed her to sleep with us. Needless to say, I didn't sleep very well as I was afraid that I'll roll over her or hurt her broken arm. 
She had her cast and 3 k-wires removed, and her elbow and wrist are healing well. 6 more weeks of light duties before she can resume normal activities. Despite her limited arm movement when she still had her cast on, she was adamant about making dinner with me one evening. So I can't say I made this pumpkin soup entirely on my own. It was team effort. She also had her chef hat and apron on while helping me out. lol!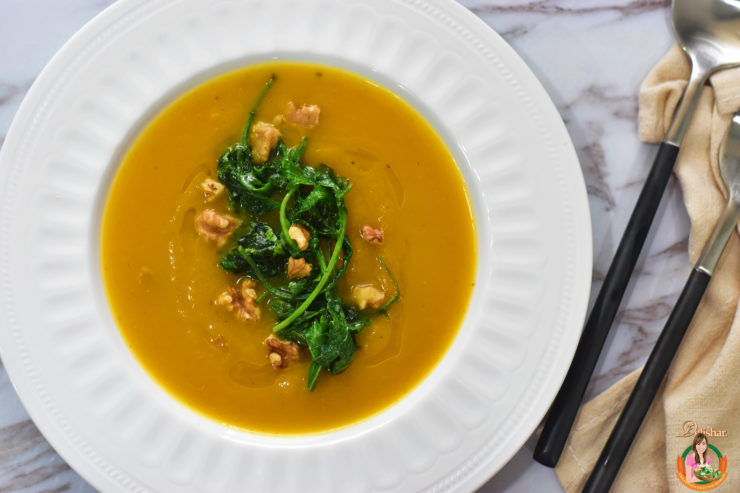 I knew that this soup is going to put a smile on the husband's face when he sees it. He is a big fan of soups. True enough, the first thing he said was, "This is reeeaaallly good!". I made enough for us to have it for lunch the next day with a side salad. Soup and salad is always good. 🙂
The soup can be spicy depending on the curry powder that you use. My curry powder is pretty strong, so use a milder one if the kids are having it too. My kids aren't pumpkin fan, so I made something else for them for dinner that night. If you have 30 minutes to spare, do give this recipe a try. I promise you it will be worth it. It's a great make ahead as well!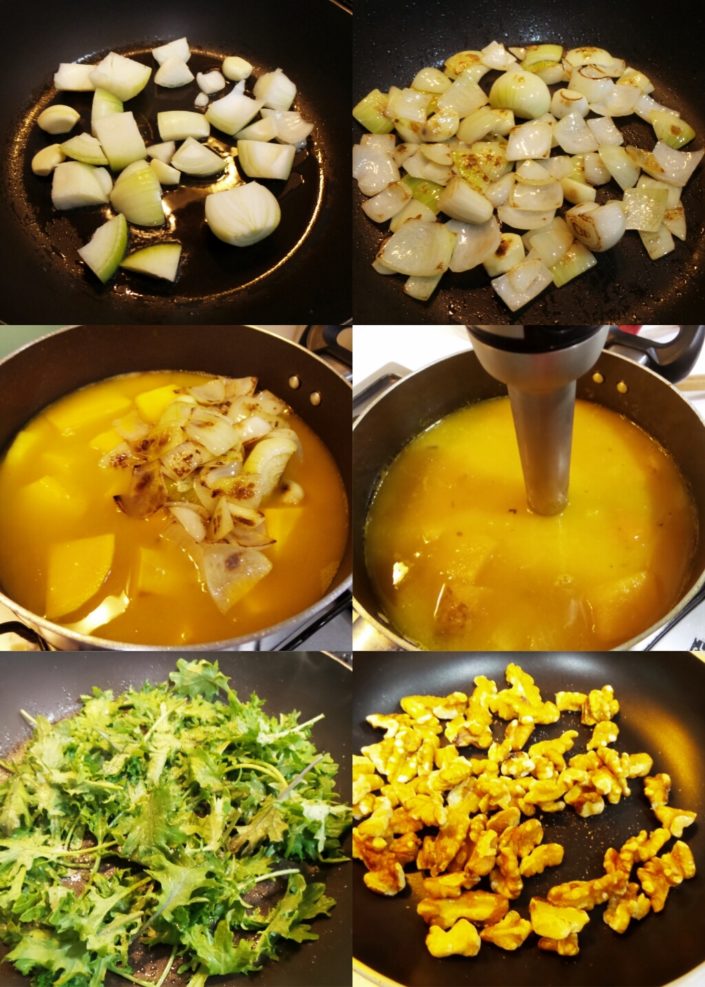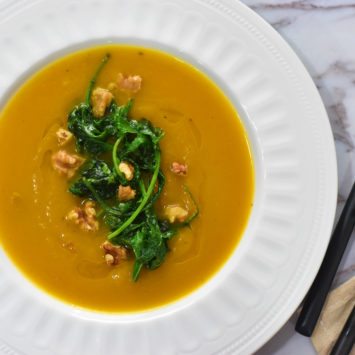 Curried Pumpkin Soup
Delishar
4

cups

1L chicken/veg stock*

1

yellow onion

diced

3

cloves

garlic

smashed

800

g

pumpkin

cut into 1 inch cubes

1

large carrot

cut into 1 inch pieces

1

tbsp

olive oil

Salt and black pepper to taste
Toppings
2

cups

baby kale

20

g

walnuts

2

tsp

olive oil

2-3

tsp

curry powder

Salt and black pepper to taste

Olive oil to drizzle

optional
Curried Pumpkin Soup
Heat pot on medium high heat with 1 tbsp oil.

Add onion to cook until softened, about 1 minute.

Then add garlic to cook until slightly browned.

Pour stock into pot, add pumpkin and carrot.

Bring to boil, and lower heat to medium low.

Simmer 20 minutes until carrot and pumpkin is tender.

Remove from heat.

Heat pan on medium high heat with 2 tsp oil.

Blend with immersion blender until smooth.

Bring it back up to a boil.

Season with curry powder, salt, and black pepper to taste then remove from heat.
Toppings
Saute baby kale with salt and pepper.

Remove and set aside.

Add walnuts into pan and toast.

Remove to cool, and chop into smaller chunks.

Serve pumpkin soup with sauteed baby kale and chopped walnuts.

Drizzle a little olive oil over the soup to finish.
I used Imagine's No Chicken Stock that is whole30 compliant and available at cold storage.