I'm so excited to be sharing with you this recipe. My youngest daughter came running to me after she took a bite of the cookies. She gave me a huge smile, bear hug, and told me,"Thank you, mummy! These are the yummiest cookies ever!" followed by a kiss. It is moments like these that made cooking and baking for them so much more rewarding. And talking about rewarding times, these cookies were actually made by them. Every now an then I'll get the girls involved in baking their own treats. I actually kind of enjoy cleaning up all the mess they made, because I know at the end of the day, the girls are happy.
As I was taking these pictures, the girls were actually crowding around discussing who get which cookie. 'Chope-ing' their cookies. And once I announced that I'm done with the pictures, they started claiming their own. Keeping them in their personal cookie containers.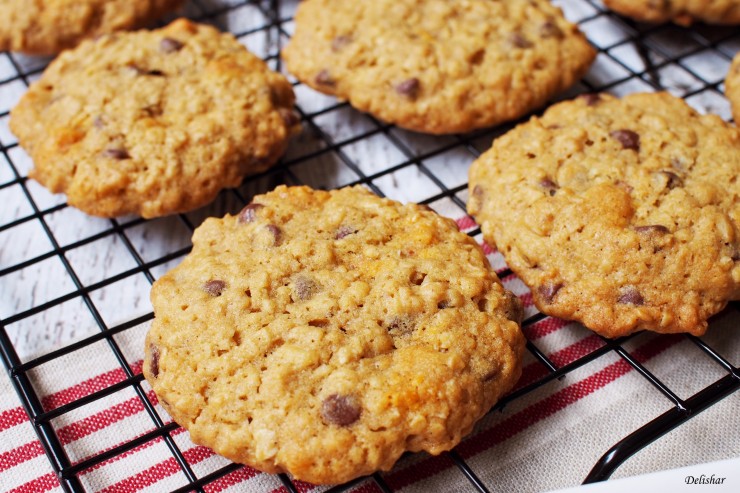 After a few baking sessions with the girls, I'm getting a little smarter at it. This time round, I organised the steps by laying it out in sequence and labelling it with numbers on a post it. They each got a turn to do tasks given the odd and even numbers.
This session teaches them not only baking skills, but also measuring, taking turns, counting, and self-control from not snacking on chocolate chips and butterscotch chips. The girls learned that by snacking on it now their treats will have less chips in it to enjoy later own. See how I sneakily weaved in delayed gratification and decision making here. I realised that there were less fussing, and the girls made very little mess because they knew what to expect and each item has it's own place so they didn't meddle with it while waiting.
The cookies turned out perfect, and absolutely delicious! It has a crispy edge with a soft chewy center. The butterscotch lends a caramel flavour while the bitterness from the dark chocolate helps to cut the sweetness. This is a cookie recipe to keep, and to make over and over again!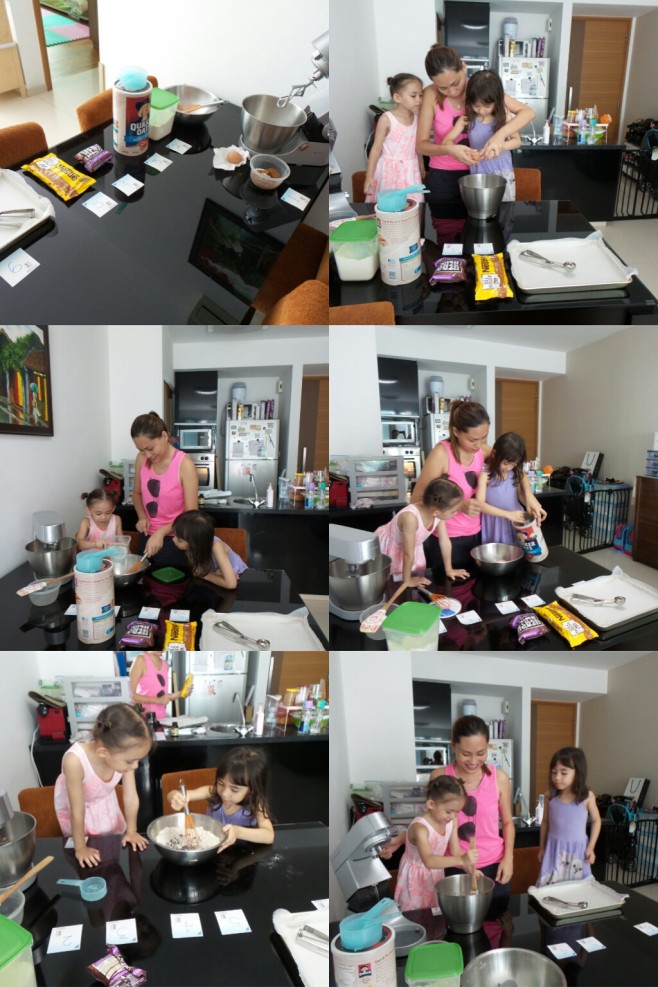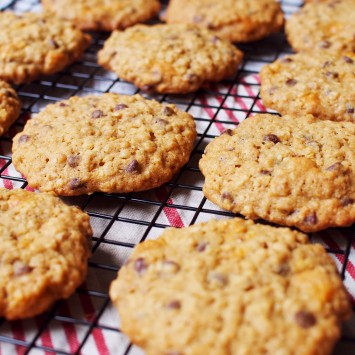 Double Chips Oatmeal Cookies
Delishar
1

cup

128g all purpose flour

1/2

teaspoon

baking soda

1/2

teaspoon

baking powder

1/2

teaspoon

salt

1/2

cup

113g unsalted butter, at room temperature

1/4

cup

55g castor sugar

1/2

cup

100g packed brown sugar

1

large eggs

at room temperature

1

tsp

vanilla extract

1 1/3

cups

120g rolled oats or instant oats

1/2

cup

85g bittersweet chocolate chips

1/2

cup

85g butterscotch chips
Preheat the oven to 175C/350F.

Line 2 baking sheets with parchment paper.

In a mixing bowl, add flour, baking soda, baking powder, and salt.

Sieve if dry ingredients are clumpy.

Then stir in oats and chocolate chips.

In your mixer, beat butter and 2 sugars until light and fluffy.

Add egg and mix until combined.

Then add vanilla extract, and mix.

Add dry ingredients in 3-4 additions.

Use a spatula to make sure it's well combined.

Shape cookies into size of ping pong balls.

Placed on lined cookie sheet about 2 inches apart.

Press cookies down to about ½ inch thickness.

Bake for 10 minutes or until edges of the cookies are golden brown, and still soft in the middle.

Allow cookies to cool for 5 minutes before transferring to cool completely on wire rack.
Don't forget to scrap down your bowl while mixing!
Adapted from Tasteofhome