It's been a while since I indulged in salted egg yolk. It's a once in a blue moon treat for me. It has also been a while since I shared chicken wings recipe on my blog. The last one was last year I think, when I shared my Lime Cilantro Crispy Wings. On that post, I shared about how to attain crispy oven-fried chicken without thick batter and deep-frying.
Using a secret ingredient, baking powder. That combined with a little coating of flour, a very light spray of cooking oil, and a hot oven was all that was needed. The baking powder helps draw out moisture from the skin and evaporates the moisture as it cooks, allowing the chicken skin to crispy up. Flour helps to lock in the juices of the chicken to keep it moist. At the same time, the chicken cooks in it's own rendered fat as it bakes, and excess fat drips off onto the pan.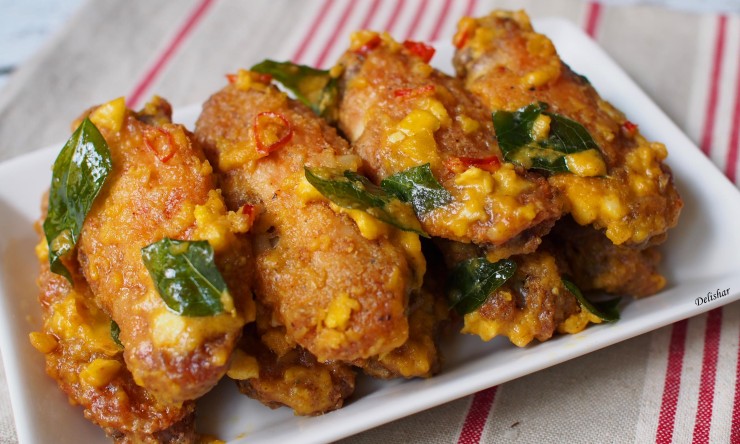 This has been one of my favourite way to make crispy oven-baked chicken wings, and be able to enjoy it with less guilt knowing that it did not come out from a deep fryer filled with oil. This recipe can be adapted to be used in an airfryer as well, as an air-fryer somewhat mimics that of a smaller oven. 
So let me get to the sauce. Oh the sauce… Mmmm the sauce… one word. Orgasmic. I mean, it's salted egg yolk, curry leaves, chilli padi, tad of curry powder to boost the aroma of curry leaves, a tad bit of sugar to balance the saltiness of the yolk, and then the creaminess of the evaporated milk. We made 12 mid wings that night, meant for 4. But I'll let you in on a little secret, the both of us finished all 12 in a sitting. The husband is not a salted egg yolk fan to begin with, but he could not stop eating it. He said, "What sauce is on these wings? The whole thing is really really good! You should make it again." So a word of advice, make more or there will be war.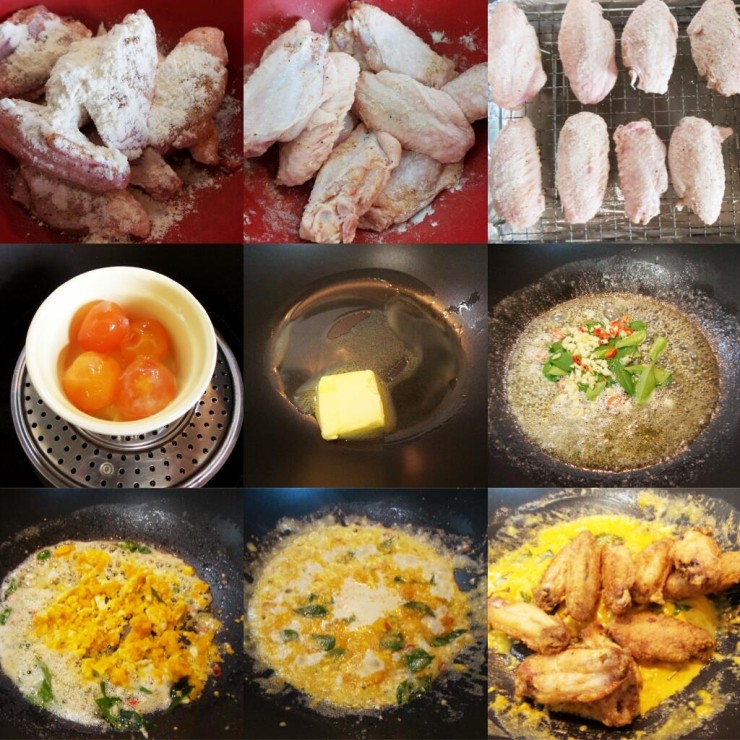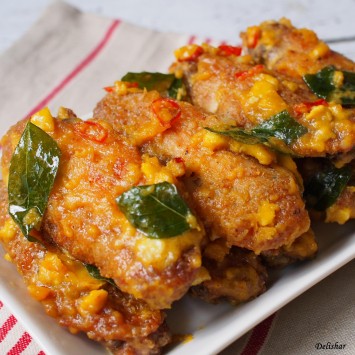 Salted Egg Yolk Wings
Delishar
Oven-baked crispy wings
12

chicken mid wings

2

tbsp

flour

2

tsp

baking powder

Salt and pepper to taste

Cooking spray / melted butter
Salted Egg Yolk Sauce
4

salted egg yolks

20

curry leaves

1

chilli padi

seeded and sliced

2

tbsp

butter

4

tbsp

evaporated milk

1

tbsp

minced garlic

1

tsp

sugar

1/2

tsp

curry powder
Oven-baked crispy wings
Pre-heat oven to 200C.

Clean and pat dry wings.

Season wings with salt and pepper.

In a bowl, toss wings with flour and baking powder, lightly coating each side.

Place wings on wire rack and lightly spray with cooking spray or lightly brush on melted butter.

Bake for 25 minutes, flip and bake for another 10-15 minutes or until crispy.
Salted Egg Yolk Sauce
Steam salted egg yolks for 10 minutes until cooked.

Mash salted egg yolks.

In a pan, melt butter.

Stir-fry curry leaves, chilli, and garlic until fragrant.

Add salted egg yolk and stir-fry until bubbly.

Pour in evaporated milk, and season with sugar and curry powder.

Bring to a boil, reduce slightly, and remove from heat. (This process is quick, do not over simmer and dry up sauce.)
Do not over simmer sauce or over reduce or sauce will dry up.
Add more milk if you want more sauce.