Day 14! We are at the half way mark! Based on the Whole 30 timeline, we should be over the worst and should be feeling boundless energy (tiger blood) at some point. Neither the husband nor I am at that point yet. Then again, some people might never get to the point of tiger blood. We still crave for certain food. I was really craving a warm glass of milk last night. Just sometime soothing other than water or chamomile tea. So sick of that.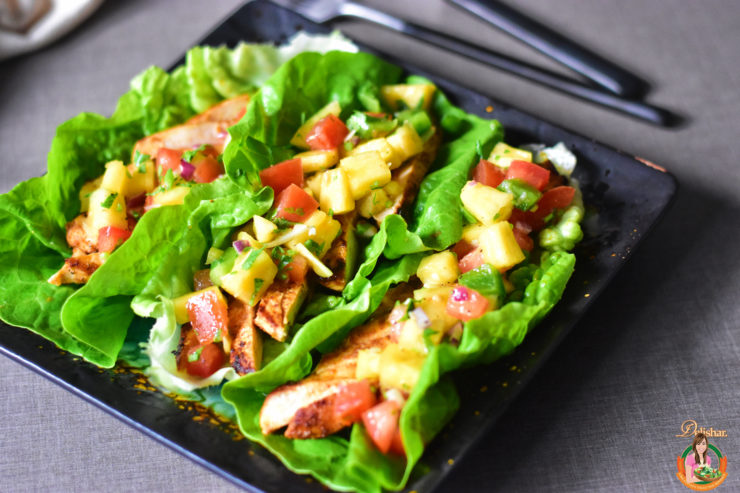 The husband has yet to slay that sugar demon of his, and I'm not sure if he would ever. Whenever he craved something sweet, he would have a fruit or nibble on dates. Yesterday, he played an hour of baseball out in the sun and justified that he needed to quench his thirst by drinking fresh coconut juice.
He has been quite the grump too. Perhaps due to the lack of energy, sugar, and simple carbs. Withdrawal, I'm sure. I hope it'll pass soon. However, the husband has lost quite a significant amount of weight. Not sure how much, but I can feel the difference when I hug him, hold his arm, or rub his belly when I sleep. I now call him 'Stick-Man'.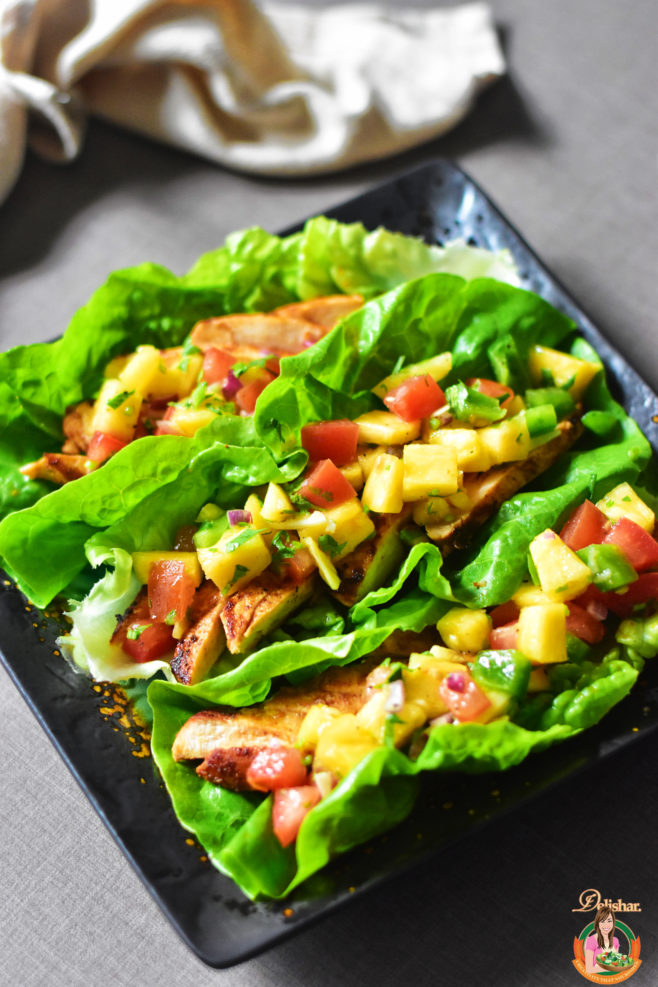 Made this meal on Day 7. This is by far our favourite meal. The girls even gave their stamp of approval. The spice rub on the chicken was AMAZING! And that sweetness from the pineapple was just what the slighly tangy chicken needed. It was a match made in heaven.
I had some left-over chicken and salsa that night. The next day, I tore up some lettuce, heat up the chicken, threw the salsa over the lettuce, and shredded the chicken over it all. Made myself a spiced chicken salad. We are having a little get together with a couple of families over Easter. It's a pot-luck party, and I'm going to bring this as our contribution. I am pretty confident that it is going to be a crowd pleaser. 🙂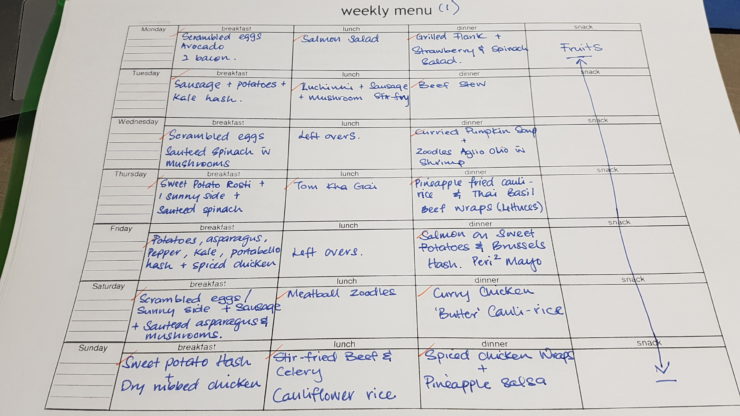 Some readers have asked me to share my meal plan, so here is my week 1 meal plan. If you are planning your whole 30 journey, I hope this meal plan will come in handy for you. Let's get to the recipe, shall we?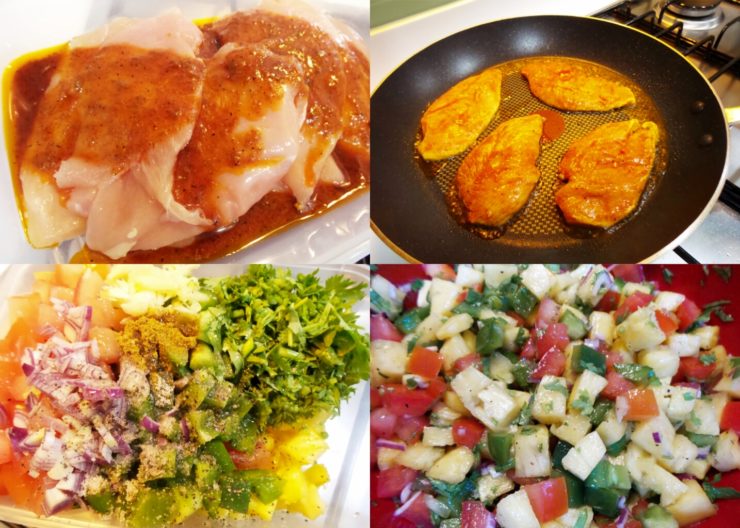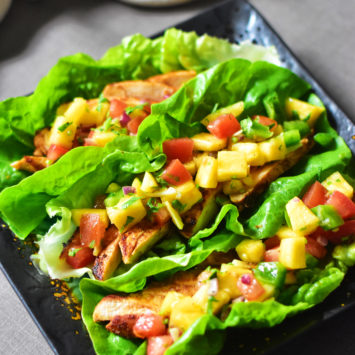 Spiced Chicken Wrap with Pineapple Salsa
Delishar
Spiced Chicken
4

chicken breasts

half it to get 2 thinner pieces

1

tsp

cumin powder

1

tsp

smoked paprika

1/2

tsp

onion powder

1/2

tsp

garlic salt

1

tsp

carob powder

optional

1/4

tsp

ground black pepper

Salt to taste

Zest of 1 lime

Juice of 1 lime

3

tbsp

olive oil
Pineapple Salsa
1

red pepper

diced

1/2

pineapple

diced

2

shallot

minced

2

cloves

garlic

minced

1/2

cup

chopped cilantro

1

tsp

cumin powder

salt and black pepper to taste

2

tbsp

extra virgin olive oil or olive oil
To serve
1

head romaine lettuce

cored, rinse, and dried
In a bowl, mix in all the spices, lime zest, lime juice, and olive oil.

Place chicken into a zip lock bag or container, and pour spice mix over chicken.

Use your hands to rub the spice mix all over the chicken.

Marinate for 30 minutes or over night.

Bring to room temperature before pan frying.

Grease cooking pan placed over medium high heat.

Pan fry chicken for about 2 minutes each side or until nicely browned. Do it in batches.

Allow chicken to rest for 5-10 minutes before slicing into it.