A moist, decadent, luxurious, and ultra delicious chocolate cake that was steamed, not baked. It was surreal when I took my first bite. This cake is hands down one of the best cake I have on my blog. A recipe that I highly recommend.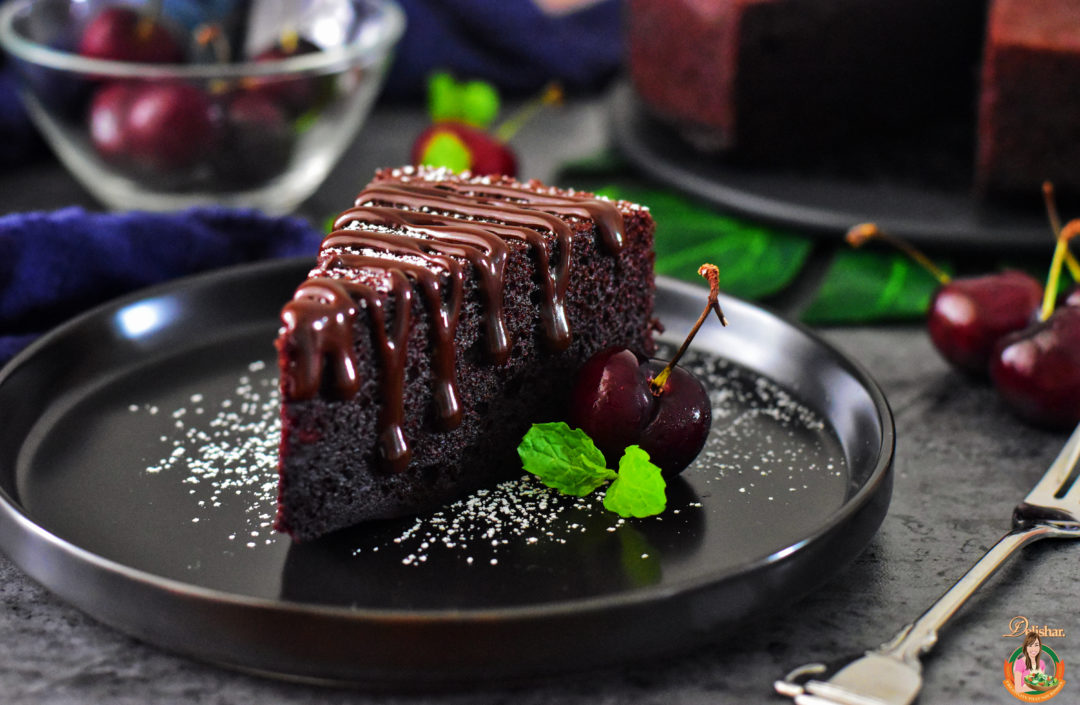 My girls turned to me after their first taste, with smiles on their precious little faces. Gave me 2 thumbs up and said, "Wow! It's very good, mom. Very very good!" They say kids are the toughest food critics. It seems this recipe excelled. Steaming the cake was extremely easy with the Compact and Multifunctional Panasonic Cubie Steam Oven.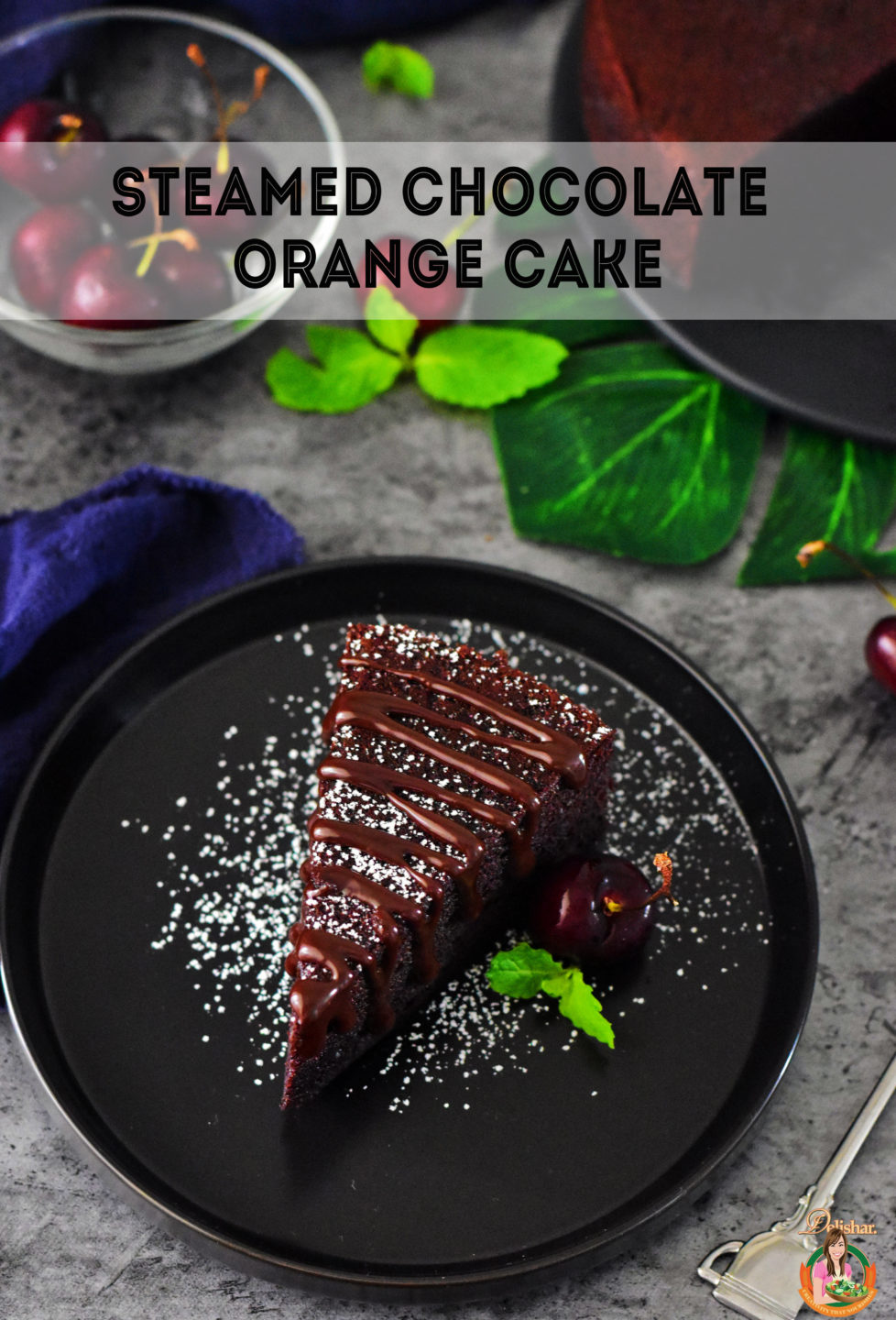 With all the festive, gatherings, and get together this time of the year, this cake is the perfect dessert to bring to parties. Your hosts and their guests will love you! This is the perfect make-ahead party dish. The cake is so deliciously moist (thanks to the steaming method) that you don't have to be afraid of it drying out overnight or two in the fridge!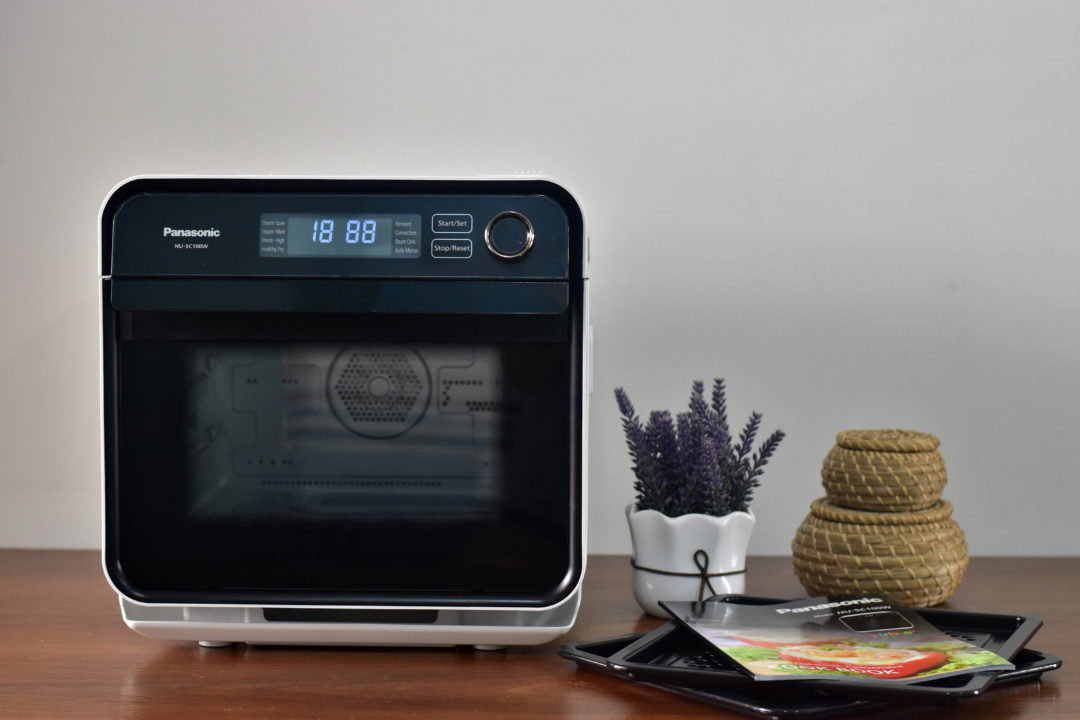 Last year, I shared a Christmas Tree Pizza recipe with you using the fermentation, steam, and convection function. Because the steam function has a 30 minutes maximum time, I wanted to test how it'll hold up to a recipe that needs twice the cooking time. 
As you can already tell from the pictures, it definitely aced the test. All I needed to do was to reset the timer once the 30 minutes beeping sounded. With a quick start of only 20 seconds to get the steamer going, there was no significant loss of steam or heat that will affect the cooking process.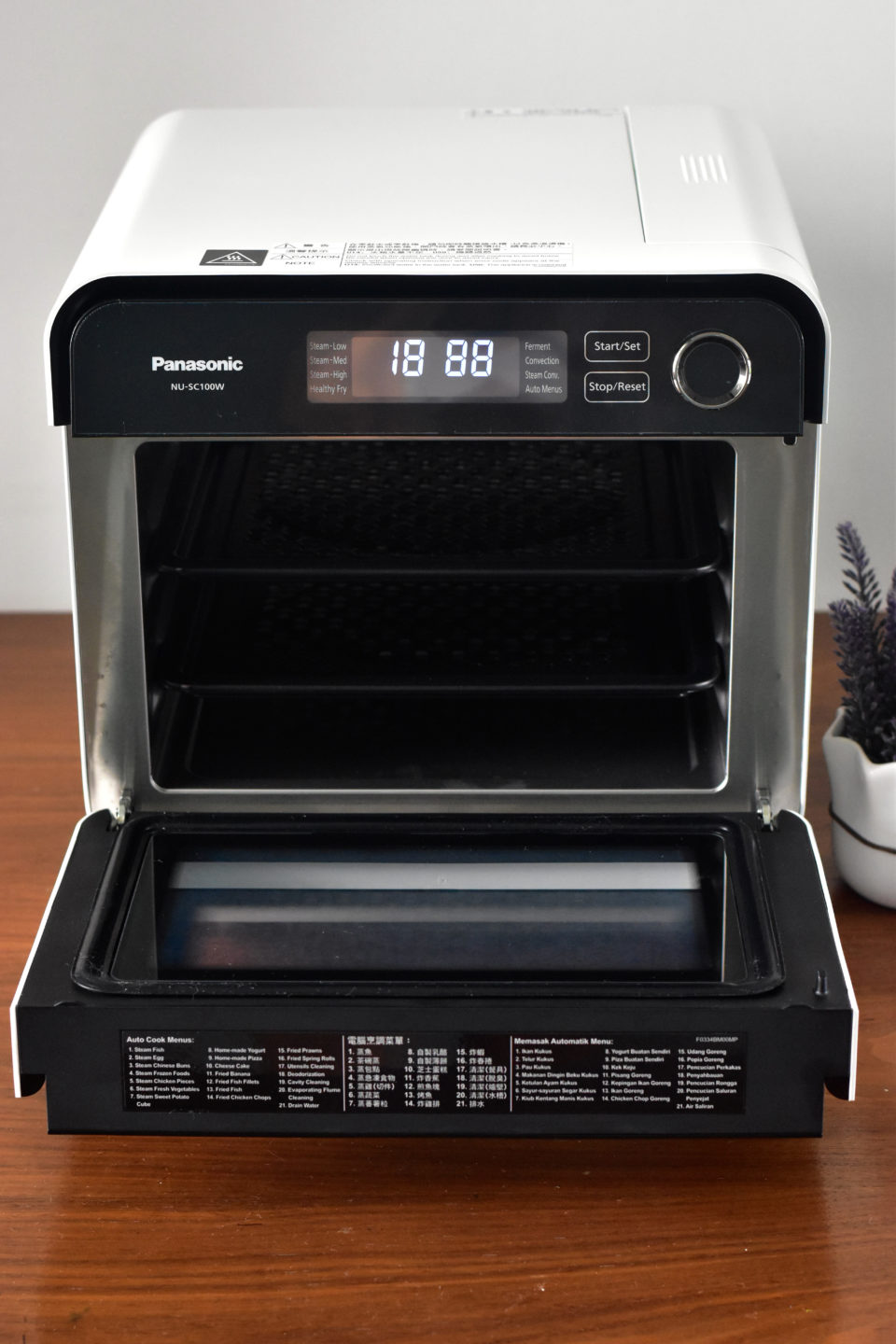 The compact Panasonic Cubie oven is great for families who are space-conscious or would like an extra oven. Measuring only 355 x 455 x 351 mm and weighs only 10.8kg, it is portable enough without much hassle.  Although compact on the outside, it is big on the inside. With a 15L capacity, you can fit a whole fish or chicken or a 9-inch cake pan. Do away with a few kitchen appliances with this multifunctional machine. It is a steamer, oven, sterilizer (think utensils & milk bottles), and air-fryer all build into one.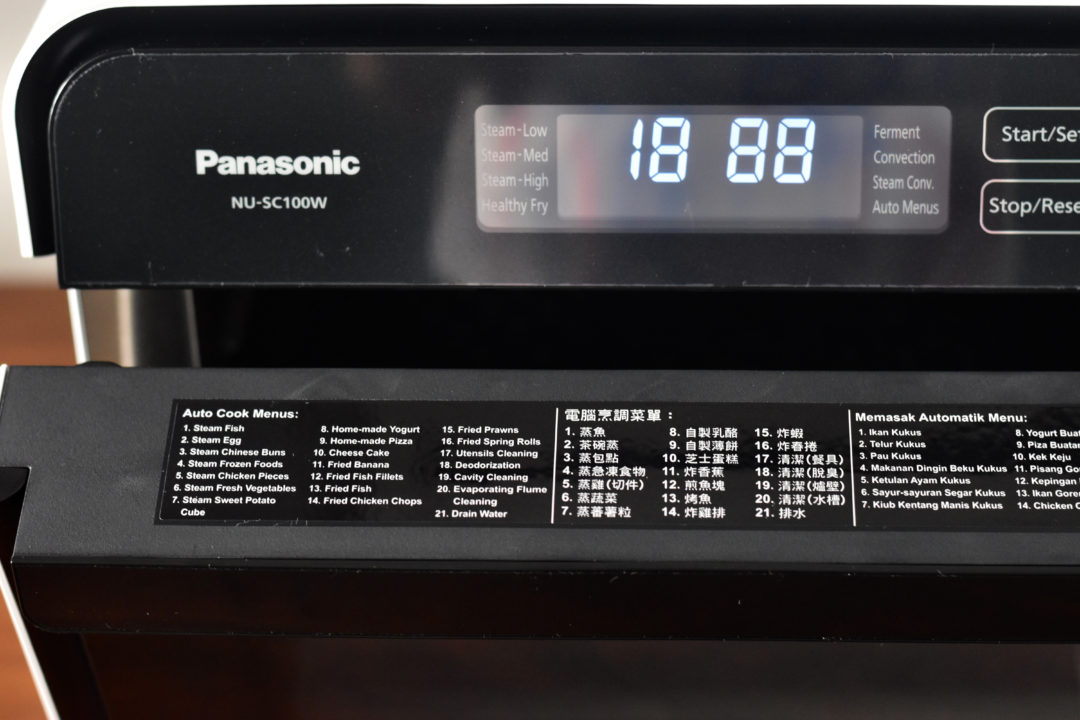 I'm impressed with the intelligent pre-programmed menu. As I looked down the list I was amazed to see deodorization (17) and self-cleaning programs (19 & 20)! Scoring major points here as we all know it's not fun to clean an oven or remove the smell of strong smelling food trapped in the oven. I like that I can drain (21) the water from the tank and water pipe after I use the steam function. Don't want any stale water trapped in there, do we?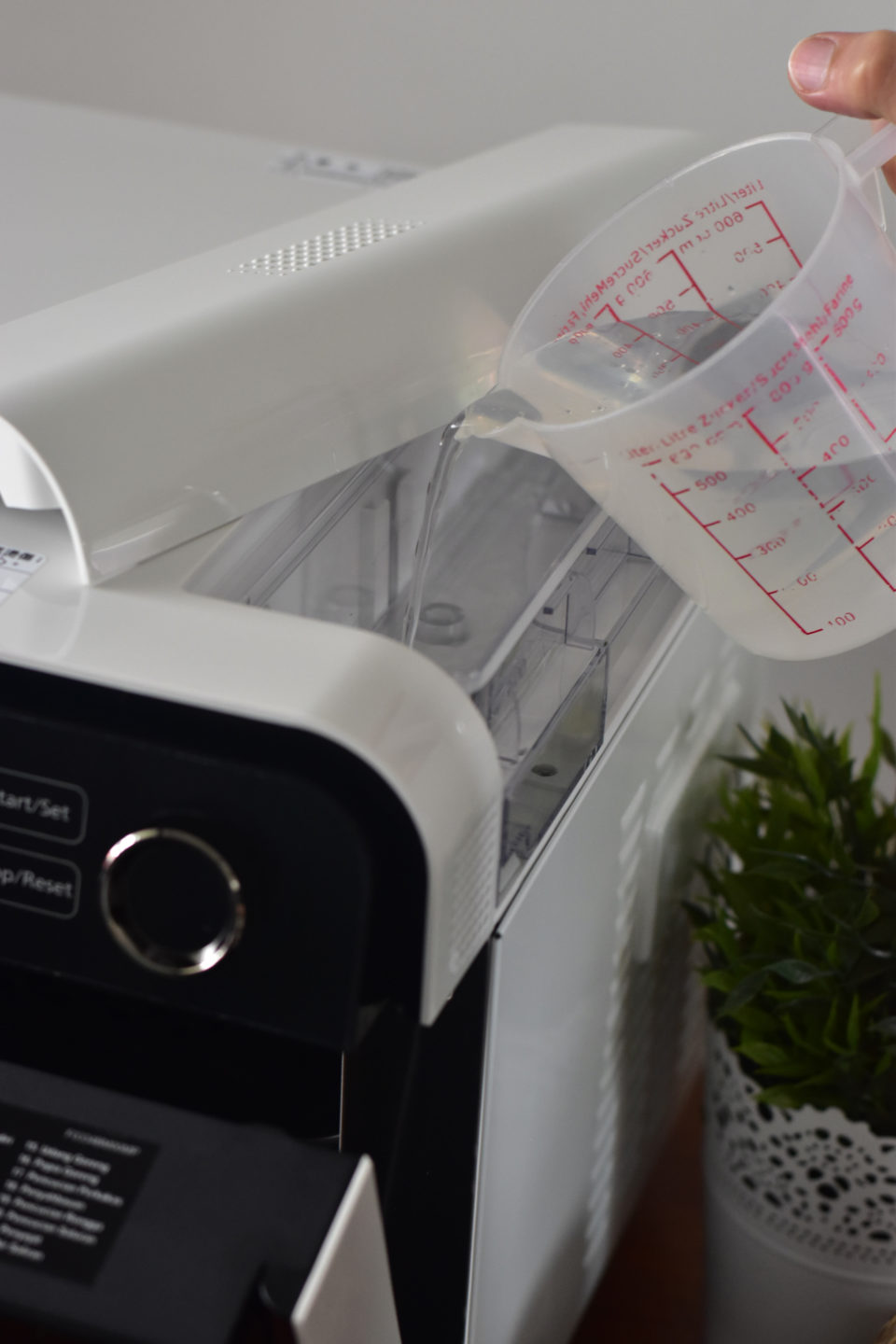 The water tank holds 600ml of water, which is good for about 30 minutes of steaming. I topped it up towards the end of the steaming process by simply lifting the lid, pour in the water, and popped the lid back on.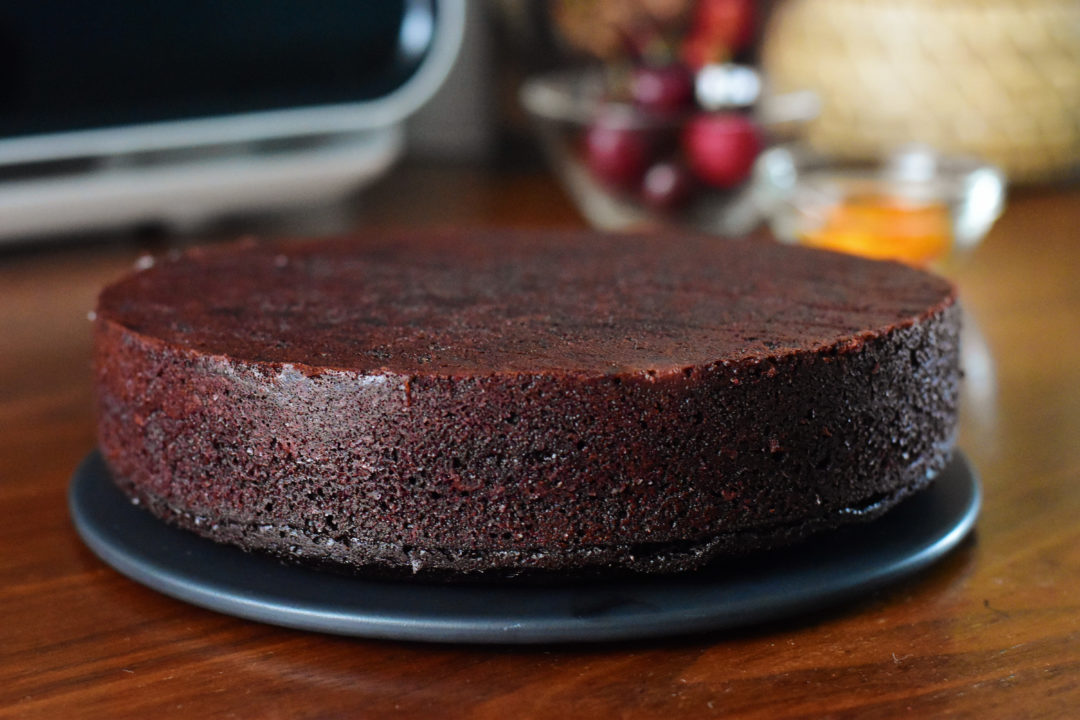 Look how perfect the cake turned out!! It was fluffy and ooh so moist.  While waiting for the cake to cool, I wiped the inside of the oven to dry out the excess water from the steam. Cleaning was simple, and took barely a couple of minutes.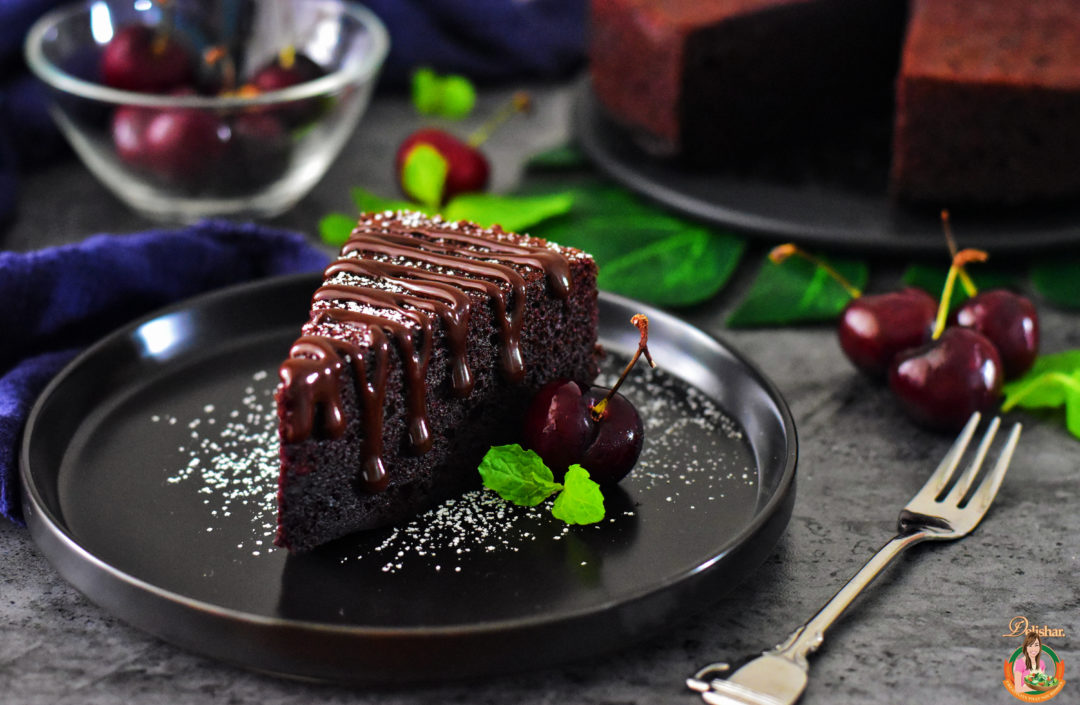 I like it that I didn't have to monitor a steamer on the stove and worry about the water drying up or the pot burning or keeping time. And that I didn't have to worry about adding water into a wok steamer when the water level is low and having to wait for the water to come back to a boil! 
I'll be making this cake very soon and with Chinese New Year coming, I might switch up the navel orange juice and zest to Mandarin Orange to suit the occasion. You can find Panasonic Cubie Oven at major home appliances stores. Search for your closest store here!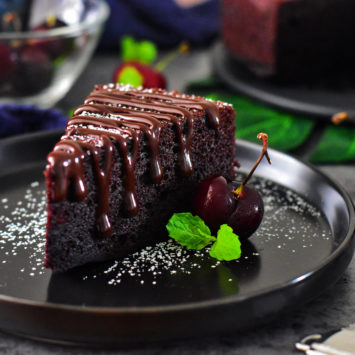 Steamed Orange Chocolate Cake
You can also steam it on your stovetop or steamer over medium heat for 45-55 minutes if you don't have a steam oven.
180

g

butter

170

g

caster sugar

150

g

full cream evaporated milk

50

g

navel orange juice

2

eggs

lightly beaten

1

tsp

vanilla extract

1

tbsp

navel orange zest

100

g

plain flour

50

g

cocoa powder

1

tsp

baking powder

1/2

tsp

baking soda

1/4

tsp

salt
Chocolate Ganache:
50

ml

whole milk

200

g

semi-sweet chocolate chips
Add the butter, sugar, evaporated milk and orange juice into a heavy bottom pan. Over low heat, stir until sugar and butter melt. Cool mixture to lukewarm temperature. 

In another bowl, combine eggs, vanilla extract, and orange zest. Lightly beat to combined.

Pour egg mixture into lukewarm butter mixture. Mix well. 

Sift together flour, cocoa powder, baking powder, baking soda, and salt into a large bowl. 

Pour wet ingredients into dry ingredients and mix well. 

Pour batter into a lined and lightly greased 8″ round baking tray. Cover with foil and steam over medium for 50-60 minutes, or until a skewer inserted comes out clean. 

Remove foil, allow to cool for 15 minutes in the pan before flipping it out to cool completely. Gently remove the baking paper on the cake.
Chocolate Ganache
Heat milk in a heavy-bottom saucepan over low heat until the edges starts to bubble then immediately remove from heat. Do not boil the milk. Add chocolate chips into the milk, and stir.

Stir until chocolate chips has melted and ganache is smooth and glossy.

Pour over the cake and spread with a spatula or drizzle on the cake before serving.
You can garnish with berries and mint leaves for added colour and flavours. I served mine with cherries and mint with a light dusting of powdered sugar. Want a full chocolate cake instead? Omit orange zest and replace the 50g of orange juice with evaporated milk.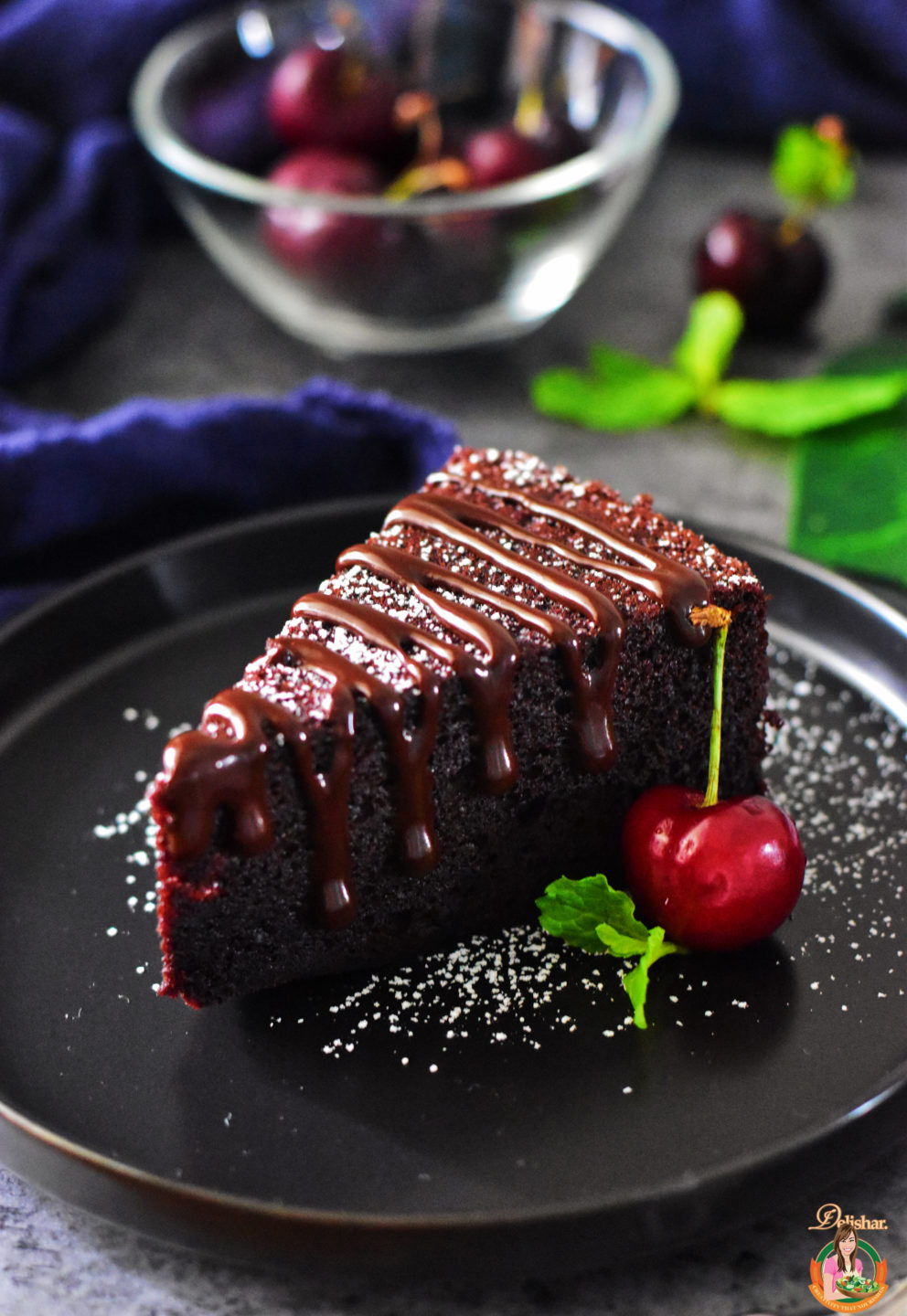 This post is in collaboration with Panasonic Singapore. However, all of the opinions are of my own.