Hiya! Yes, I'm still well and kicking. To be honest, things have been going great with Cookit. So much so that I have work, up to my neck and a plate full of to-dos. The girls are growing up and one thing that we all get/dreaded growing up is homework. So I have to be actively coaching the girls. We have also weaned them off TV (3 weeks no TV to date!), and that means I have to keep them engaged and entertained while finding pockets of time to slip into my office to work. 
Don't get me wrong, I am absolutely not complaining. All these are very good problems. It means that things are progressing positively. The only side effect is that I have been neglecting my blog quite a bit. Sorry! I do wish there is another me, or there are more hours in a day.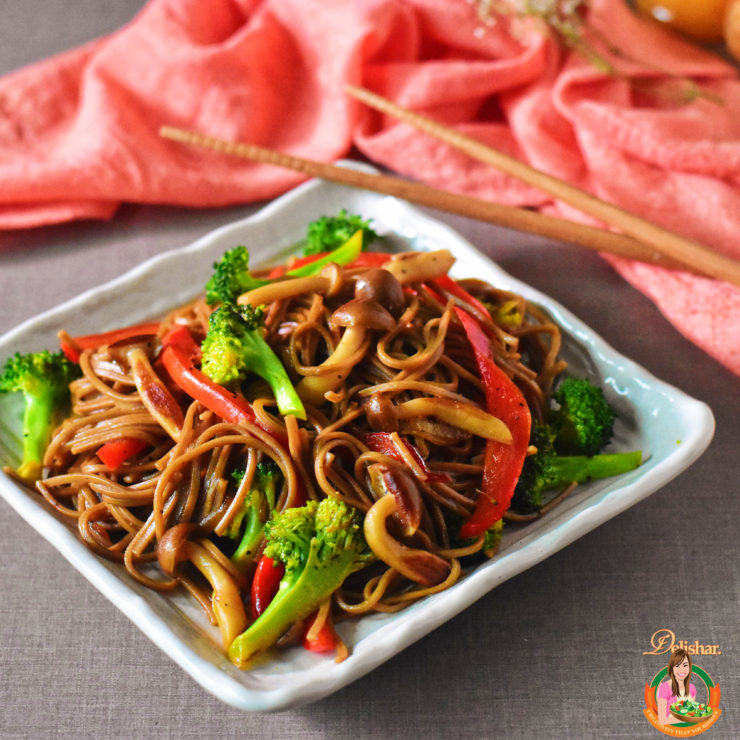 Anyhoo, I've been trying to keep dinner prep simple and quick so that I have a little more time to clear my plate of to-dos. This stir-fried soba/buckwheat noodles took me very little time to prepare and cook. But it's packed with the goodness of buckwheat and fresh vegetables. Buckwheat is extremely heart-healthy, protective against heart disease, and rich in phytonutrients. It is a good source of protein, fiber, iron, carbohydrates, thiamine, and manganese which helps produce collagen. 
The husband came home looking forward to dinner. But the look on his face tells me that he wasn't impressed to see noodles with no meat in it. He drew is plate closer to him, pick up his chopstick, and proceeded to take his first bite. His eyes lit up, impressed with how the noodles tasted. Within minutes, he was back in the kitchen, helping himself to another serving. When dinner ended, I was given some appreciative kisses to thank me for a wonderful meal.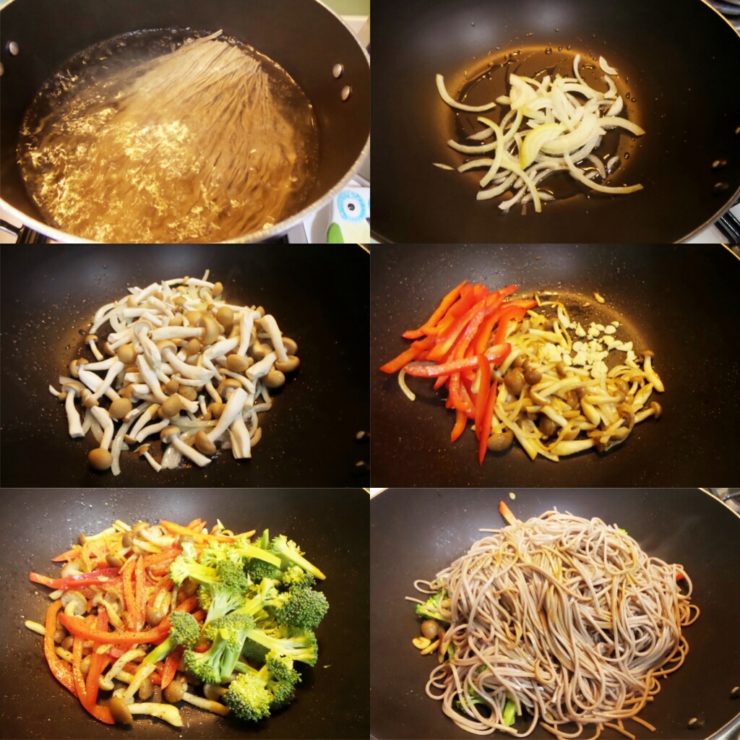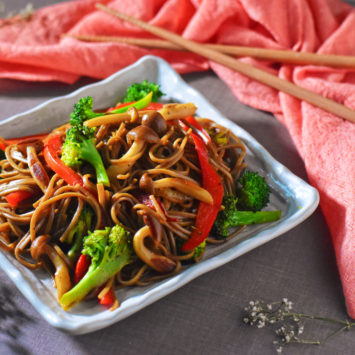 Vegetarian Stir-fried Soba
Delishar
Serves 2-3
2

servings of dried Soba noodles

get 100% buckwheat soba for gluten-free option

100

g

shimeji mushrooms

ends removed and separated

1/2

red pepper

thinly sliced

1

cup

broccoli florets

1/4

yellow onion

thinly sliced

1

clove

garlic

minced

1/4

cup

teriyaki sauce or to taste

I used a coconut aminos teriyaki sauce

2

tsp

olive oil

1

tsp

sesame oil

Salt and pepper to taste
Bring a pot of water to boil and cook soba noodles until al-dente.

Drain and set aside.

Heat pan on medium high heat with oils.

Add onion to stir-fry until soft.

Then add in mushrooms to cook until slightly brown.

Next, add in red pepper and garlic to cook for 30 seconds.

Then add in broccoli and a splash of water to cook for 45 seconds.

Toss in the cooked soba noodles and teriyaki sauce.

Season with salt and black pepper.

Serve and enjoy!