This is my first dish using Le Creuset Round French Oven and I was absolutely happy with the result! The French oven seared the meat beautifully, and the tight fitting lid sealed in all the flavours as the meat braised in the glorious marinade. The husband planted a big kiss after his meal, which as always, meant that it was a really good meal. Even the kids requested for me to make the same dish again for dinner the next day. Husbands may lie, but kids don't. :p
I have to admit that I was initially worried about discolourations or staining the French oven due to it's white interior. Plus searing the meat with a little sugar in the marinate means there is going to be some charring involved. That doesn't mean it's a bad thing, when such things happens it adds a whole new depth of flavour and goodness to the dish. But that may also mean sticking to the pan like super glue.
However, my concerns were all debunked! A little of the marinade and very little effort was used to scrape off the goodness left on the bottom of the pan after searing the meat. Washing it was a breeze, there was no discolourations, and it looks like it was spanking brand new. It looks so good, and cooks so well, I could kiss it. But the husband will be jealous. I already in love with Le Creuset's products but cooking with their French oven made me fall in love with it all over again. 
Enz F of PinoyKusinero kindly shared with me his recipe of Adobo Kangkong, which essentially is kangkong in the same adobo marinade. So being the lazy efficient me, I made a meal complete with vegetables (kangkong) in one pot. So this is essentially a one pot meal, if you do not consider the rice cooked effortlessly in the rice cooker. If you prefer using chicken, here my recipe for Adobo Chicken. 🙂
Have you taken part in the current Mayer Airfryer GIVEAWAY? Details below.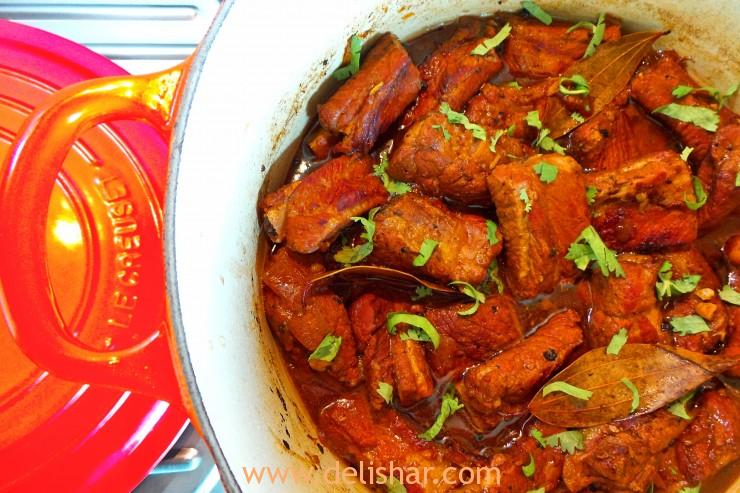 Do like Le Creuset's Facebook page to keep yourself updated on all their current promotions.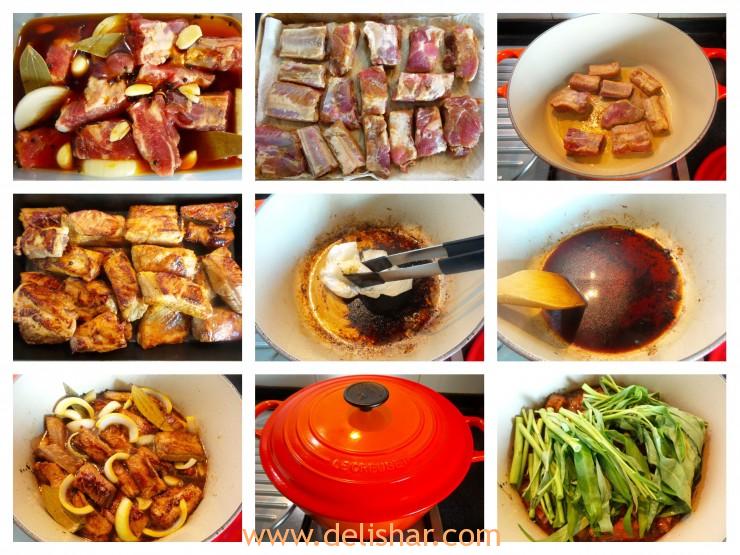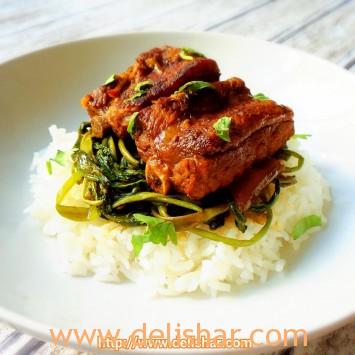 Adobo Pork
Sharon of Delishar
1

rack of baby back ribs

about 1.2kg, cut half length wise and cut into individual rib

1/2

cup

apple cider vinegar

1/3

cup

soy sauce

1/3

cup

water

1

tbsp

whole black peppercorn

2

tsp

brown sugar

1

medium onion

sliced into wedges

6-8

cloves

garlic

lightly smashed

3

bay leaves

1/4

cup

water

Salt to taste

Cooking oil for searing

Bunch of kangkong

cut into 2 inch pieces
Marinate pork ribs in all the above ingredients except kangkong, 1/4 cup water, salt and cooking oil.

Allow to marinate for 4-25 hours.

When ready, remove meat from marinade and blot dry.

Reserve the marinade for braising!

Heat oil in dutch oven until oil is shimmering but not smoking.

With high heat, sear both sides of the ribs.

Do it in batches so as to not over crowd.

Remove ribs when done and set aside.

Turn off heat, and use kitchen towel to remove all the oil in the pan.

Turn on heat to medium, and add in about 1/4 cup of water of marinade.

Use a spatula to scrape the charred bits on the bottom of the pot.

Add all of the marinade and add the ribs and jus back into the dutch oven.

Bring to a boil, and reduce heat to low.

Cover and allow to simmer for 45 minutes.

Remove cover, add kangkong stir a little.

Cover and allow to cook until vegetable is wilted. (about 3 minutes)

Fish out all the kangkong, and set aside.

Turn the heat up to high and allow the sauce to reduce until desired consistency.

Season with salt if needed.

Serve over steamed white rice.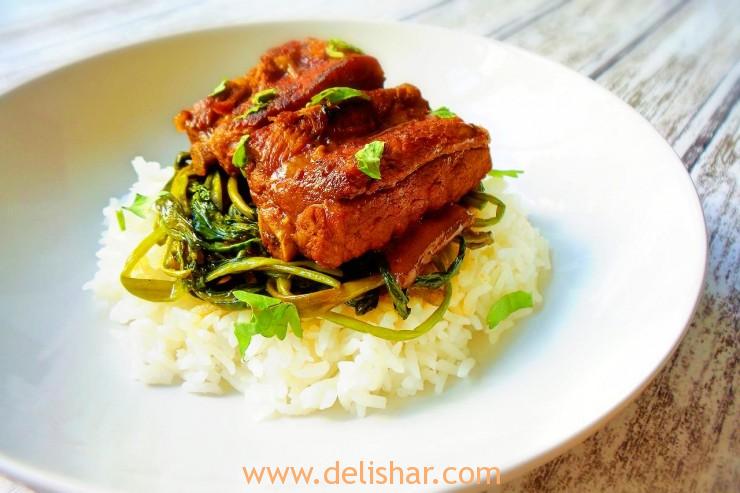 To take part in the Mayer Airfryer + Baking Tin Giveaway, simple complete the rafflecopter below.
a Rafflecopter giveaway
This giveaway ends on Tuesday, August 11, 2015 at 12:00 a.m. Singapore time (GMT+8). The winner will be selected by random.org and will contacted by email. The winner will need to respond within 48 hours. If there is no response from the winner after 48 hours, another winner will be selected. Meet up required for prize collection, therefore it is open to Singapore entrants only.
…