Here's a quick and easy one pot local favourite! Most Singaporeans are not a stranger to this dish, and will classify it as comfort food. The recipe calls for canned stew pork, and it has to be Narcissus brand, which is available at all major supermarkets by the way. Some family recipe uses the pork legs, some prefer the bone in pork chops, but I like the stewed pork slices. Which is the belly meat, with skin on and layers of fats.
However, I always discard the fatty bits and the skin, using only the lean meat. Partly because I'm trying to redeem myself by making it slightly healthier. The only exception is when I'm cooking for my mum, or for guest whom I know will enjoy the gelatinous fatty layers. My mum will give me a earful on how I'm wasting the 'best' part of the whole dish if I she knows I discard her favourite collagen-rich layers away! :p So let's keep it a secret between you and I, okay?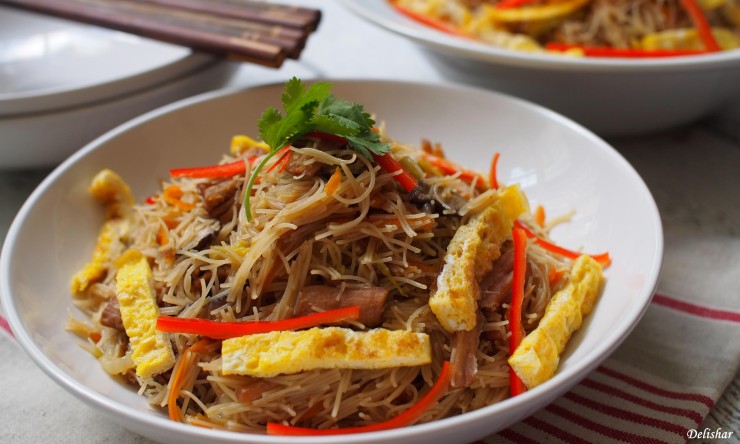 I made this for my family for the first time. If I'm not wrong, I made it on a very busy Sunday. Where I'm between having to pick the kids up from Sunday class, grocery shopping, getting lunch ready for the girls, feed the girls lunch, cleaning up the house, constantly entertaining the girls, and making sure dinner is ready before the husband comes back from softball. The husband will usually be famished when he returns from his softball games. 
When the husband got home, he was ready to eat. Lucky for me, I made extra portions that day because the husband had 2 servings of this dish! My elder daughter, also the picky one of the lot, cleared her plate quickly as well and thanked me for a delicious meal. That evening, the husband give me a kiss after dinner and thanked me for a delicious meal as well. What they didn't know was that, it was a really simple one pot meal that was done within 30 minutes!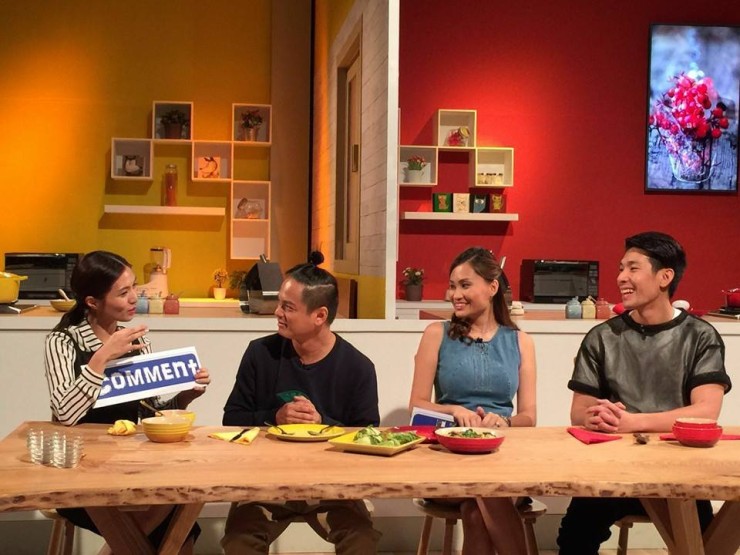 Oh, on the side note. Catch me on 弹指间的料理 6th April 2016, Wednesday on Channel 8 at 8pm. I will be cooking along side Touch Screen Cuisine's hosts Ben Yeo and Vivian Lai, together with the hilarious Dennis Chew as he tries to recreate one of my recipe: Steamed Cabbage Wraps. The program will feature celebrities cooking and recreating recipes of 12 cooking bloggers. How will they fare? 12 cooking bloggers bringing you their unique style of cooking, one every week! It is going to be entertaining and you might be able to pick up a few kitchen tricks here and there too! Help spread the word!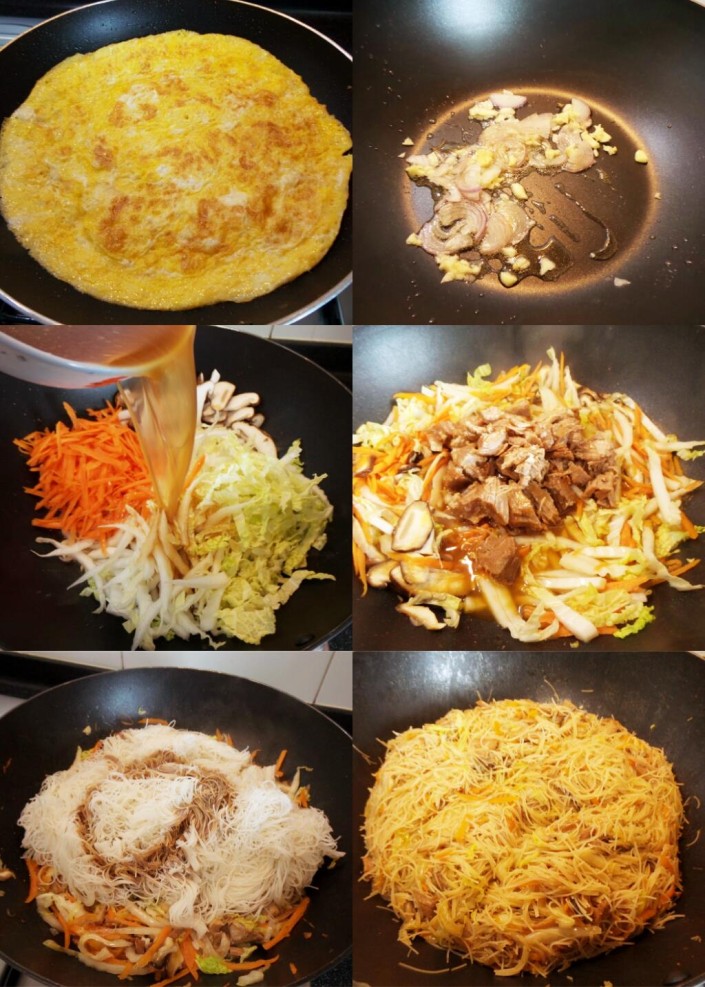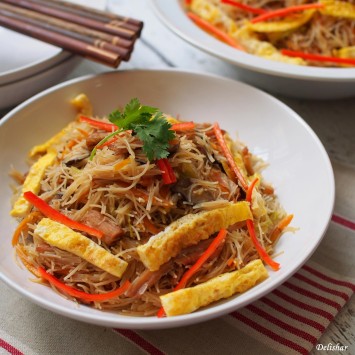 Stewed Pork Beehoon
Delishar
200

g

dried beehoon

2

cans Narcissus Stewed Pork Sliced

383G/can

4

shitake mushrooms

sliced

1

carrot

cut into match sticks or shredded

4

pieces

of napa cabbage

thinly sliced

2-3

garlic cloves

minced

1

shallot

sliced

1

tbsp

shaoxing wine

1

tbsp

fish sauce

1

tbsp

soy sauce

3

tbsp

dark soy sauce

white pepper to taste

3

large eggs

lightly beaten

1

tsp

soy sauce

for eggs

white pepper to taste

for eggs

1

tbsp

cooking oil

for eggs

1

tbsp

sesame oil

1

tbsp

cooking oil

Sliced red chilli to garnish

Chopped coriander leaves to garnish
Season eggs with 1 tsp light soy sauce, and white pepper to taste.

Heat 1 tbsp cooking oil in non-stick pan.

Add eggs and cook until almost set, flip and cook for another minute.

Remove, allow to cool, and slice into 2 inch slices.

Soak beehoon in warm water until soft, drain and set aside.

Separate stewed pork from it's gravy.

Remove fatty bits (optional).

Strain grease and bits from gravy, and set gravy aside.

Heat wok with oils on medium high heat.

Stir-fry garlic and shallot until shallot softened.

Add mushrooms, carrot, and napa cabbage.

Then add reserved stewed pork gravy.

Stir-fry until vegetables are soft, then add stew pork.

Add beehoon, season with fish sauce, light soy sauce, pepper, and dark soy sauce.

Stir-fry until liquid is almost completely absorbed.

You can add some water if you light your beehoon more wet.

Serve garnish with sliced eggs, chilli, and coriander leaves.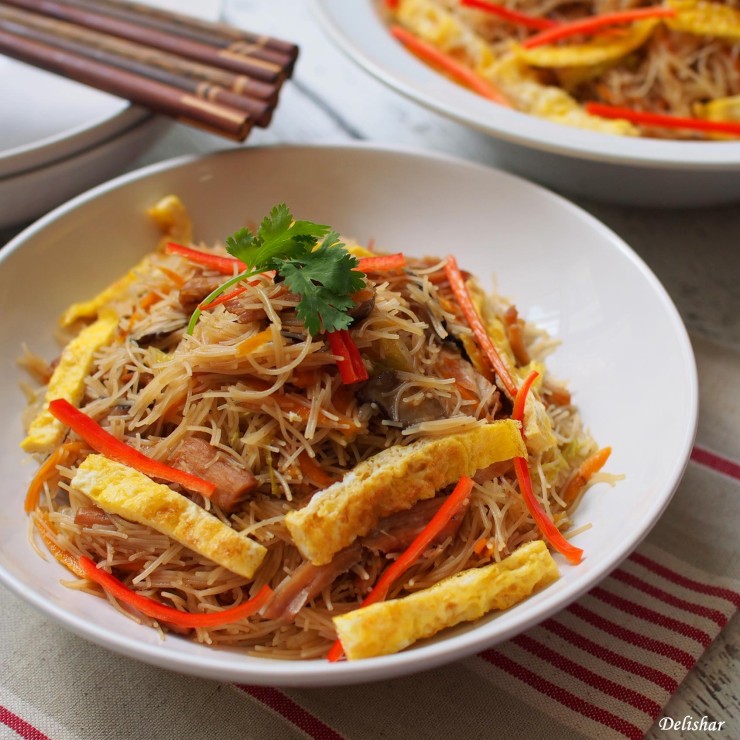 …