My husband loves bibimbap, and he has every reason to do so. If you follow my IG story, you'd recall that I made this Low-carb Paleo Bibimbap. With it, I also made sous vide pork shoulder marinated in Korean Spices. Served it with sides such as Oi Bokkeum (Stir-fried cucumbers) and the ever so gorgeous 62C egg.
Bibimbap looks quite similar to our 'Cai Png' or mixed vegetable rice which you can get from the local hawkers. The word Bibimbap literally means "mixed rice". It is a bowl of warm white rice topped with Korean side dishes, sliced or minced meat, and an egg. It's not rocket science to figure out how comforting and homely this meal can be.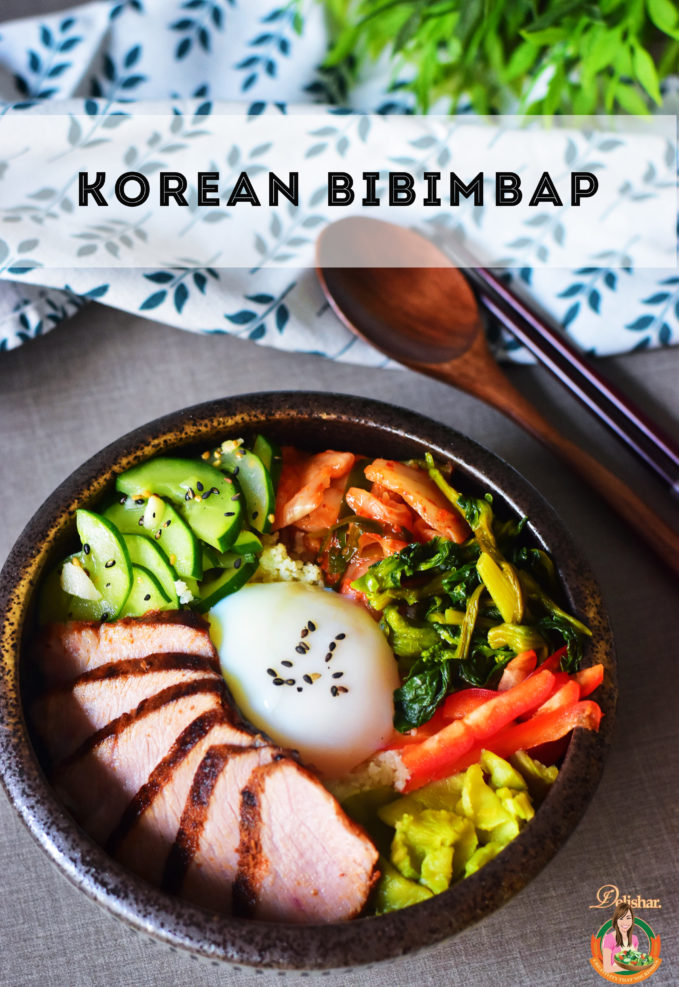 Typically, the side dishes lay on top of a bed of steamed rice. However, I served mine up with cauliflower rice instead. This reduces the carb count by many folds. Additionally, I skipped the sauce for my bowl, sprinkled a little chilli flake and used the lava yolk to dress my cauliflower rice.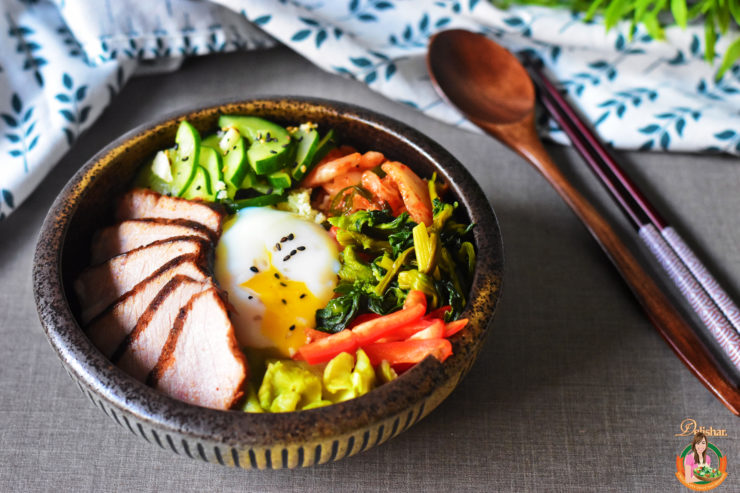 In the pork marinade, I used honey to make it refined sugar-free. You can also opt to make it with a touch of erythritol or omit altogether. In the recipe, you'll find some suggestions for you that may suit your keto journey. Here are the highlight snippets of me cooking this meal.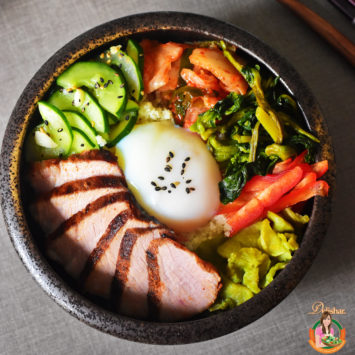 Korean Bibimbap
Delishar
Sous Vide Pork
400

g

pork shoulders

1/4

cup

gluten-free gochujang or regular if not on a specific diet

2

tbsp

fish sauce

1

tsp

garlic powder

1

tsp

onion powder

2

tsp

grated ginger

2

tbsp

shaoxing wine

2

tbsp

honey

omit or use 2 tsp erythritol if doing low carb
Cauliflower Rice
600

g

cauliflower

processed into rice in food processor

1

tbsp

olive oil

Salt and black pepper to taste
Oi Bokkeum (Stir-fried Cucumbers)
1

Japanese or English cucumber

thinly sliced

1

tsp

salt

2

tsp

olive oil

1

clove

garlic

minced

1

tsp

sesame oil

1/2

tsp

sesame seeds
Sauce
2

tsp

minced garlic

4

tbsp

gluten-free gochujang or regular if not on a specific diet

1

tbsp

sesame oil

2

tbsp

honey or sugar

Omit or 2 tsp erythritol if low carb

2

tbsp

hot water

1

tbsp

roasted sesame seeds

2

tsp

vinegar
Other sides suggestion
Store bought or homemade Kim Chi

Re-hydrated veggies or you can blanch spinach

Blanched bean sprouts

Shredded carrot

Sliced red pepper

Sesame seeds to garnish
Sous Vide Pork
Marinate pork with all the ingredients in a ziplock bag for at least 4 hours.

Transfer to Sous vide bag and sous vide at 60C for 2.5 hours

When done, transfer onto a greased pan to sear briefly.

Rest pork for 10 minutes before slicing.
Cauliflower Rice
Heat pan on high heat with oil.

Stir-fry cauliflower moving it around frequently for 5-10 mins, until cooked and fluffy.

Season with salt and black pepper to taste.
Sous vide egg
Place eggs into sous vide tank and cook for 45 mins at 62C.

Remove and place into ice bath to stop cooking process, or crack into serving bowl immediately.
Stir-fried Cucumbers
Sprinkle salt over cucumbers and let sit for 10 minutes.

Squeeze and drain liquid release from cucumbers.

Heat pan with olive oil.

Add garlic to cook for 30 seconds, then add cucumbers.

Stir-fry until slightly tender, add sesame oil, and sesame seeds.
Other Sides
You can season your blanched veggies (spinach or sprouts) with coconut aminos / liquid aminos / soy sauce, white pepper, sesame oil, and some fish sauce.
Assembly
Scoop cauliflower rice into bowl, top with side dishes, sauce, and sous vide egg.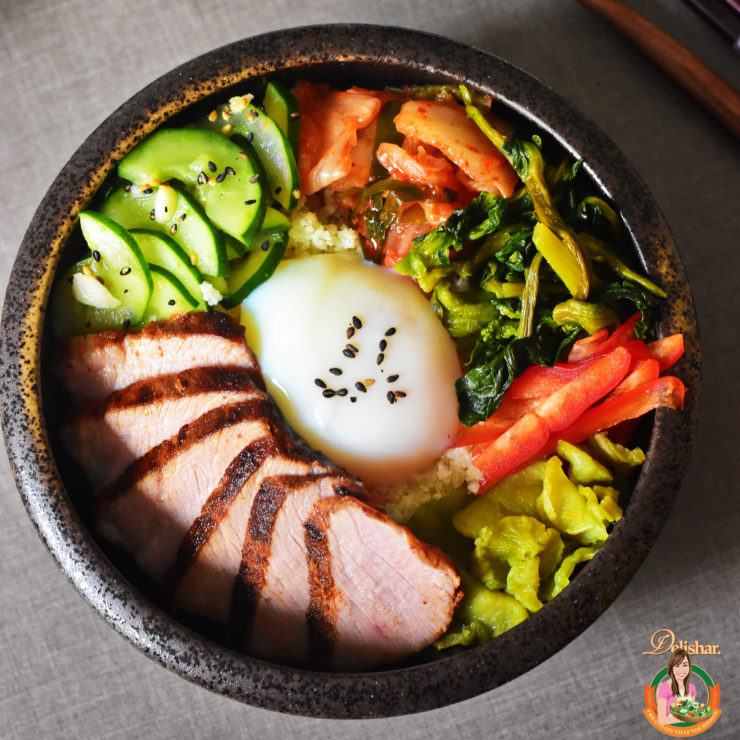 …