There are times when I really miss heritage food like this. I'm still pretty much a true blue Cantonese girl at heart, and I like the good old taste of home. Brings me back to when I was younger and living with my grandparents. My grandparents are great cooks, and I'm always looking forward to what dinner brings. My grandfather makes the best Steamed pork with salted fish, and my grandmother makes the best Sweet and sour whole fried fish.
Brisket is the cut of beef that I like best, it is also a cut that needs long hours of braising to get it tender. Although I do not particularly enjoy the fats and tendon around the brisket, it does impart a lot of flavours and adds depth to the braise. Braising also requires little active time during the cooking process. We basically let the broth, spices, and heat work it's magic on the stove top or oven. In the meantime, work up an appetite for a very flavourful and rich meal.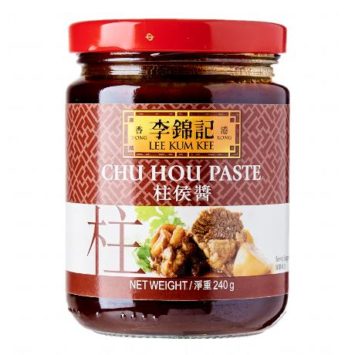 I got a lot of people asking me what is Chu Hou Sauce / paste. It is made from fermented soybeans, garlic, ginger, and sesame seeds. It has a sweet and savoury profile, usually used for stewing & braising, but it can also be used for marinating or stir-fries. If you can't find it at supermarkets, you can also use hoisin or oyster sauce.
One of the best pot to use is a heavy bottom pot with a tight fitting lid. I'm using my very versatile Le Creuset 26cm French Oven for this dish. This pot is build for making casseroles, stews, pot roasting and perfect for preparing soups and rice dishes, even for baking. The sauce was incredibly delicious with beef brisket that falls apart and melts in your mouth. My girls loved the radish, they call it the melty cubes. The radish soaks up all the goodness during the long cooking process. It was utterly tender and totally delicious. Writing this post is not doing my growling tummy any favour. So I'll leave you with the recipe while I go cook up a storm in my kitchen. 🙂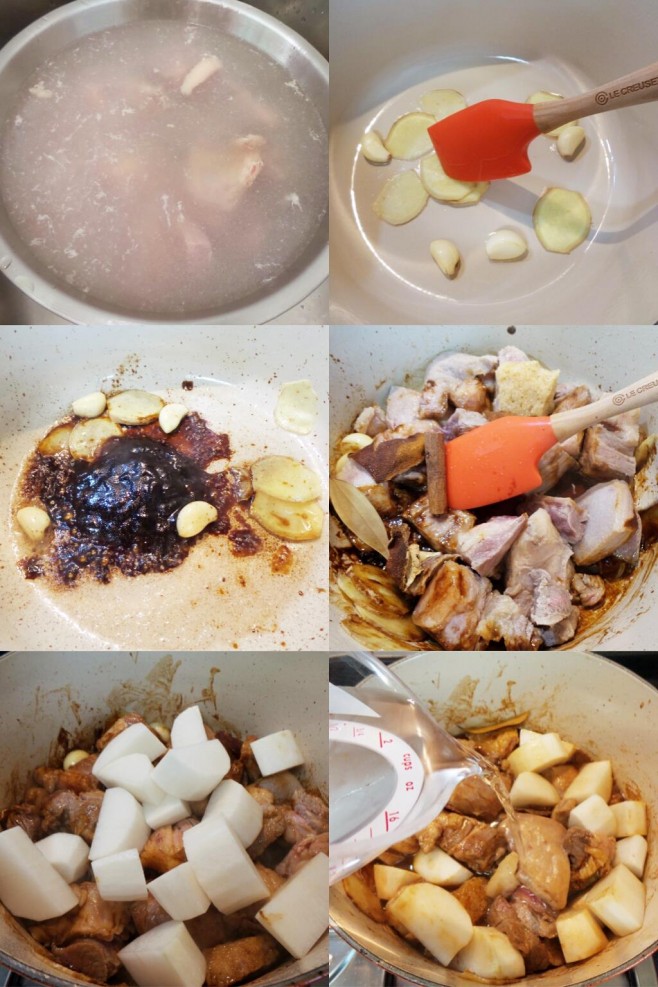 Cantonese Braised Beef Brisket
Delishar
1

kg

beef brisket

cut into 1×2 inch pieces

600

g

daikon radish

cut into 1 inch rounds the half it

1

large carrot

cut into 1 inch rounds

5-6

slices

old ginger

3

cloves

garlic

peeled

2

tbsp

chu hou sauce

1

tbsp

oyster sauce

1

tbsp

hoisin sauce

1

tbsp

rock sugar or brown sugar

2

tbsp

cooking wine

1

tbsp

light soy sauce or to taste

1

tbsp

dark soy sauce

2

star anise

1-2

dried orange peels

1

bay leaf

1/2

cinnamon stick

Salt and white pepper to taste

1

tbsp

cooking oil

1

tsp

sesame oil

Spring onions to garnish

Cilantro to garnish

Corn starch slurry

optional
Place beef in a large mixing bowl, and blanch with hot boiling water.

Drain and set aside.

Heat up your French oven or pot, then add cooking and sesame oil.

Saute ginger and garlic until fragrant.

Add chu hou, oyster, and hoisin sauce in pot and stir fry on low for a minute.

Then add beef, carrot, radish, bay leaf, orange peel, star anise, cinnamon, and cooking wine.

Brown beef for about 3 minutes under medium heat.

Then add light, dark soy sauce, and sugar. Toss to coat.

Add 2 cups of water, and bring to boil.

Give it a stir, and lower heat to low and simmer with lid on for 2.5 hours or until beef is tender.

Stir every 30 minutes or so.

Season with salt and white pepper to taste.

Stir in corn starch slurry to thicken sauce (optional).

Remove from heat, and garnish with spring onions and cilantro.
Adapted from Yi Reservation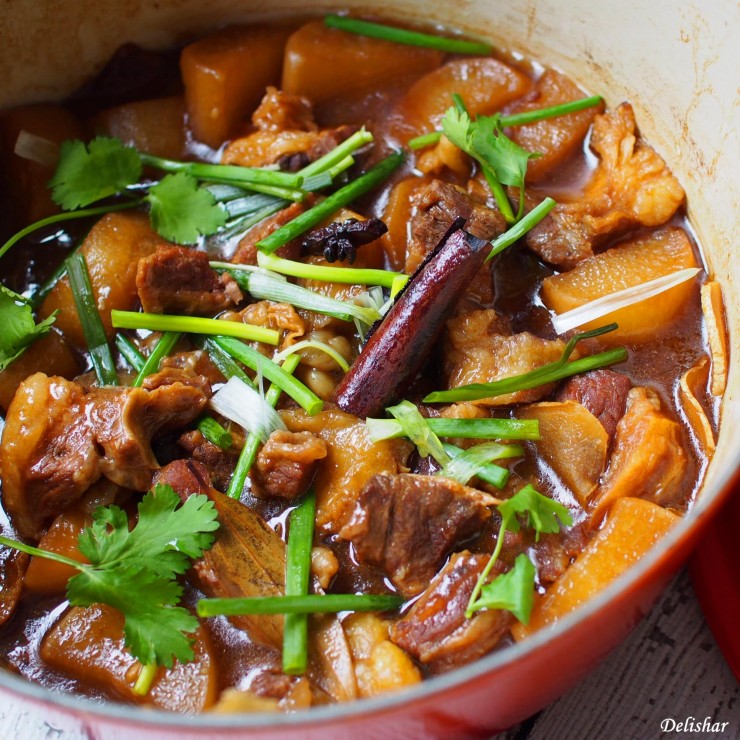 …