Happy 2016!! I apologise for the late wishes as it has been a while since my last post. The family and I took a vacation to spend Xmas and New year with their family in the USA. It was such a fun and fruitful trip. Fruitful not because of the shopping we did, which wasn't a lot. Just some winter gears in preparation for our first ski trip this year. But for the wonderful time spent with family. 
The girls got to hang out with their paternal grandparents, fun uncle, and lovely cousins. I can't elaborate how sweet and well-mannered those 2 nieces of mine are. They are super helpful and awesome babysitters! The husband and I got to spend some quality time together while they babysat. The girls made their first snow angel, snowman, and snow-pup. We had so much fun just spending time with family, and it was liberating to be disconnected from cyber-world for a while.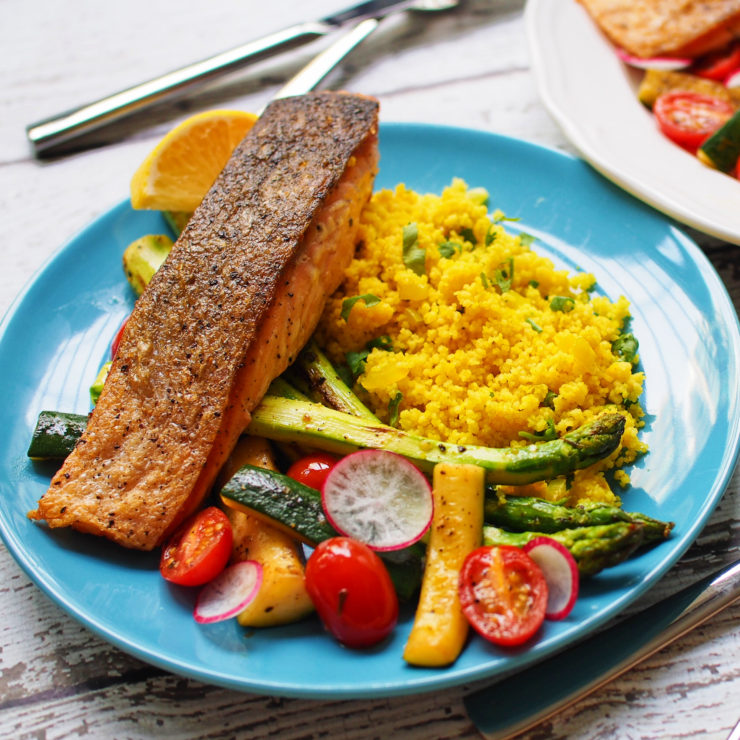 Just before I left for the trip, I popped by The Alaska Guys for my supply of quality wild caught Alaskan seafood. While I was there, Kevin the owner of TAG generously suggested a giveaway for readers of my cooking blog. I'm ecstatic to share with you this giveaway. TAG is giving away 1KG of their wild caught halibut fillets valued at $82. Each fillet is fresh frozen, and individually packed for your convenience! 
When I got back home, I quickly whipped up this complete meal. It takes no time at all to cook this gorgeous dinner. Very little prep is needed, and only requires simple ingredients. I was able to complete and plate the whole meal in 30 minutes. During dinner time, the husband's first question was, "This is fish from TAG?!" without even trying it first. He dug in without waiting for my answer, and replied himself saying, "Yup! I can so tell the difference! It's son darn good!". And he was right, all it needed was salt and pepper, no sauce too. Simple, and absolutely delish!
Do visit this post to read more about my write up on wild vs farmed fish. This giveaway will be just in time for you to prepare a delicious CNY meal! I hope you win this giveaway, and treat yourself and your love ones to some quality seafood this CNY! You'll definitely be able to taste the difference in quality, and be a convert to wild caught fish like us. To take part in the giveaway, simply follow the directions of the rafflecopter widget at the end of this post.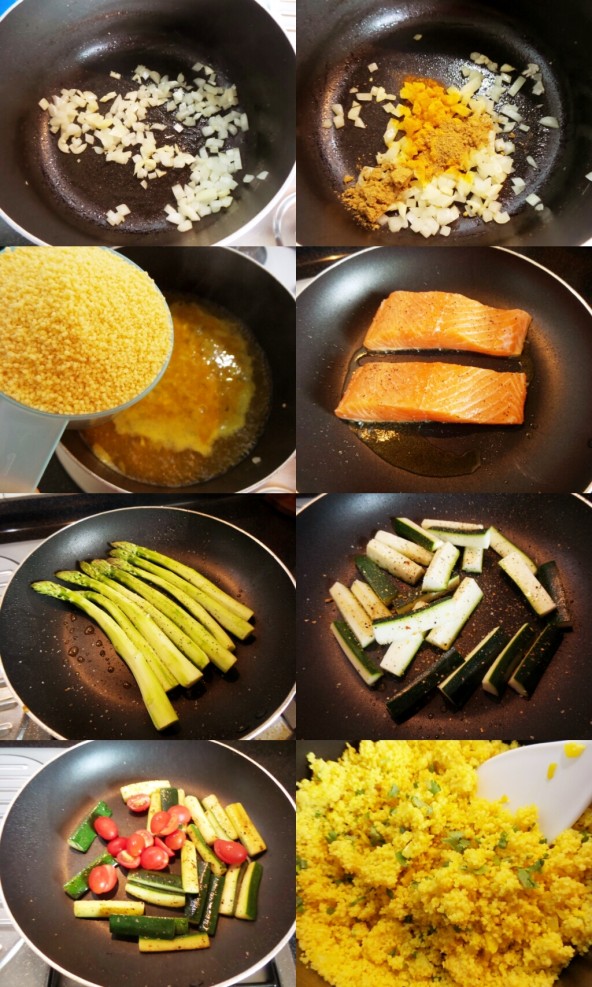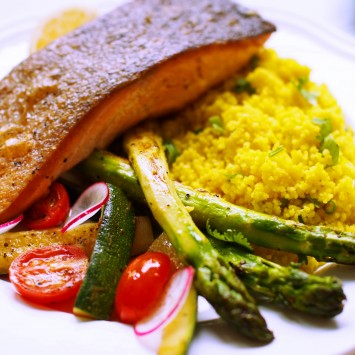 Wild Salmon on Spiced Couscous
Delishar
Crispy Skin Salmon
400

g

salmon fillet

protion into 2 fillets (preferably wild caught)

1

tbsp

olive oil

Salt and pepper to taste
Pan Roasted Vegetables
6-8

spears of asparagus

tough ends and skin removed

8

cherry tomatoes

halved

1/2

zucchini

quartered lengthwise

1

radish

thinly sliced (optional)

1

tbsp

olive oil

Salt and pepper to taste
Spiced Couscous
1

cup

couscous

1/4

yellow onion

diced

1

clove

garlic

minced

1

tbsp

olive oil

1/2

tsp

turmeric powder

1/2

tsp

cumin powder

1 1/2

cup

375ml chicken broth (add 1/4 cup more if you like your couscous more moist)

1

tbsp

chopped cilantro

1

tbsp

chopped spring onion
Crispy Skin Salmon
Clean the salmon and make sure that salmon skin has no scales.

Pat dry salmon on both sides.

Season both sides of salmon generously with salt and pepper.

Turn and season the flesh side of the salmon.

Heat pan on med high heat with oil.

When oil is shimmering, reduce heat to medium.

Add salmon skin side down, and hold it down for 5 seconds.

Do not touch/move/flip fish, allow it to sear and cook until skin is crispy and released from pan (about 4 mins), before checking.

Flip salmon carefully and allow to cook for another 2-3 mins, or until preferred done-ness.
Sauteed Vegetables
Heat pan on med high then add oil.

Saute asparagus until slightly tender, about 3 minutes.

Add zucchini and saute for another 1-2 minutes or until tender.

Season with salt and pepper.

Add cherry tomatoes, and saute for 30 seconds.

Remove from heat, toss in radish, and plate.
Spiced Couscous
Heat saucepan with 1 tbsp olive oil over medium high heat.

Saute onion and garlic until onion is translucent.

Add turmeric and cumin, then saute for 15 seconds.

Pour in chicken stock and bring to boil.

Add couscous, cover, and remove from heat.

Let stand for 10 minutes, then add spring onion and cilantro.

Fluff couscous with fork to distribute herbs.
Get the pre portioned cook kit for this amazing dish and
cook it in your own kitchen! Order Now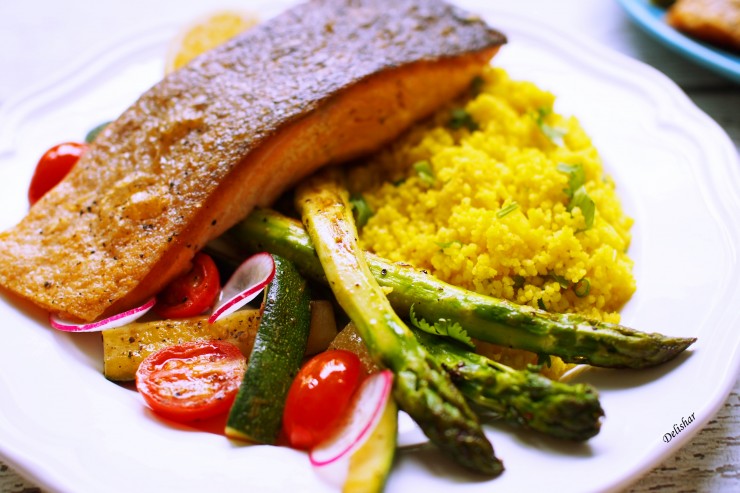 To take part in the giveaway, simply complete the Rafflecopter below!
a Rafflecopter giveaway
This giveaway ends on Friday, January 22nd, 2016 at 12:00 a.m. Singapore time (GMT+8). The winner will be selected by random.org and will contacted by email. If there is no response after 48 hours, another winner will be selected. Self-collection required for giveaway prize at my convenience. As such, this giveaway is open to Singapore entrants only.
…