I love baked apples. They turn into this warm, soft, and sweet gooey goodness that melts in your mouth. Whenever there's apples, there need to be cinnamon. It should be illegal to separate the both of them. I made these lovely spiced apple muffins for the people that works hard at the foot reflexology place that I frequent.
Just before I packed them into cupcake boxes to deliver it to them, I added a little something special. I had a jar of salted caramel sauce laying around in the fridge and knew that it'd be such a great combination to these delicious muffins. So I drizzled some salted caramel on top of the crumbles before packing it.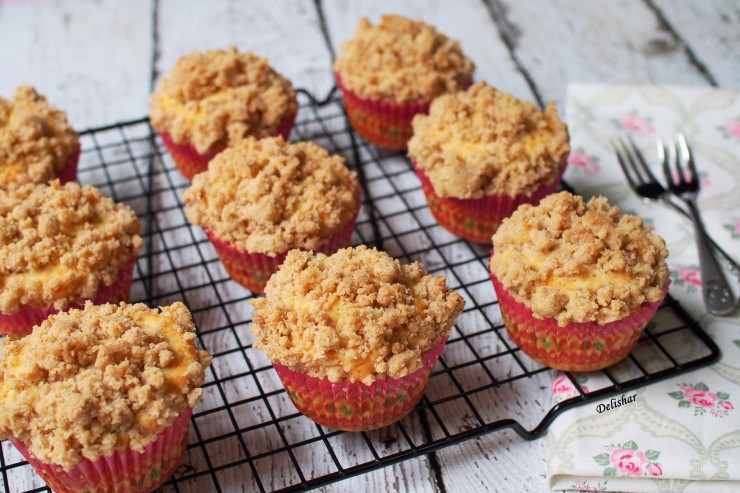 These muffins were a hit with the masseuses! They loved the salted caramel with the sweet decadent crumbles, moist vanilla muffin, and was pleasantly surprised when they bit into the caramelised baked apples! I'm so glad that these muffins were able to put a smile on their faces. And I'm sure it would put a smile to yours or your love ones too.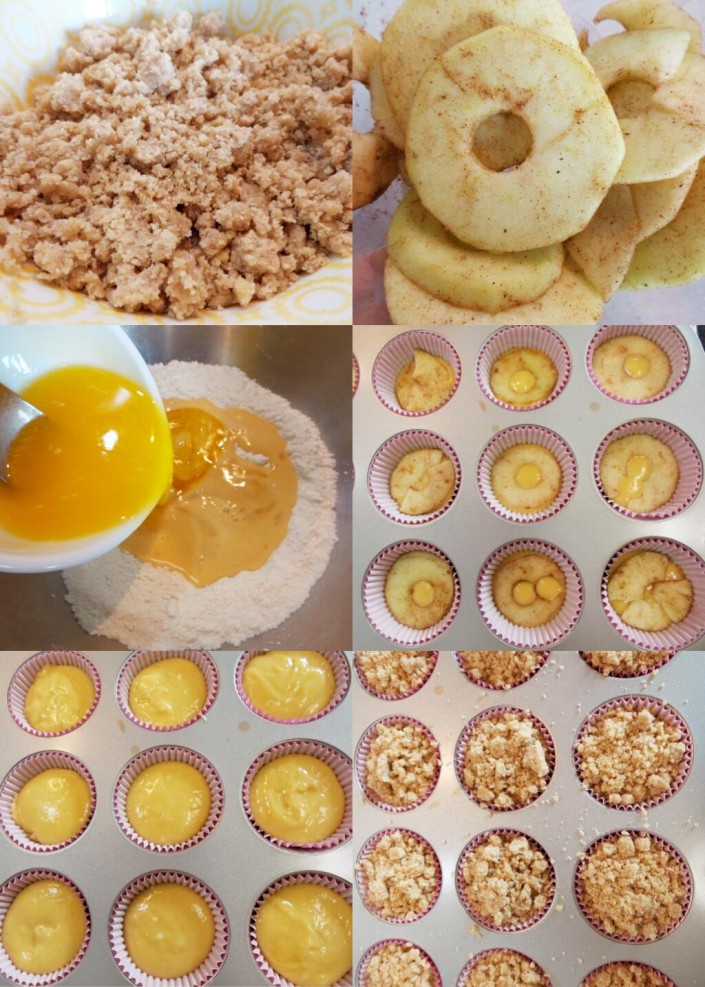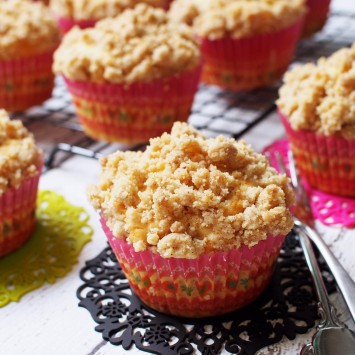 Apple Crumble Muffins
Delishar
Muffins
225

g

self-raising flour

110

g

castor sugar

125

g

butter

melted

2

large eggs

4

tablespoons

milk

2-3

small green apples

peeled, cored and cut into 1cm thick rings

1

tsp

lemon juice

1

tsp

cinnamon powder
Crumble
60

g

cold butter

cut into smaller cubes

120

g

plain flour

60

g

castor sugar

1.5

tsp

ground cinnamon
Preheat oven to 180°C, top & bottom heat.

Toss apple slices with lemon juice and cinnamon powder.

Line muffin pan with cupcake liners.

In a bowl, combine all the ingredients for the crumble, and mash together with a fork until it resembles coarse breadcrumbs.Keep chilled until later.

In a large mixing bowl, mix flour, sugar, butter, eggs, and milk.

Mix until just combined.

Fill the liner about half way, then place apple rings on top of the batter.

Press it down slightly.

Then fill liners evenly with the rest of the batter.

Top with prepared crumble.

Bake for 35 minutes or until a skewer inserted in the center comes out clean.

Leave to cool in pan for 5 minutes.

Then remove muffins from pan to cool on wire rack.

Serve warm with ice cream or serve cold with hot coffee.
No self raising flour? Here's now to make a batch.
2 cups (250g) plain flour + 1/2 tsp salt + 1 tbsp baking powder
Trim off the apple ring if it's too big to fit into the muffin holes. Alternatively, you can cut your apples into cubes.
Adapted from craftpassion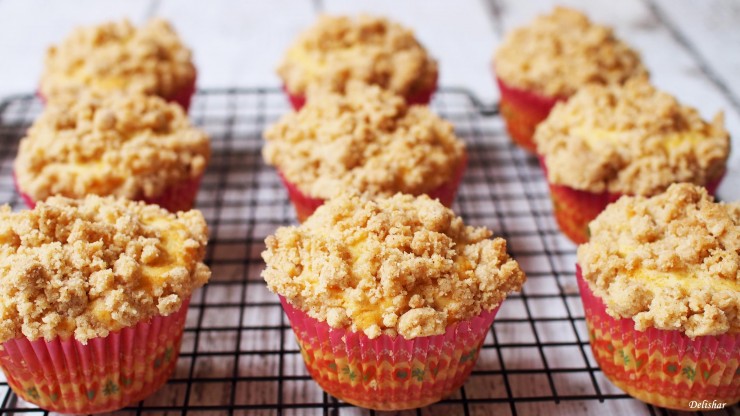 …