Fast food does not always mean junk food. In my opinion, fast food means quick and easy meals that you can whip up in a jiffy. Nope, and that does not mean deep frying food that were already precooked or heating up meals that are frozen. Yes, of course we can still have nutritious and delicious meals with the help of quality made sauces, and pasta that are available in the market to make our life easier, and healthier.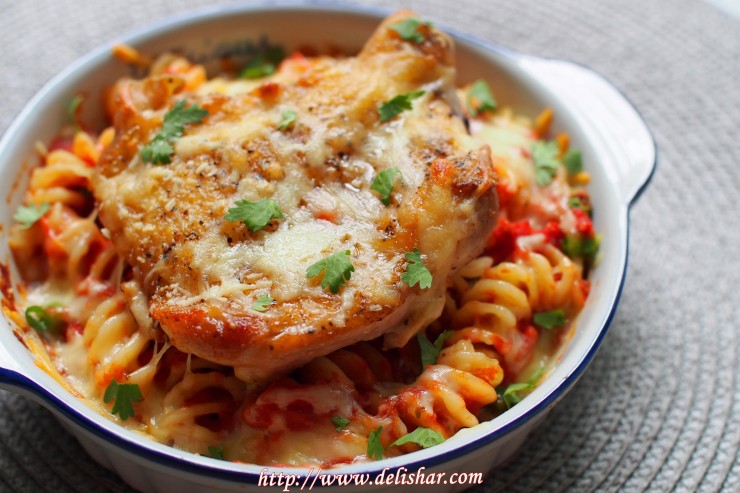 For this meal, I used Alce Nero's Organic Fusilli and Alce Nero's Organic Tomato Sauce with Chilli. I portioned out a serving for the kids and substituted the sauce for their Organic Tomato Sauce with Basil. It was a super simple meal to put together, with very basic ingredients.
You can actually skip the baking part and serve the chicken (of course cook it a little longer to make sure it's cooked through) on top of the pasta, and call it a day. I baked it because the baking will allow all the flavours to marry together as it cooks. Well, and of course, everything is better with cheese. Especially oozy, gooey, melted cheese.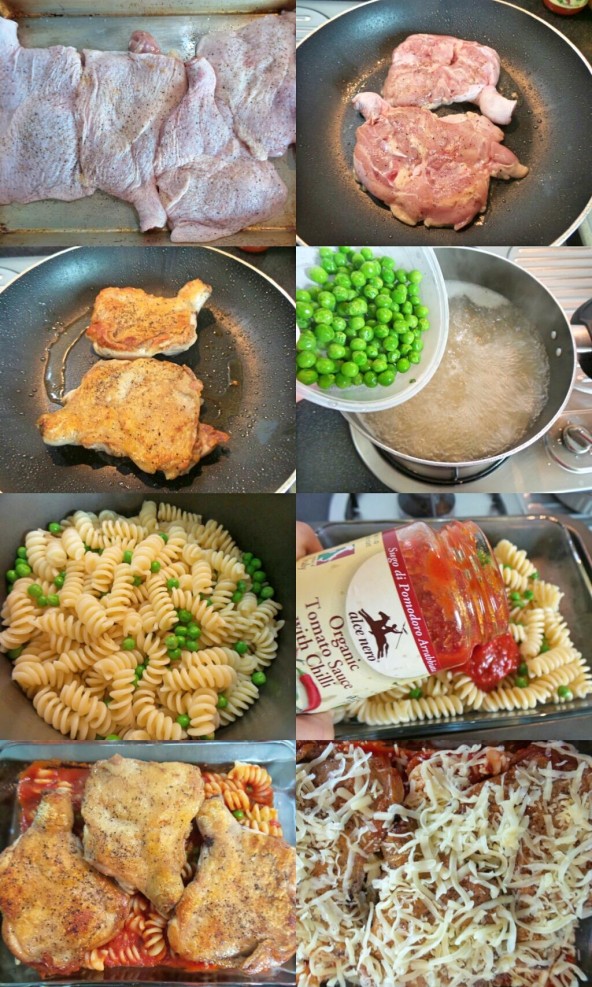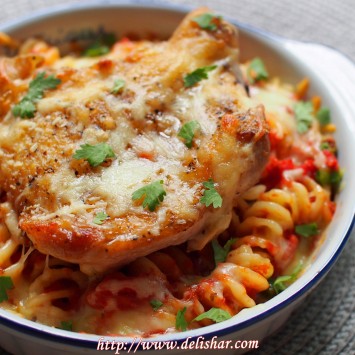 Baked Chicken Fusilli
Delishar
4

boneless chicken legs

240

g

fusilli

more if you are big eaters.

350

g

Alce Nero Organic Tomato Sauce with Chilli

1/3 to 1/2

cup

shredded mozzarella cheese

1/2

cup

frozen peas

2-3

tbsp

cooking oil

Salt and pepper to taste

Chopped parsley to garnish
Preheat oven to 180C.

Season both sides of the chicken generously with salt and pepper.

Heat a frying pan on medium-high, then add oil.

Cook chicken skin side down for 4-5 minutes or until golden brown, then flip and cook for another 2-3 minutes.

Do it in batches if you have to, do not over crowd pan.

Bring a large pot of water to boil, then season generously with salt.

Cook fusilli in salted water 1-2 minutes just shy of al-dente.

In the last minute, add frozen peas.

Drain pasta, and pour in sauce into pot.

Toss to coat, then transfer pasta with sauce into baking casserole.

Lay chicken on top of pasta, and top with cheese.

Bake for 20-30 minutes or until cheese is melted, and sauce bubbly.

Garnish with chopped cilantro before serving.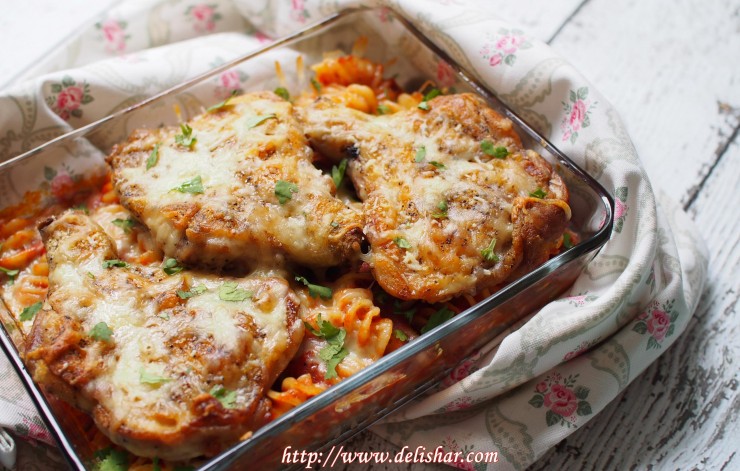 Disclaimer: This post was a collaboration with Alce Nero and Singapore Home Cooks. 
…