I can't believe it took me this long to post a recipe of Tom Kha Gai on my cooking blog! It is such a common Thai food, quite alike the globally adored Tom Yum. The main difference is the use of coconut milk or in some recipes, coconut cream. I used a mix of regular coconut milk, and low fat coconut milk. If you are expecting a thick creamy broth due to the use of coconut milk, then well I'll advise you to not have that expectation.
Please do not get me wrong. The broth is definitely packed full of flavours, this I kid you not. But expect a broth with a lighter consistency, kind of like our local fish soup with milk. The broth can also look very deceiving, due to it's milky colour. It is loaded with spices, and hot chilli peppers that will set your mouth on fire if you add in one too many. But the coconut milk does help sooth the heat. Add the chilli peppers to taste, please.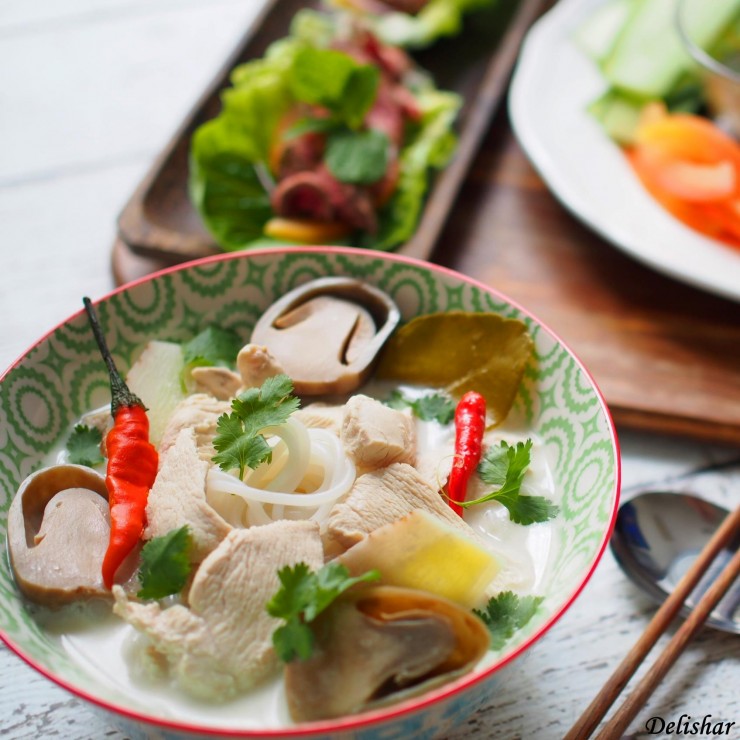 Thai people usually enjoy this flavourful soup with a bowl of rice. I having it with thick rice noodles, just because I have some sitting around in my pantry. I would imagine it'll pair really well with kway teow or Thai rice sticks too! I threw in the chilli peppers only after I scooped out the kids' portion. So yes, you can omit the chilli if you absolutely have to. But why?! Spice up your life, and live a little dangerously! 🙂
I used my 26cm Le Creuset French Oven to make this. The pot is big enough to easily cater for 10 servings!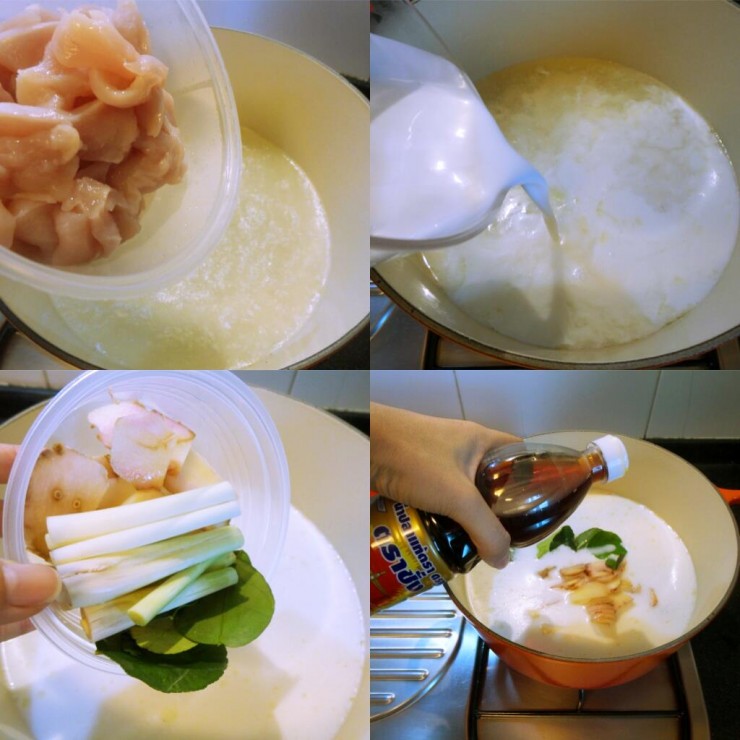 Tom Kha Gai Noodle
Delishar
2

cups

chicken stock

1

cup

straw mushrooms

halved

1-1/2

cups

coconut milk

500

g

chicken breast

sliced

2

stalks lemongrass

bruised and cut into 2 inch length

5

kaffir lime leaves

2

inch

galangal

sliced

2-1/2

tbsp

lime juice

3 to 4

thai chilli

smashed (or to taste)

2

shallot

minced

2

garlic

smashed

Fish sauce to taste

1 to 2

tsp

palm or brown sugar

Chopped coriander leaves to garnish

4

servings of thick bee hoon / rice
Bring stock to a rapid boil, and add chicken.

Bring back to boil then reduce heat to simmer.

Cover, and allow to chicken to cook for 5 minutes.

Add coconut milk and straw mushrooms.

Then add lime leaves, garlic, shallot, lemongrass, chilli and galangal.

Season with fish sauce and sugar.

Bring to boil, cover and lower heat to simmer.

Allow to simmer for 4-5 minutes, until broth is infused with spices.

Remove from heat, and stir in lime juice to taste.

Serve over Thai rice stick, and garnish with chopped coriander leaves.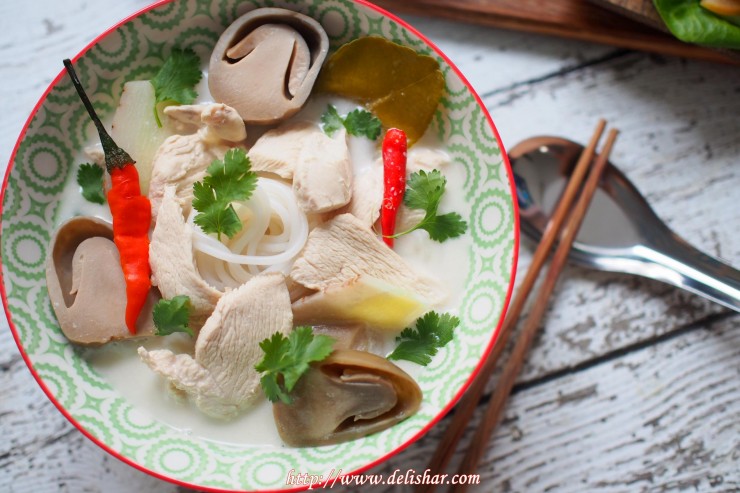 …