This is THE recipe you NEED to try out at least once in your lifetime! The best banana cake I've every made! So soft, spongy, and absolutely delish! Oh, and it's so darn easy to make it too. I told the husband that I'm going to bake a banana cake, walked to the kitchen, prep and sent it to the oven. Cleaned up the kitchen and was back in the room about 15 minutes later. My husband was so surprised, he said, "You are done baking already?!", maybe he just wanted me out of his hair for a little while longer. 😛
I couldn't even be bothered with lining my tin as you can see. I used a non-stick, sprayed it with baking spray, pour the batter in, and baked it. Nothing stuck to my tin when I flipped the cake out.
The recipe called for cooling the cake upside down immediately after it is out of the oven but I shock my cake instead. When you shock your cake, meaning drop your pan (with your cake in it of course) on the kitchen counter at least from a 20-30cm height, right after it is out of the oven, it prevents the cake from shrinking. This process breaks the wall within the air molecules that expanded during the baking process, and allowing air to enter the cake and retain it's shape. If not, the air molecules will contract as it cools, which will result in shrinkage of the cake.
I did not cool my cake upside down, and it has very little shrinkage as you can see. I left the cake to cool in the tin for 10 minutes, until it is cool to touch then flipped it out on the wire rack, and finally flip it back top side up to cool completely. Did the extra step just to test that there is little shrinkage with the shocking method. However, you can simply flip it out on the wire rack and allow to cool completely top side down too.
I used honey instead of sugar to keep the recipe sugar-free for the kids. Gave 1/2 of the cake to a co-worker who has a sweet tooth but is very careful about her refined sugar intake, and she loved it! She probably thanked me more than a dozen time. The husband had 2 in a row just before climbing into bed, and ordered me to save a few pieces for him. This is definitely going to be a staple in our family from now on. 🙂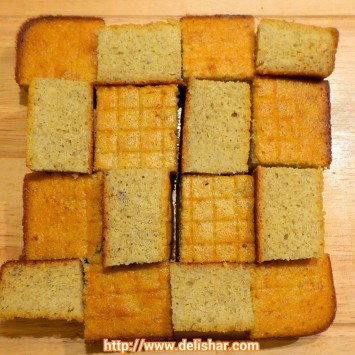 Spongy Banana Cake
Delishar
Makes an 8×8 square pan
3

eggs

60g each, use fresh ones

1/4

cup

honey

85g

200

g

banana

approx 2 large, cut into small pieces

100

g

corn oil

any neutral veg oil and melted butter works too

75

g

fine wholemeal flour*

75

g

cake flour*

1/2

tsp

baking powder

1/4

tsp

baking soda

1/2

tsp

vanilla bean paste / vanilla extract

pinch

of salt
Preheat oven to 160C.

Spray pan with baking spray or line pan with baking paper.

In your stand mixer bowl, whisk together eggs, bananas, honey, and salt on med-high until ribbon stage.

Meanwhile, sift together wholemeal flour, cake flour, baking powder, and baking soda.

Sift twice.

Fold in sifted flour mixture to eggs, until just combined.

Add oil, vanilla, and mix until batter is shiny.

Make sure not to overmix the batter and deflate it!

Bang cake tin on counter top a few times to remove large air bubbles.

Bake for 30-40 minutes, or until skewer inserted comes out clean.

Shock the cake.

Drop cake on kitchen counter at 20cm height immediately after removing from oven to shock cake and prevent shrinking. (Read post to find out more about shocking)

Leave to cool in pan for 10 minutes then remove cake from pan and cool on wire rack completely before cutting.
*you can use 150g cake flour or top flour as well as all purpose flour in place of the 75g wholemeal + 75g cake flour.
Adapted from wensdelight
…