It's day 4 on this Whole30 food journey. To be honest, it hasn't been a walk in the park. I am missing my sugar and carbs a whole lot. Although we have been eating well, it felt like we did not have a full or complete meal without the rice, pasta, bread etc. Our energy level have been pretty low. On top of that, our grocery bills has gone up by 100%. This is because I need to purchase Whole30 compliant sauces, organic produce, and grass fed, free range meat. A small price to pay for a healthy body. 
I've also been waking up earlier in the morning to make breakfast for the husband before he leaves for work at 7am. Before we started this, he would just have eggs & toast, pancakes, french toast, a sandwich, oats, or cereal. Come to think of it now, many of those food are processed.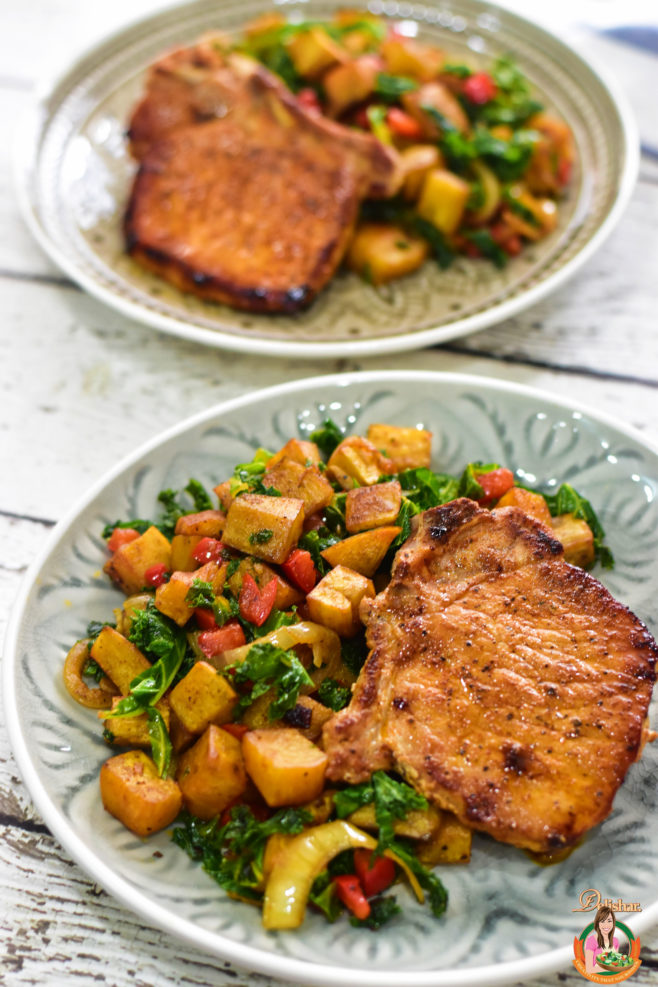 Yeah, so I'm basically cooking 3 meals a day. I make lunch for myself, and I usually make a larger portion so the husband can bring it to school for lunch the next day. Cooking and developing recipes has been interesting. Challenging, but intriguing. I learn a lot more about the produce that I use, I learned to read labels, and it forces me to make my own 'from scratch' sauces/paste. 
It's only been 4 days, so it's too early to say if I'm already seeing some changes with my body. Yesterday was a hive-free day for me! See, I suffer from hives every single day, usually in the evenings. Been to the doctor but nothing conclusive. I have also been having shorter sinus duration in the morning. Usually, I'd have to use up 20 pieces of tissues and wait until about 9-ish to 10am for my sinuses to find its balance. But yesterday, only 2 tissues, and everything was good within 30 minutes. It might just be a good allergy day for me. Will continue to monitor. Meanwhile, here is the video recipe.
Through this journey, I've a new found love for Kale and the many lovely health benefits that come with it. It's a great versatile vegetable that can be eaten raw or cooked. Healthyline has a great comprehensive piece of health benefits of Kale that is backed up by science if you are interested to learn more.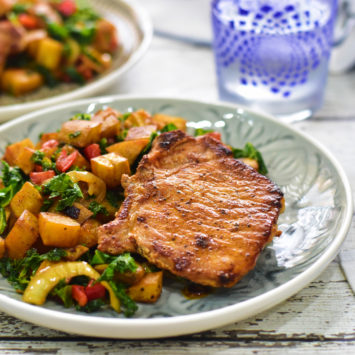 Pork Chop on Sweet Potato Kale Hash
Delishar
Roasted sweet potatoes
2

medium sweet potatoes

peeled & cubed

1

tsp

cumin

3/4

tsp

smoked paprika

2

tbsp

olive oil

Salt and pepper to taste
Hash
4

cups

kale

chopped into smaller pieces

1/2

yellow onion

sliced

1/2

red pepper

diced

2

cloves

garlic

minced

2

tsp

olive oil

1

tbsp

ghee

Salt and pepper to taste
Pork chops
4

bone in pork chops

about 1/2 inch thick

1/2

tsp

smoked paprika

Garlic salt to taste

Black pepper to taste

1

tbsp

olive oil
Roasted sweet potatoes
Preheat oven to 190C.

Spread sweet potatoes on baking tray.

Drizzle olive oil over, and season with spices.

Toss to coat, and lay them out on a single layer.

Roast 35-40 minutes until browned and tender.
Pork chops
Drizzle oil over pork chops.

Season both sides of pork chops with salt, pepper, and paprika.

Massage in the seasoning.

In a lightly greased pan over medium high heat, place pork chops to cook for 2-3 minutes each side until lightly browned.

Transfer to a plate and tent with tin foil for 10 minutes to let juices redistribute.
Hash
Heat pan over medium high heat with olive oil.

Saute onion for a minute until soft, then add pepper to cook for another minute.

Add garlic and saute for 30 seconds.

Add kale, and cook until starting to wilt.

Season with salt and pepper, and turn off heat.

Add in roasted sweet potatoes and toss to combine.
…