It is an open secret that I'm probably a Thai born in the wrong country/body. I love the culture, the food, the people, the language, and everything Thai. Tuk yang Thai, chan kor chop! Many of my recipes are Thai inspired, and I've been learning the beautiful language for over a year now. I love it when I'm treated like a local each time I visit Thailand. Well, hopefully someday we will get to live in that gorgeous country for a couple of years, or maybe when I retire. 
I was ecstatic to find out that the invite for a food tasting session was at Wang Thai Kitchen. I was excited that I get to eat Thai food (and lots of it)! The restaurant itself is nestled in heartland of Toa Payoh's HDB estate. The deco of the place is simplistic and gives a homely feel, like a family run business. To me, it pretty much says, "No frills, just good Thai food". 
True enough, the restaurant is managed by owner and chef, Ivan Then. Ivan travelled to the land of smiles to hone his culinary skills and knowledge in Thai cooking from native Thais. Given the understandings of our local palette and Thai cooking, he is able to fine tune the spices to appeal to the local consumers. I was surprised to find out that Ivan is the main and only chef whipping up an impressive menu! Who said men can't multi-task? Ivan shared that being the chef is the only way to ensure consistency of his dishes, maintain the authenticity of his recipe, and be assured that his food remains MSG-free. To that, I fully agree.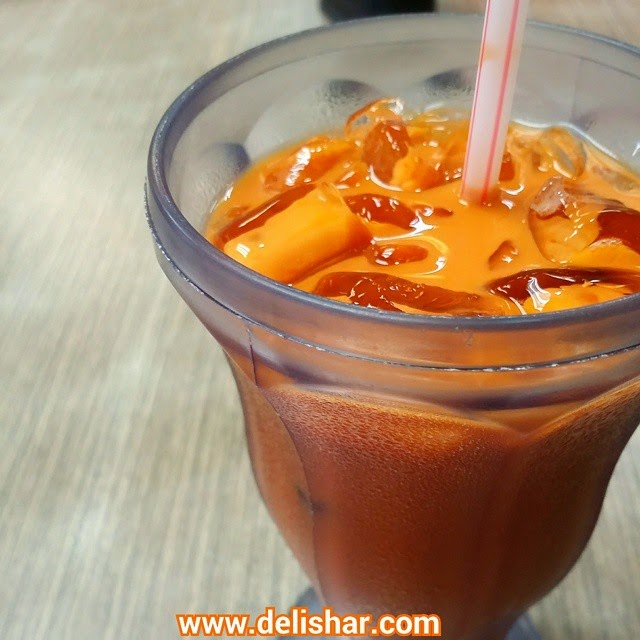 While we waited for food to be served, I happily sipped on my glass of Thai Iced Milk Tea ($2.80). There is nothing better than sipping on a glass of iced cold Thai Iced Milk Tea on a hot hot day. Can never go wrong with that! The milk tea helps to tone down the fiery chilli peppers as we started eating, and allowed us to better enjoy our meal.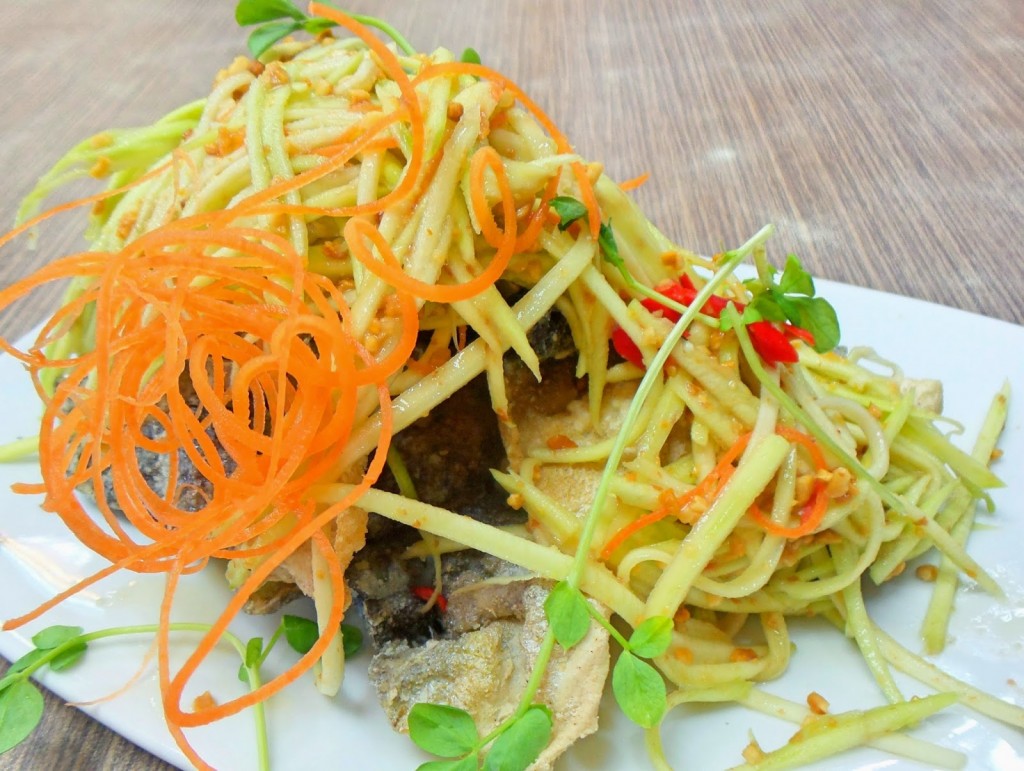 Mango Salad with Crispy Fish ($10) The mango salad is beautifully seasoned! The spice level is just to my liking, spicy enough to make me want more, but not so that it numbs my taste-buds. I love the sourness and crunch in this dish. Most mango salad does not come with crispy fish, so we were pleasantly surprised when this was served. I'm never a big fan of fried fish skin, but this… I liked! It was crispy to the last bite, and had a little tinge of sweetness. The 4 elements of flavours played out harmoniously in this dish, just the way Thai food should be!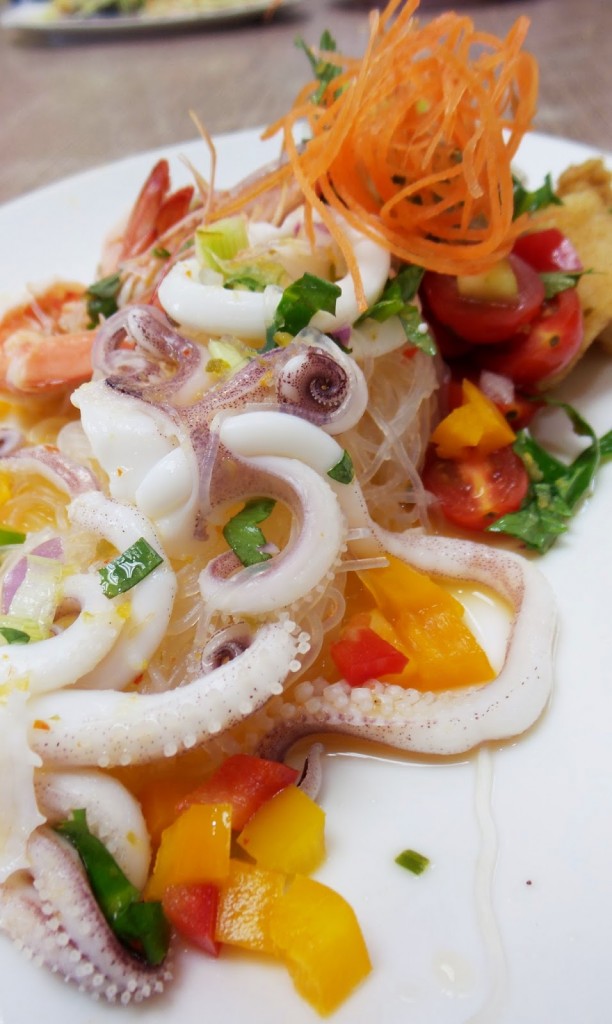 Tang Hoon Seafood Salad ($10) This dish tasted as beautiful as it looks. The seafood was fresh and perfectly cooked. Each silky strand of tang hoon was coated with the right amount of lime juice, fish sauce, and spices. The cherry tomatoes & peppers were a nice touch as it lends its sweetness to compliment the dish.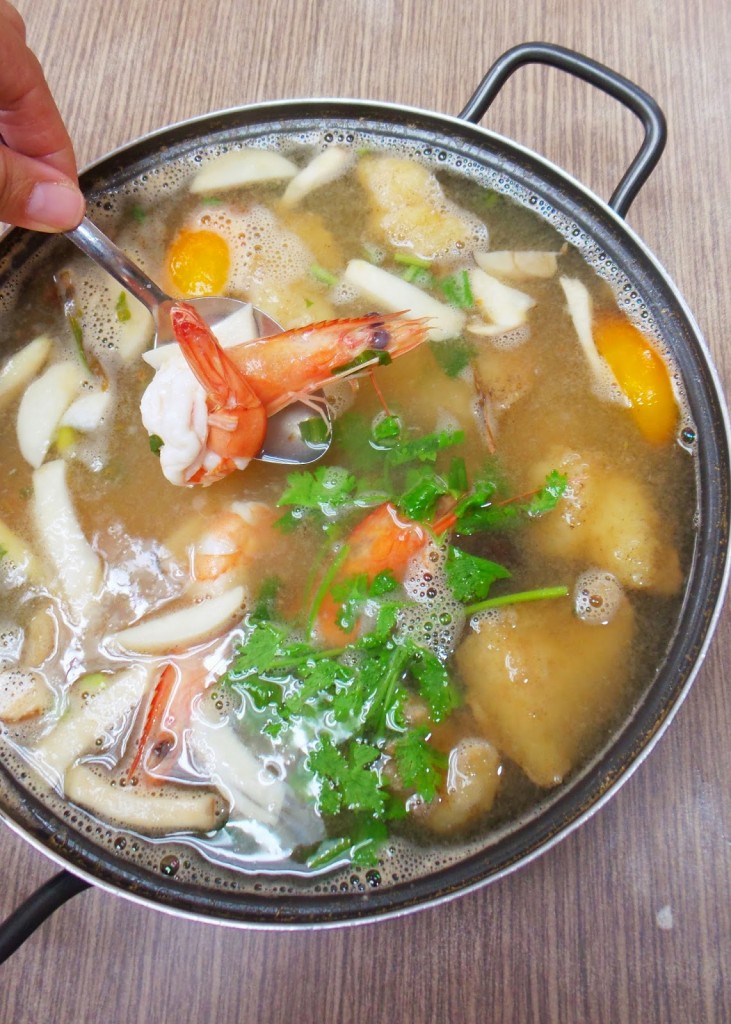 Tom Yum Seafood Soup ($12) When the soup came, I was grinning so widely that I'm pretty certain I looked silly. I probably mouth to myself, "Wow! Clear soup tom yum!". Yup, I'm a huge huge fan of tom yum, but it has to be the clear version, not the red base tomyum. As shown in the picture, the prawns were conveniently de-shelled and de-veined, but the head is still kept in-tack so the broth will have that extra oomph of seafood essence while it cooks. The dish has generous portions of seafood within the broth waiting to be devoured. The soup itself gives a very familiar feel, something that everyone can relate too. Perhaps it is due to my personal taste preference, but I secretly wished that it was spicier and has a tad bit more acid in it for sourness.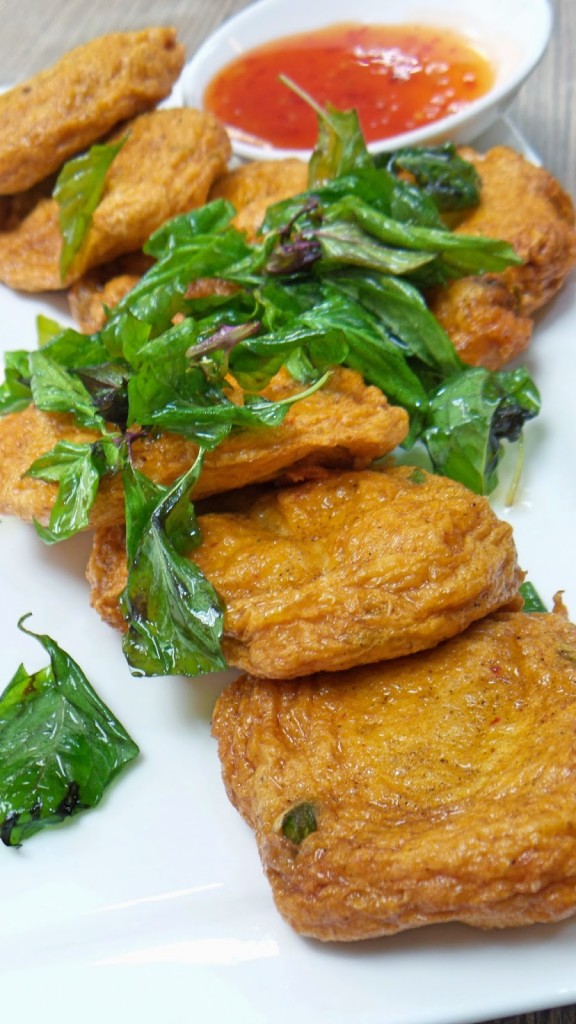 Thai Fish Cake ($2/pcs) These babies were made from scratch by Ivan. A single portion is enough for 1 person as the serving is generous! I liked how I can taste the spices in every bite of the fish cake, very moreish. Especially like the texture of the fish cake, I like my fish cake slightly denser and with a bit more bite to it. Ivan is not skimping on the amount of fish paste used in his recipe. However, I'd like to have a little more chopped greens in the fish cake for an extra play of texture. But that's a personal preference of course.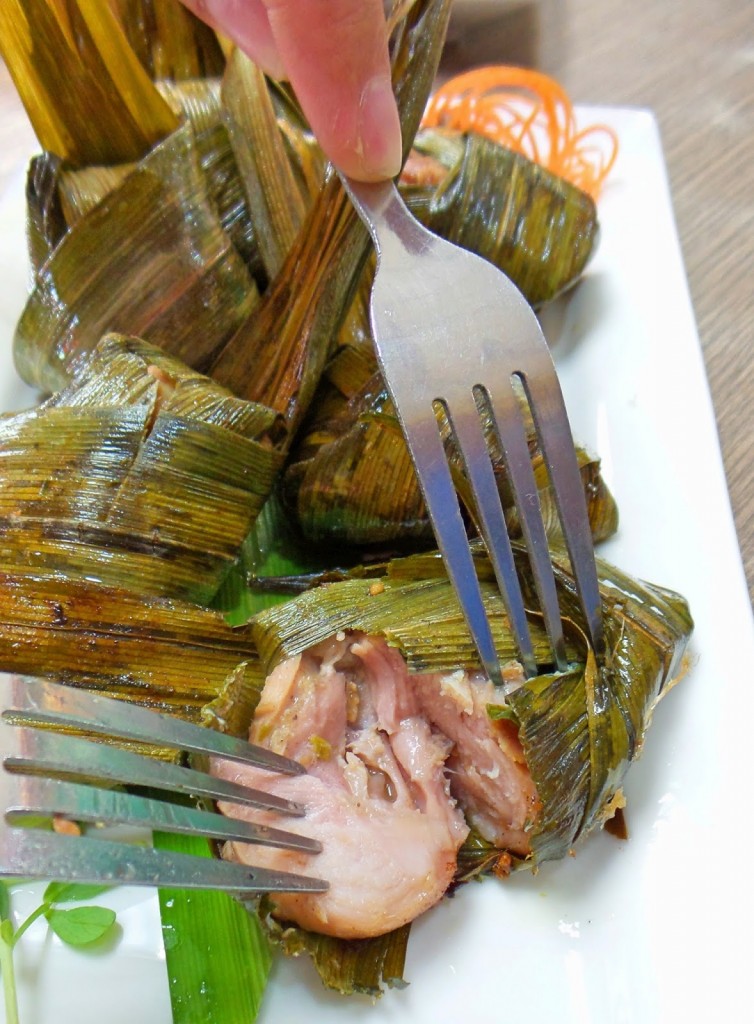 Pandan Chicken ($2/pcs) The moist chicken pieces are beautifully infused with the fragrant pandan leaves. Ivan shared with us that the chicken were marinated, steamed, then deep fried to maintain the juiciness of the chicken. No short cuts for juicy chicken!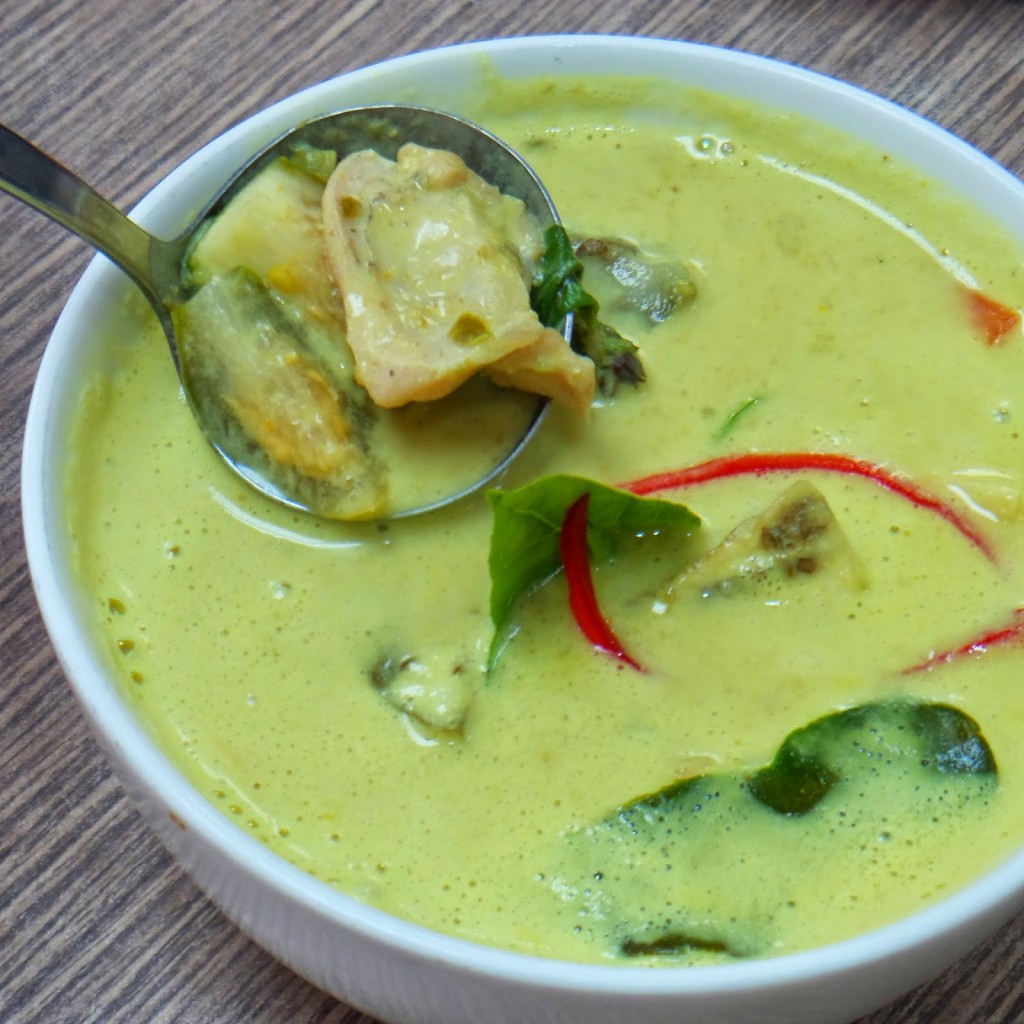 Green Curry Chicken ($6) In this thick creamy curry, you will find chunky pieces of tender chicken. Ivan uses fresh green curry paste which he makes from scratch on a daily basis. Talk about dedication!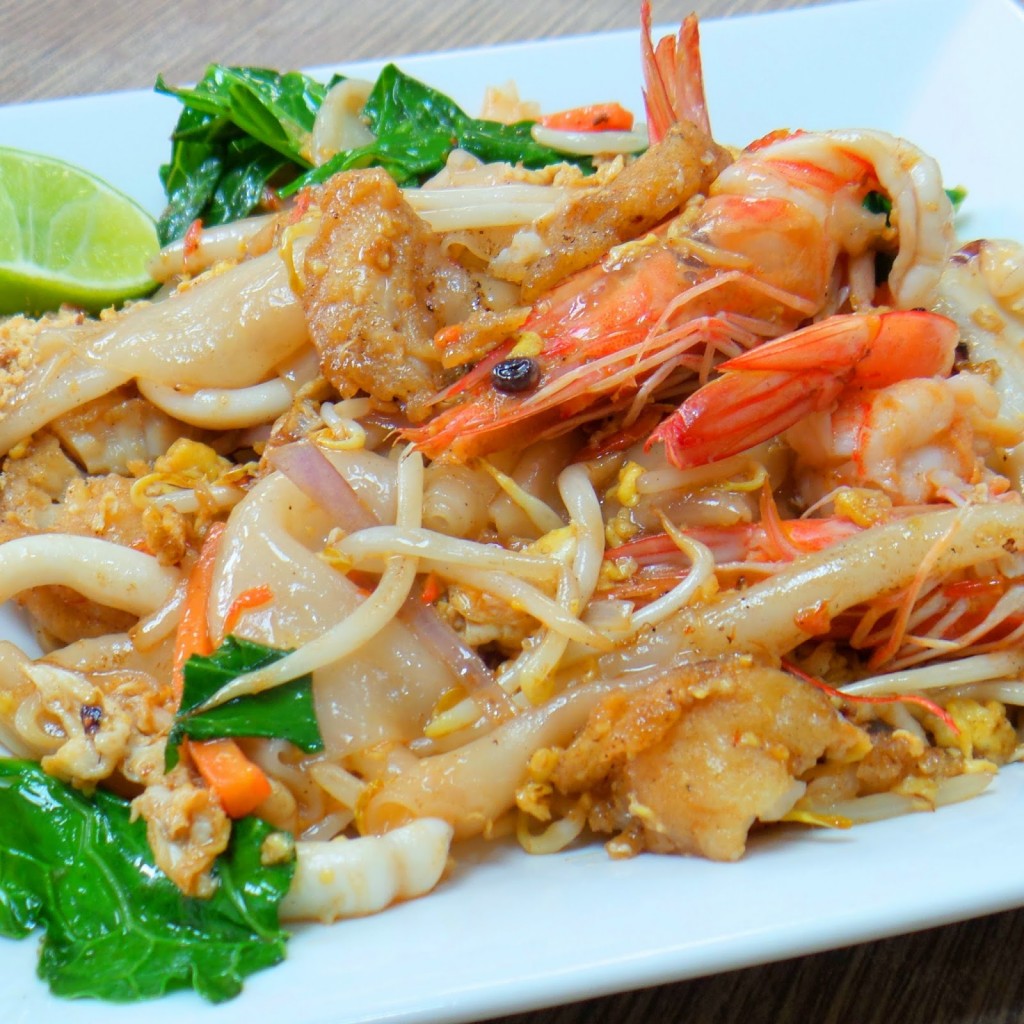 Thai Fried Kway Chap with Seafood ($8) When I first saw this, I immediately thought Pad Thai, but I was wrong! Ivan give it a different twist by using Kway Chap, and it was delish! The rice noodle has a softer, silkier texture, but springy at the same time. There was enough wok-hei in each bite, although I would have preferred more. But I'm sure balance is key, too much of a wok-hei may be an over-kill. I'm salivating, while I type this and my tastebuds hardly forget what they like.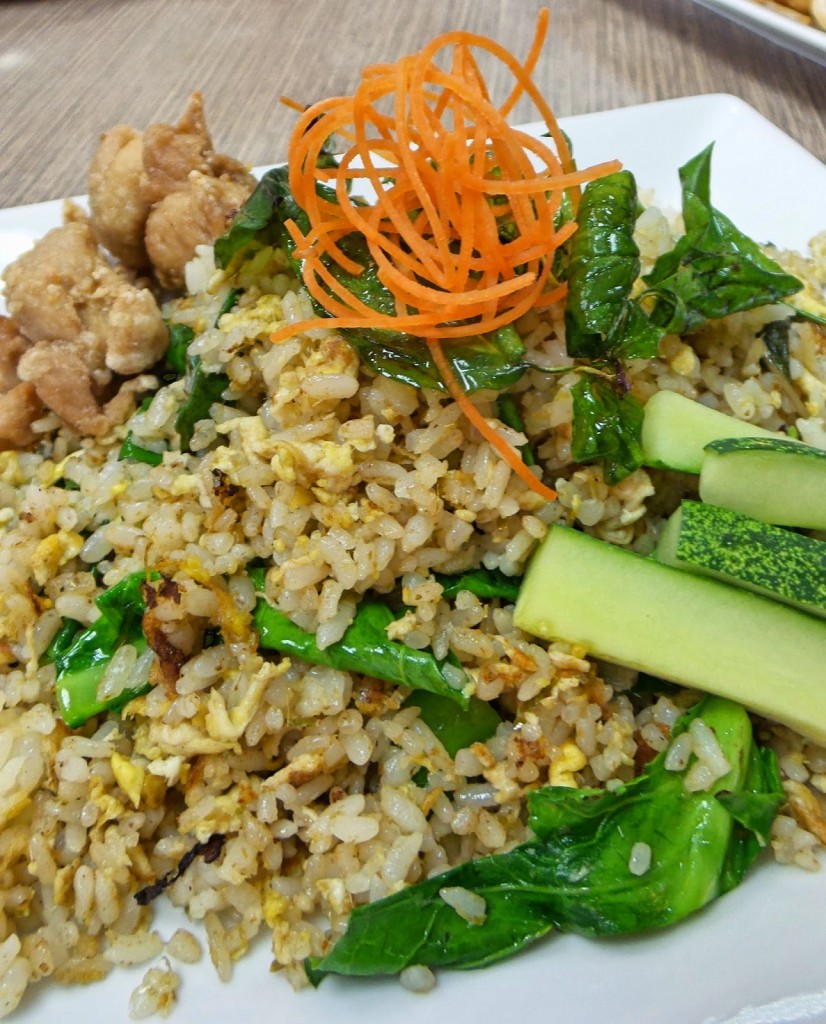 Green Curry Fried Rice ($8) Gorgeous fried rice as you can see. Each individual grain of rice is coated with green curry paste, the use of basil enhances the dish as a whole. I liked it that the chicken pieces are served on the side rather than fried in the rice. Eating the fried rice with the slices of cucumber cools off the spices, and refreshes my palette in preparation for the next mouthful.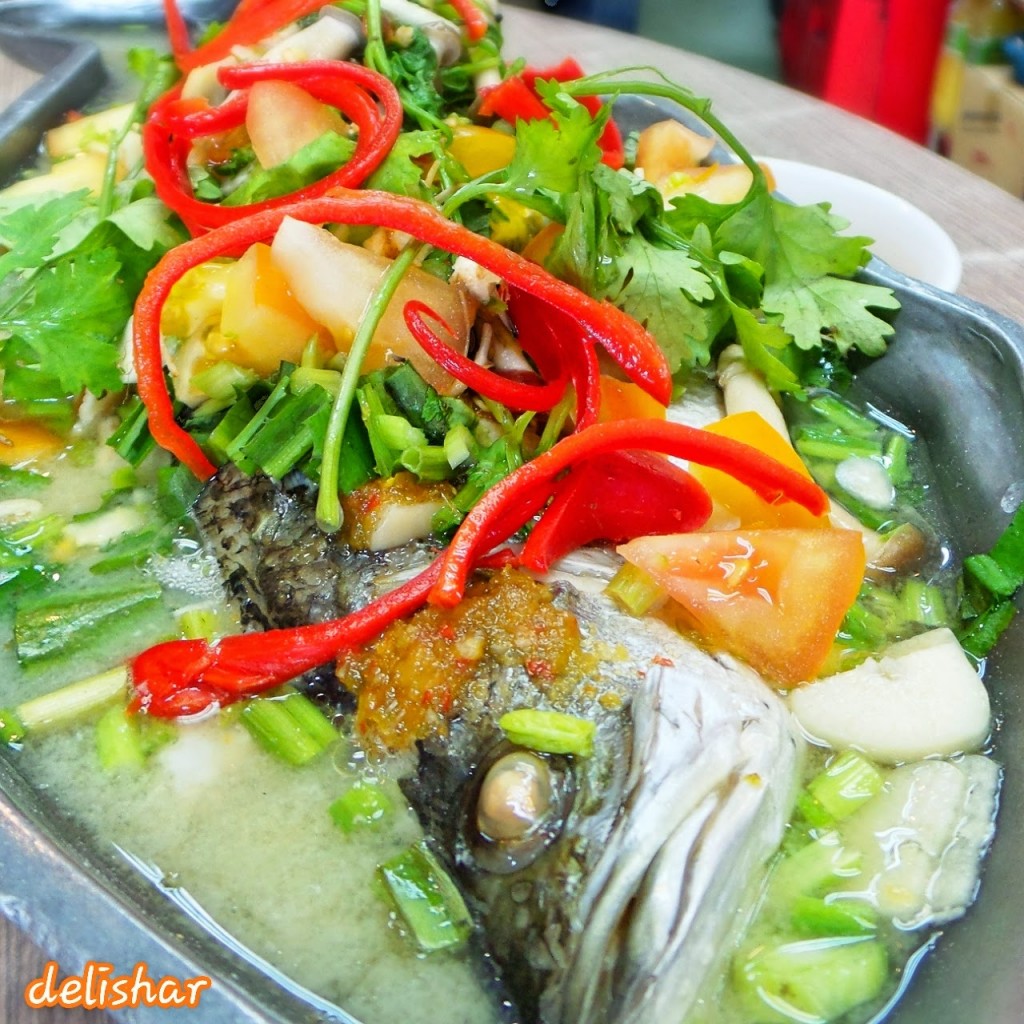 Steamed Seabass ($28) The seabass did not have a tinge of fishiness and the presentation of the dish was very appealing. I really enjoyed the spicy and sour broth that accompanied the fish. As you can see, the fish is generously dressed with tomatoes, coriander, mushrooms, and red chilli. Ivan was definitely thinking of the customer's dining experience as he has already pre-fillet the fish before steaming. Kudos to that!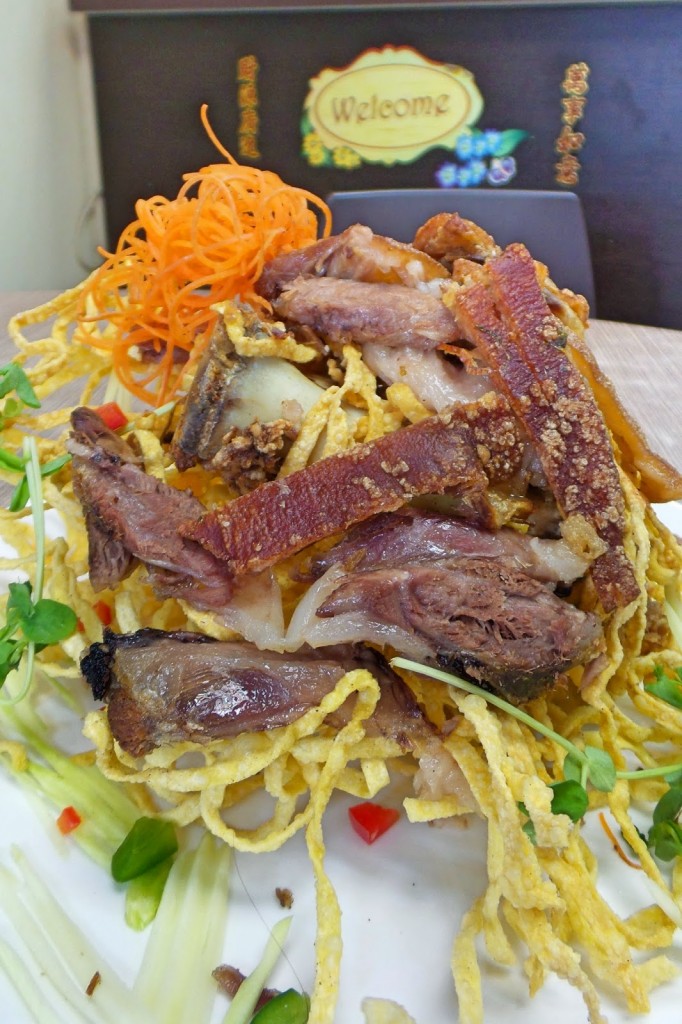 Pork Knuckle ($28) This came as a surprise to us, as we were more familiar with the braised version of pork knuckle. It was a very nice touch to serve the pork knuckle on a bed of crispy deep fried mee pok / egg noodles. The skin wasn't as crispy as I would like it to be but the meat was tender and pairs very well with the sweet and spicy dipping sauce (not photographed here).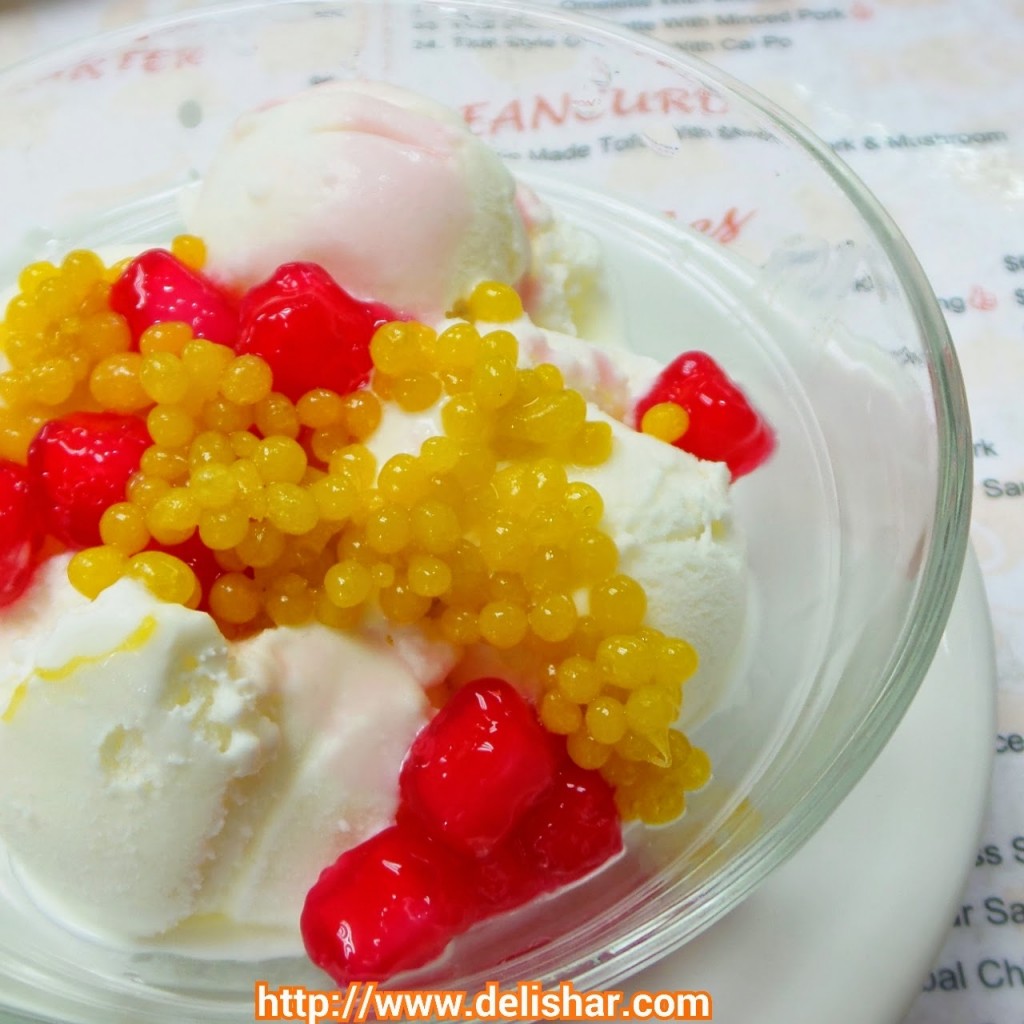 Coconut Ice-cream with Red Rubies and Mango Caviar ($5) I will travel back to Wang Thai for this, it was that good! The red rubies has a nice crunch to it which goes very nicely with the smooth creamy coconut ice-cream. Ivan hand made the mango caviar to perfection. There was nothing you can fault with this dessert. It was a perfect ending for a fabulous lunch.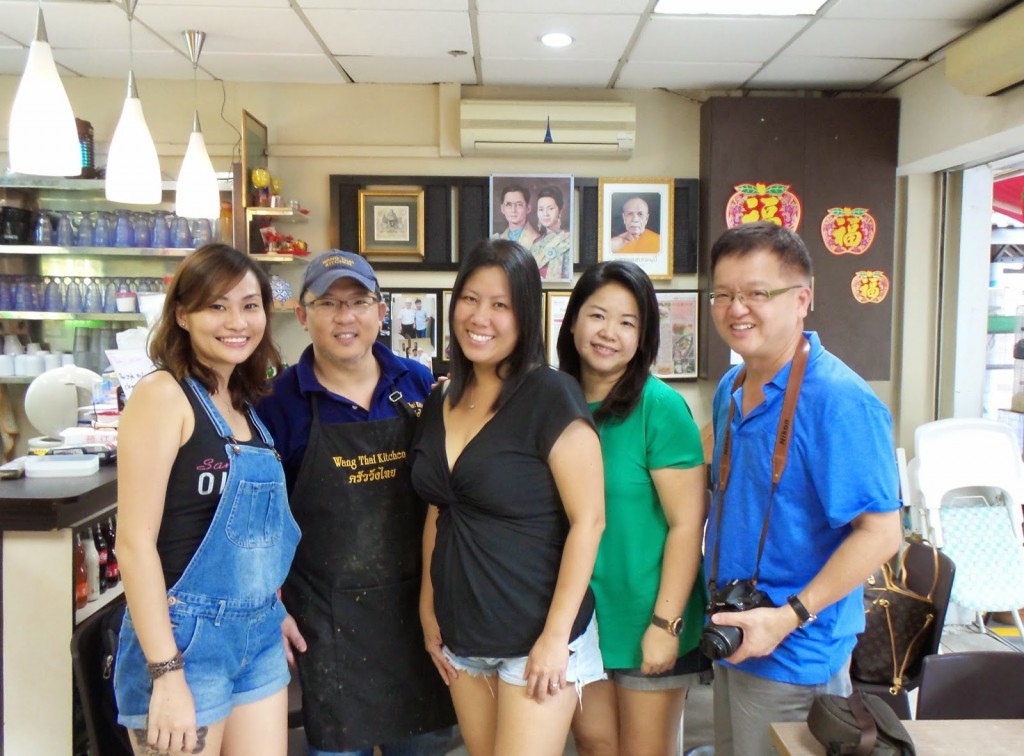 If I have to rate the whole food experience, I would give it a 4 out of 5 stars. The menu at Wang Thai Kitchen is very reasonably priced, with generous servings. You can expect a great dining experience with sincere and down-to-earth service. And be assured that you are being served quality ingredients, accompanied with appealing food presentation from Chef Ivan who clearly takes pride in what he does. The array of selection available on the menu ensures that there is something for everyone.
I had a great time meeting all bloggers that was there for food tasting. It is always nice to meet new people! Of course, we need to have a group photo with the chef before we leave. Unfortunately the organiser, Steven from The "Perfect" Father was not captured in the picture. The bloggers who attended (from L to R) was myself, Diana from The Domestic Goddess Wannabe, Adeline from The Accidental Mom Blogger, and Tony from Johor Kaki.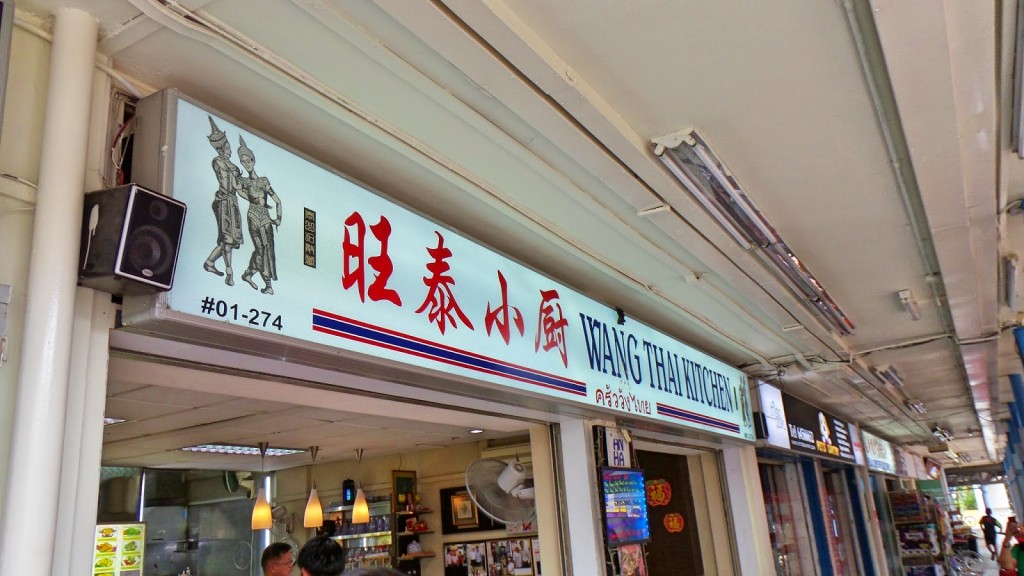 So if you are around the area, or would like to venture to an unfamiliar heartland for food, drop by Wang Thai Kitchen. Just a word of advice, do not attempt to leave the restaurant without trying their coconut ice-cream dessert, or you will be missing out something really good. 😉
Wang Thai Kitchen
Blk 92 Toa Payoh Lorong 4
Singapore 310092
Tel: +65 9181 9236
Lunch: 11.30am – 2.30pm
Dinner: 5.30pm – 9.30pm
Bon appetit!!
Disclaimer: This blog post was written with entirely my own personal opinions. Delishar was invited to the above mentioned restaurant for a food tasting session, and no monetary compensation was given. 
…