A week ago I shared my story on how I adopted my first bottle of Sriracha Hot Sauce. It has been living happily among all it's other brother and sister sauces/condiments. When I shared my recipe of Sriracha Honey Chicken Cube, I got a couple of readers asking me what is Sriracha and where can they purchase it.

Sriracha is a hot sauce or chilli sauce. Can you substitute with other commonly found chilli sauce? I'd say yes, and no. Yes, because you there is no right and wrong. You can use any chilli sauce you like. No, because the flavours of the dish will be different.
You see, Sriracha is a hot sauce made with chilli peppers (duh!), vinegar, garlic, sugar, and salt. It is a sauce commonly served in Thai and Vietnamese cuisine as a dipping sauce or condiment. My first encounter with Sriracha was ironically in the USA, more than a decade back. The most iconic brand is the one with a rooster or cock. It's also known as the 'rooster sauce' or 'cock sauce', I know it sounds a little explicit. However, the only brand of Sriracha that I've seen in Singapore is Lingham. You can get it from major supermarkets. I got mine from fairprice and I've seen it in cold storage. It's about $4 a 280ml bottle.
And since my last recipe blog post on Sriracha Honey Chicken Cube, I wanted to use more of this delicious hot sauce to cook up something for another recipe post. I was craving something crispy, but since I do not deep dry my food, I seared the chicken to a nice golden brown, and leave it to the oven to do the rest of the work for me. The glaze was extremely easy to put together, and requires very basic ingredients. The result was a crispy chicken coating in this lovely 4 flavours sticky glaze. So good I tell you, and so easy too!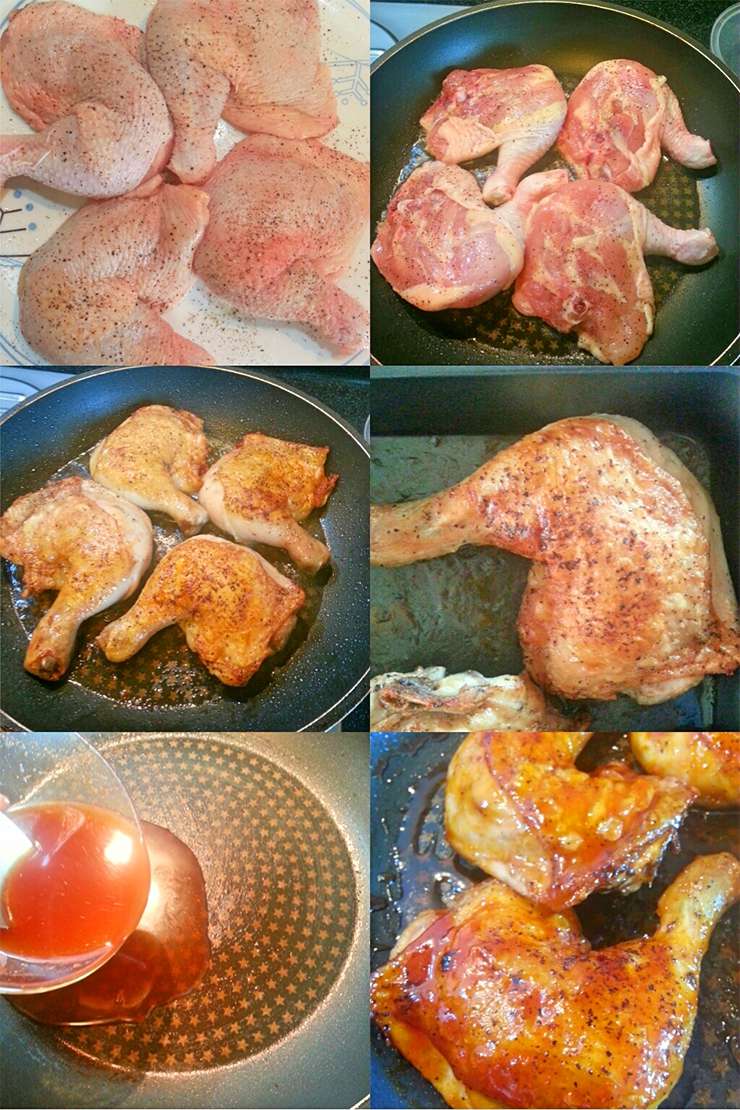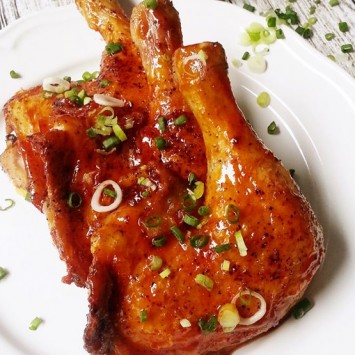 Honey Lime Sriracha Chicken
4

bone in skin on chicken thighs

Salt and pepper to taste

2

tbsp

oil

2

tbsp

honey

2

tbsp

sriracha hot sauce

Juice of 1 lime

1

tsp

fish sauce

Chopped spring onions to garnish
Preheat oven to 200C.

Pat dry chicken and season with salt and pepper.

Heat frying pan on medium-high.

Add oil and allow to heat until shimmering, not smoking.

Place chicken in, skin side down.

Let it cook for until skin is seared and golden, about 10 minutes.

Transfer chicken to a lightly greased baking tray, skin side up.

Bake for 15-20 minutes or until chicken is cooked through and skin crispy.

Meanwhile, mix honey, lime juice, fish sauce, and sriracha sauce in a bowl.

Using the same frying pan, drain off excess oil, but do not clean/wash.

Over medium heat, add sauce mixture into pan and reduce until glaze consistency, stirring often. Be careful not to burn it.

When chicken is done, coat chicken in prepared glaze, spooning it over the crispy chicken.

Garnish with spring onions and serve.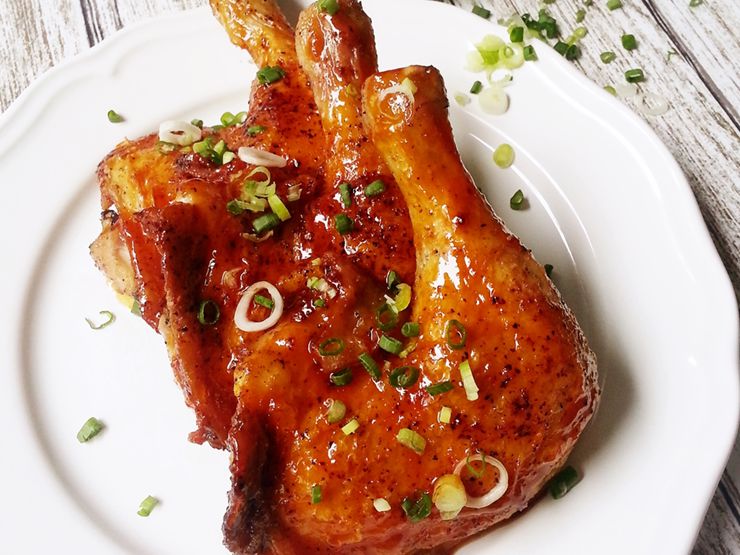 …