Whenever the husband and I go out to one of those prata coffeeshop to have dinner. My first instinct is to order mee goreng, beehoon goreng, or maggi goreng. So one of those days when we were at my brother's house, walking to pack food back for dinner. I ordered myself a packet of mee goreng mamak. I find it really comforting to be enjoying indian-style mee goreng. I think it's because of the sambal chilli, tangy tomato sauce, and the little bits of potato cubes and tofu cubes that I always find myself hunting for.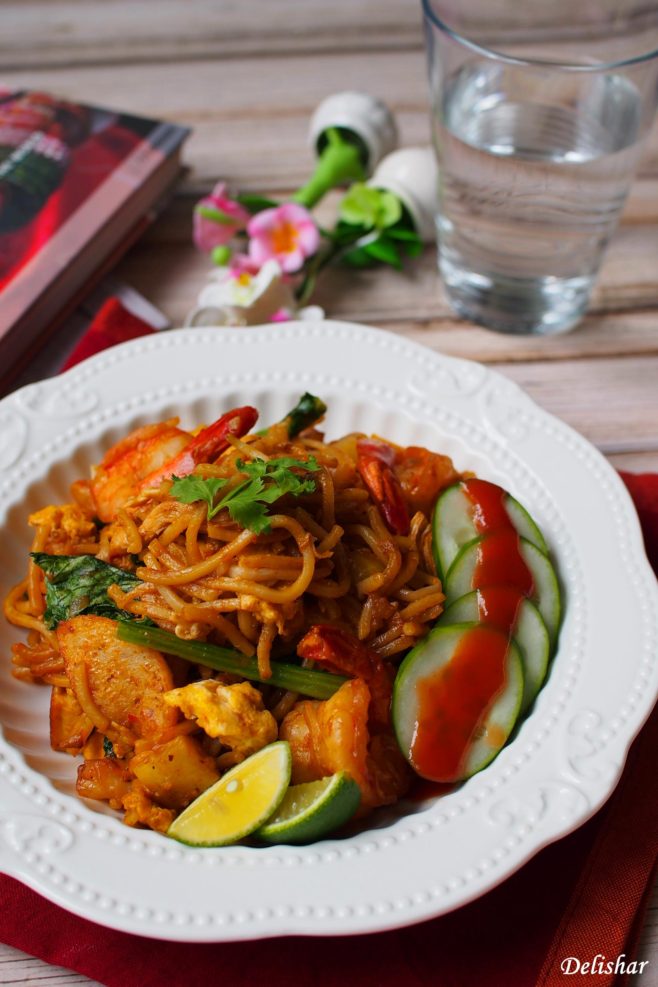 I've shared my version of the Chinese Tze Char Mee Goreng. I think the main difference is that the Chinese ones tends to be wetter or saucier. And of course, the Indian style mee goreng tends to be redder too. I realised it's because of the type/brand of the ketchup and/or red food colouring that gives it that distinct redness. Anyhow, I stood there to look at the hawker cook my mee goreng, and at the same time took some mental notes. So, here's my version of Mee Goreng Mamak.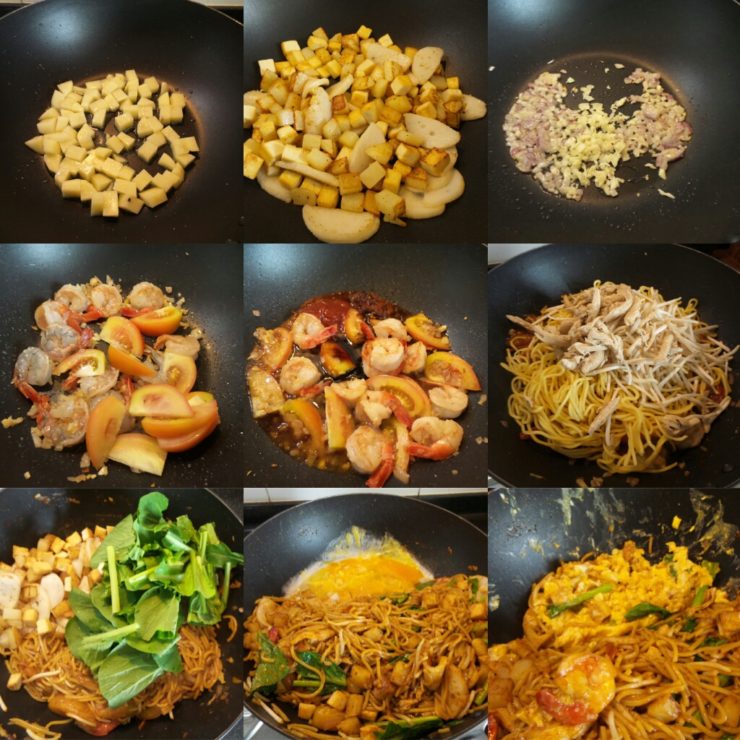 Mee Goreng Mamak
Delishar
400

g

yellow noodles

200

g

cai xin

cut into 2 inch pieces

2

cups

bean sprouts

1

fish cake

thinly sliced

16

prawns

shelled and cleaned

1

shallot

minced

3

cloves

garlic

minced

1 to

mato

cut into wedges

1

small potato

diced

1

firm tofu

diced

2

eggs

3

tbsp

cooking oil

1

tsp

sesame oil
Seasoning
2-3

tbsp

sambal chilli paste

or to taste (I used lee wee brother's)

4

tbsp

tomato ketchup

2

tbsp

oyster sauce

1

tbsp

kicap manis

Sweet soy sauce

1

tsp

sugar

4

tbsp

chicken stock

salt and pepper
To serve
Coriander leaves

Lime

calamansi wedges

Cucumber slices
Heat 2 tbsp cooking oil over medium high heat, and add potato.

Cook until soften and starting to turn golden, and add diced tofu.

When tofu starts to turn golden, add fish cake to stir-fry.

Remove from wok and set aside.

In the same wok, heat 1 tbsp cooking oil + 1 tsp sesame oil over medium high heat.

Add shallots and garlic, then stir-fry until fragrant.

Put in your prawns and tomato, and season with salt and black pepper.

Cook for a minute or 2 until prawn is almost done.

Add sambal, ketchup, kicap manis, oyster sauce, chicken stock,and sugar.

Toss to combine,

Bring to boil, then add in noodles and bean sprouts, toss to coat noodles with sauce.

Add potatoes, tofu, fish cake, and cai xin.

Continue to stir-fry until noodles absorbed all the liquid, and season with salt to taste.

Push everything aside, and create some space on the side of the wok for the egg.

Crack in egg and scramble, when it's almost set, toss noodles and eggs together.

Remove from heat and serve with wedge of lime, cucumber slices, and coriander.
I threw in some left over shredded chicken to the mix as well. Added it in together with my bean sprouts.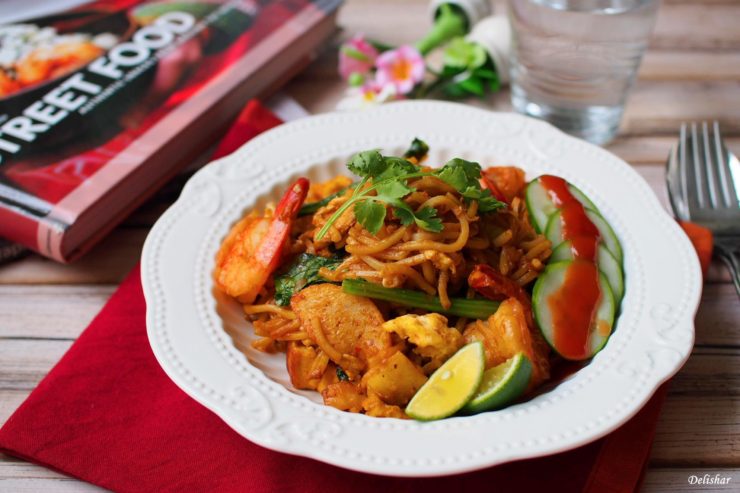 …