My usually night routine is to flip through a couple of pages of one of the cookbooks from my ever growing collection. Buying and owning those delicious looking books is so addictive, and I admit that I have no self-control. I. Want. Them. ALL!
So as I was going through Bobby Dean's Everyday Eats, this recipe was just too good to pass. The book promises healthier recipes that are 350 calories or less, and all under 30 minutes. As it is the mango season now, I adapted his Avocado Pico de Gallo, and made it with Mango instead. Spiced things up a little with cayenne, because you know, I like it hot. If you can get your hands on some jalapeños, you can use that instead of cayenne. The sweetness of the mango cuts through the spices and leaves you wanting more!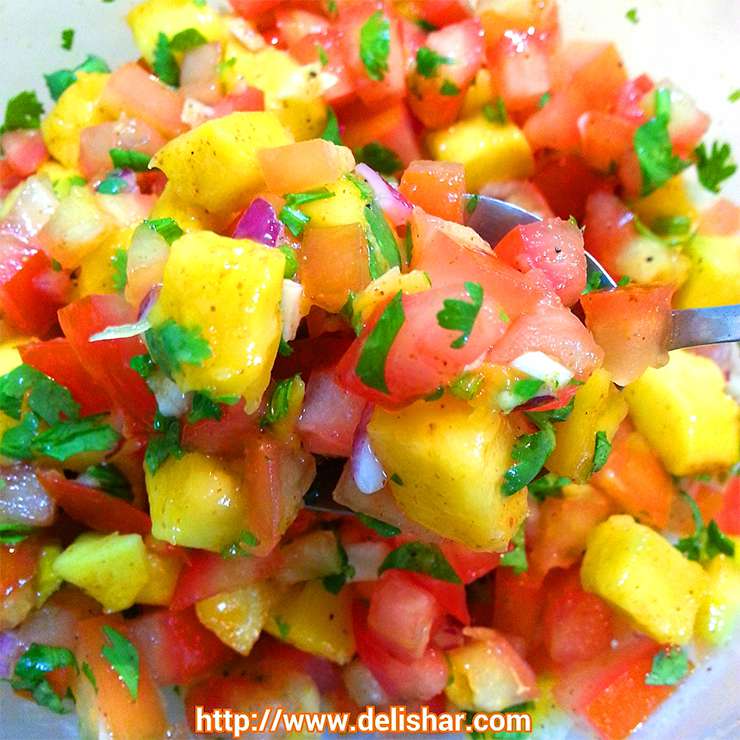 This was so sooooooooo good! I could not stop eating it. I was going in spoonful after spoonful. I suppose I can have this alone as a meal. :p
The whole meal was so simple to make, and as promised, dinner was served in 30 minutes. I also made a little cucumber yoghurt relish as a side dish or in place of the sour cream to extinguish the heat for le husband. Because you know, he can't handle my hotness. (just kidding! I'm still training his tolerance for spicy food)
If you only have 30 minutes to spare in your kitchen, I highly recommend you try this recipe! The husband said that there was an explosion of flavours when he took his first bite. One that he doesn't quite know how to handle, the combination of flavours blew him away (in a good way).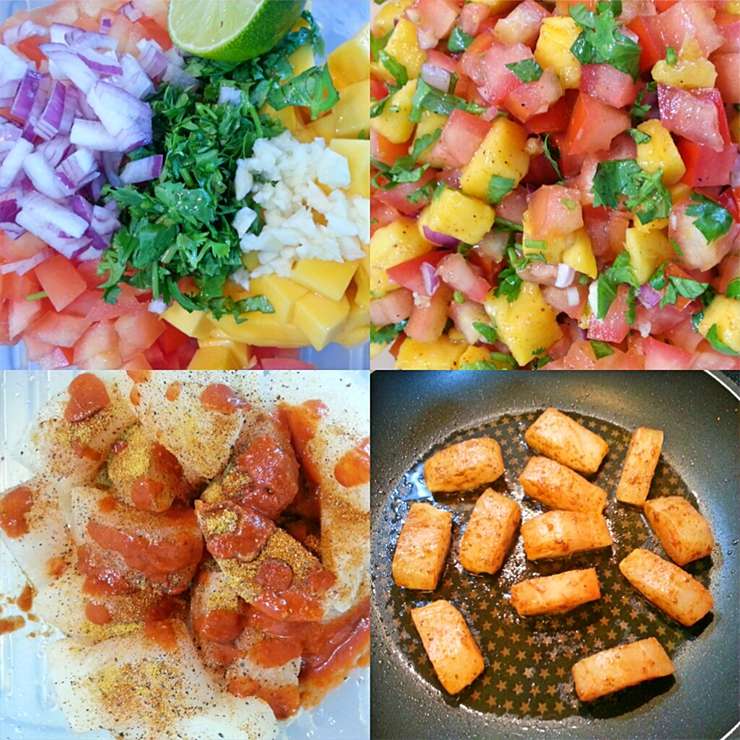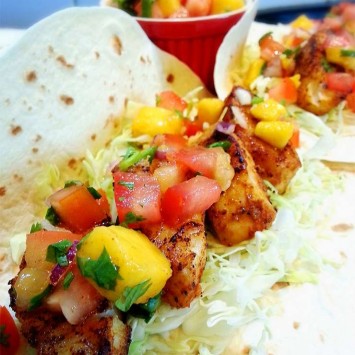 Fish Tacos with Mango Pico de Gallo
500-600

g

meaty white fish

cut into 1 inch slices

1

tsp

Old Bay seasoning

or other seafood/all seasoning

1-2

tbsp

Sriracha hot sauce or to taste

1

mango

peeled and diced

2 to

matoes

seeded and diced

2

tbsp

chopped red onion

1/4

cup

cilantro

chopped

Juice of 1 lime

1/4

tsp

cayenne pepper or to taste

Salt and pepper to taste

1

tbsp

olive oil

Shredded cabbage to serve

Low fat sour cream to serve

optional

8

corn tortillas
Toss fish with old bay seasoning, salt, pepper, and sriracha sauce.

Let sit at room temperature for 10 minutes. If you have more time, allow to marinate for 30 minutes to an hour in the chiller.

In a bowl, mix together onion, tomatoes, mango, cilantro, and cayenne pepper.

Season with lime juice, salt, and pepper.

Toss to combine, and set aside.

Heat non-stick pan on med-high heat.

When it's hot, add 1/2 tbsp olive oil.

Cook half the portion of the fish for 2-3 minutes on each side or until cooked.

Continue cooking the other portion with remaining oil.

Tend plate with aluminium foil and allow fish to rest for 5 minutes.

Warm up tortilla in microwave for 30 seconds, with a damp paper towel over it.

Serve with shredded cabbage, dollop of sour cream or more hot sauce, prepared fish, and mango pico de gallo.
Adapted from Bobby Deen's Everyday Eats
Get the pre portioned cook kit for this amazing dish and
cook it in your own kitchen! Order Now
…