I'm always looking forward to Sunday morning breakfast with the hubs. We will get up early, walk across the street, and grab a copy of the Sunday newspaper on the way. Once we are at the coffeeshop, the husband will go hunt for a table and order kopi for the both of us. Meanwhile, I'll head straight for the noodle store, and a friendly face will be smiling at me, asking if I'd like the usual. 
My usual order is not so usual to begin with. I like my flavours stronger with no lard, so I'll always ask for more chilli and vinegar without any lard. On the other hand, as much as the husband enjoys his mee pok, he doesn't like fishballs/fish cake. So his bowl will be more like Bak Chor Mee, with only minced pork and more vegetable added. So yes, the friendly uncle and auntie manning the store will customise our orders every time we visit. 🙂 So when I was given DoDo fish products to try out. I thought why not try to replicate this local favourite for my cooking blog.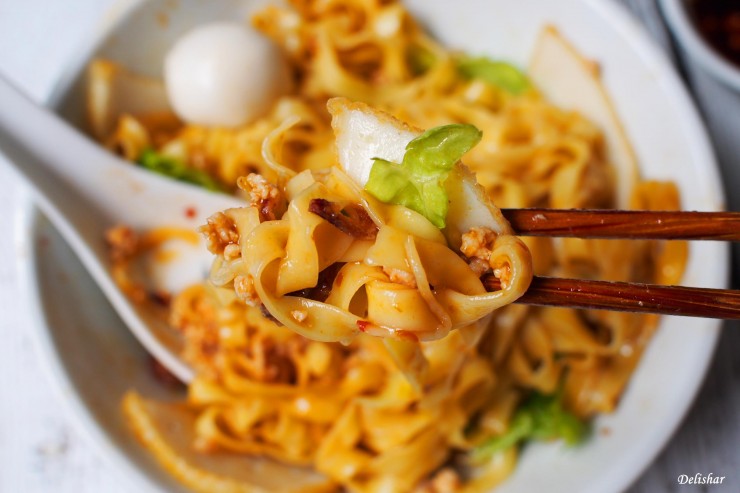 And replicate was what I did. I used shallot oil instead of lard because it's a healthier alternative, but at the same time deepens the flavour of the end product. When the husband came home, I quickly cooked him a bowl of piping hot noodles, to his preference of course. Then I just sat there and stare at him awkwardly, eager to find out the verdict.
He said, "Wow! Did you make this or brought it? This is really good! Taste just like the hawkers only without all the grease! Is there any more in the kitchen?".  He even finished every single drop of his fishball soup. When I told him I made it, he smirked and said, "Well, that means we don't have to walk to get breakfast any more, you can make it in our own kitchen.". I smiled and slowly disappeared into the kitchen to make him another serving of mee pok tah.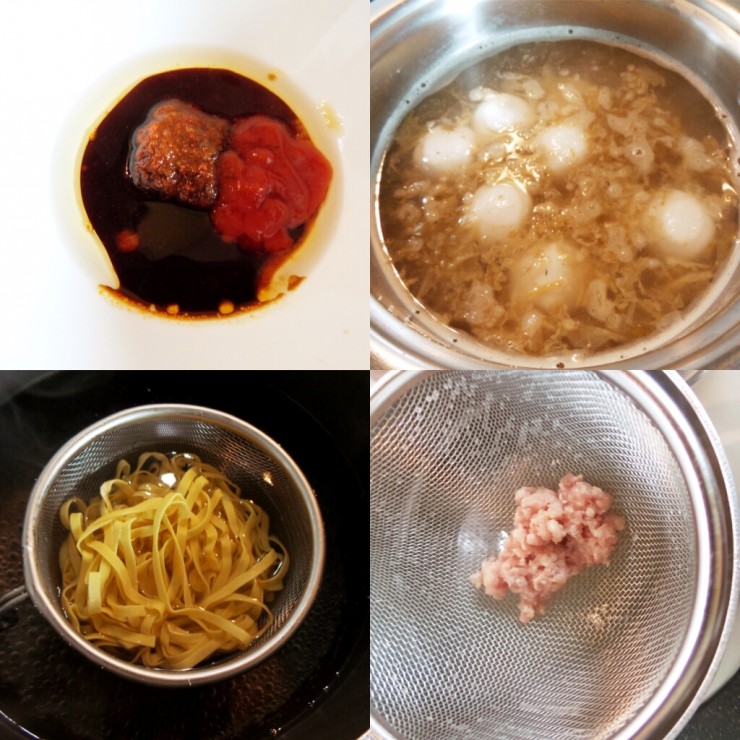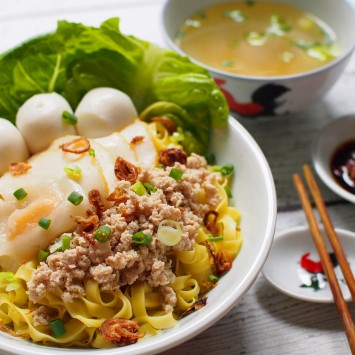 Fishball Mee Pok (Dry)
Delishar
2

packets of DoDo fresh fishballs

24pcs

1

piece

DoDo fried fish cake

sliced

4

pieces

DoDo fish dumplings

4

cups

1000ml ikan bilis broth

1

tbsp

dong cai

Tianjin Preserved Vegetable

1

tsp

sugar
Marinated Pork (divide into 4 servings)
200

g

minced pork

1

tbsp

soy sauce

White pepper to taste

1

tsp

corn flour

1

tsp

sesame oil
Noodles per serving
70

g

Mee Pok

8-10

g

beansprouts

4-5

slices

of fried fish cake

50

g

marinated minced pork
Sauce per serving
2

tsp

black vinegar

2

tsp

fish sauce

1-2

tsp

sambal chilli

to taste/optional

1

tbsp

ketchup

1

tsp

shallot or lard oil

2

tbsp

prepared ikan bilis stock
To serve
Fried shallot

Chopped spring onions

Hand torn lettuces

Sliced chilli padi in light soy sauce
Marinate minced pork for at least 15 minutes.

In a pot, bring ikan bilis broth to boil. Add dong cai, fishballs, fish dumplings, and sugar into pot.

Allow to simmer until fishballs are cooked and floating on surface of broth.

Reduce heat to a very gentle simmer, while you prepare the noodles.

Mix all the ingredients for sauce in the serving bowl, and give it a quick mix.

Bring a large pot of water to boil.

Using a noodle ladle blanch mee pok and beansprouts for 45 seconds. Rinse with cool tap water stop the cooking process, drain, and transfer to serving bowl with prepared sauce.

Blanch fish cake and minced pork in the noodle ladle, using a pair of chopstick to break up minced pork by swirling it in the ladle. Drain, and transfer to serving bowl.

Top with fish dumpling, fish balls, fried shallot, chopped spring onions, and lettuces.

Serve with a bowl of soup, and some chilli padi in light soy sauce.
I used Lee Wee Brother's Sambal Chilli.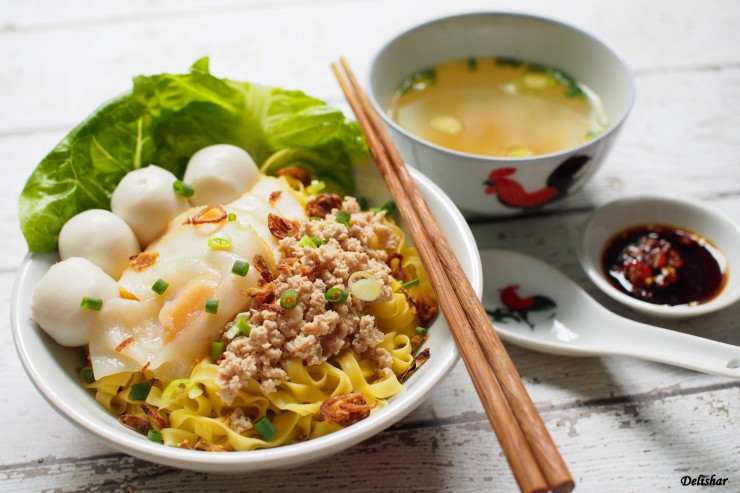 …