"Wow! This is unbelievable!", was what my 3 year old exclaimed when she took her first bite into these moist, chocolatey and totally delicious one bowl bake. Yup, you got it right. A one bowl, no mixer required, super easy, ultra yummy muffins! Took me about 15 minutes to prep, as speedy and easy as a premix! But definitely more delish! The husband said that this has got to be one of the best things I have made to date, and he carried on to say that I have made a lot of different food.
I took half the batch to work, and one of my female colleagues had 2 of these muffins at one go. And with every bite, she was going "Mmmm Mmmmm Mmm". Enough of me trying to convince you how good these muffins were. If you are not planning to make it, then you are probably missing out on something really really good.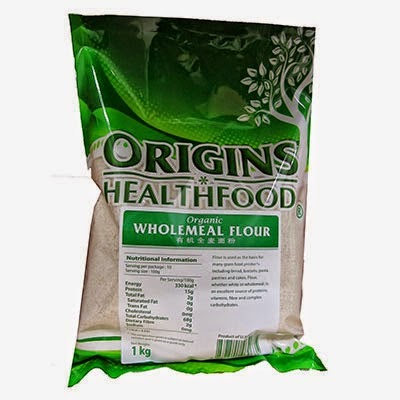 This is the wholemeal flour I like to use.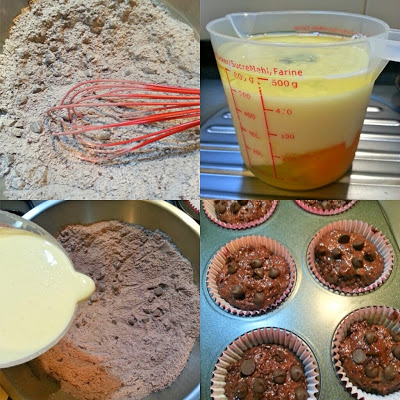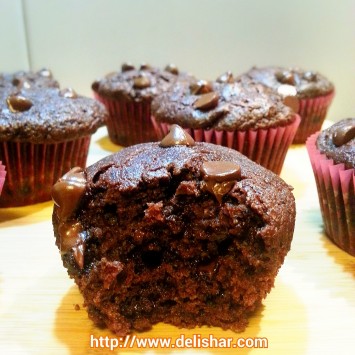 Best Moist Double Chocolate Muffins
Sharon of Delishar
1

cup

128g whole wheat/meal flour** (or all purpose flour if you don't have any, read note)

1

cup

128g all purpose flour

3/4

cup

150g castor sugar

1/2

cup

64g good cocoa powder (I used Valrhona)

1

tsp

espresso powder **

optional, read note

1

tsp

baking soda

1/2

tsp

salt

1

cup

175g chocolate chips

1

cup

245g greek yoghurt

1

egg

1/2

cup

120ml + 2 tbsp (30ml) milk

1/2

cup

120ml vegetable oil

1

tsp

vanilla bean paste/vanilla extract

1/4

cup

45g chocolate chips for topping
Preheat oven to 180C.

Line muffin pan with paper liners.

In a large mixing bowl, add flours, baking soda, salt, sugar, cocoa powder, sugar, espresso powder, and 1 cup chocolate chips.

Whisk to combine.

In a measuring cup, add yoghurt, egg, oil, milk, and vanilla extract.

Whisk till combined.

Pour wet ingredients into dry ingredients.

Using a spatula, mix until batter is just combined and still lumpy.

Do NOT overmix!

Spoon batter into prepared liners, and top with remaining chocolate chips.

Bake for 18-20 mins or until skewer comes out with a few moist crumbs.

Leave to cool in pan for 10 minutes before transferring to wire rack to cool completely.

Store in airtight container.

Serve with a glass of milk.
Whole wheat and wholemeal flour is the same thing. If you are not using whole wheat flour, then there should be a total of 2 cups of all purpose flour in this recipe.
The only purpose of the espresso powder is to enhance the taste of the chocolate. You will not be able to taste the coffee, and it is too little to keep you up like what cup of coffee does. If you don't have it or is uncomfortable adding, then please omit.
Adapted from allrecipes.com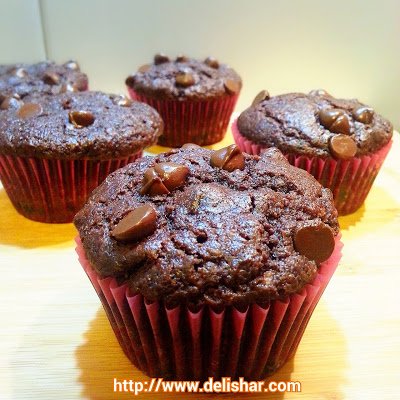 Bon appetit!!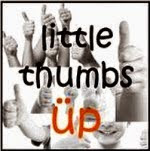 I am linking this post to the event "Little Thumbs Up (May 2015: YOGURT)" organised by Zoe of Bake for Happy Kids and Doreen of My Little Favourite DIY, and hosted by Cheryl of Baking Taitai
…