I don't know what it took me so long to make this! This recipe is absolutely yummitastic! I adapted from the idea of making regular Mui Fan, but used my Tom Yum Naam Sai (Clear Soup Tom Yum) to make the hot, spicy, and sour gravy. The husband could not stop going in serving after serving, and I don't blame him for that. It was equally hard for me to resist going for my 2nd plate of Tom Yum Mui Fan as well! I made a non-spicy version for the girls that night. They too, were going in spoonful after spoonful. 
The clear looking thick gravy is super deceiving as it looks like it's something mild and bleh. But the strong aromatic flavours of the spices, and the heat from the chilli padi hits you hard when you least expect it. You will be taken by surprise at first, but you will quickly find yourself going in more more! I can't rave enough about how much I love love absolutely love this super quick and easy meal! I made a very similar version but with rice noodles, here is the recipe of my Tom Yum Hor Fun if you are in the mood for some noodles instead.
When I posted this on FB, a friend told me that the correct way to pronounce this meal is actually Hui (left over) Fan rather than Mui Fan. So we have been pronouncing it wrongly all these while! Thank you, Eva for teaching me something new! 🙂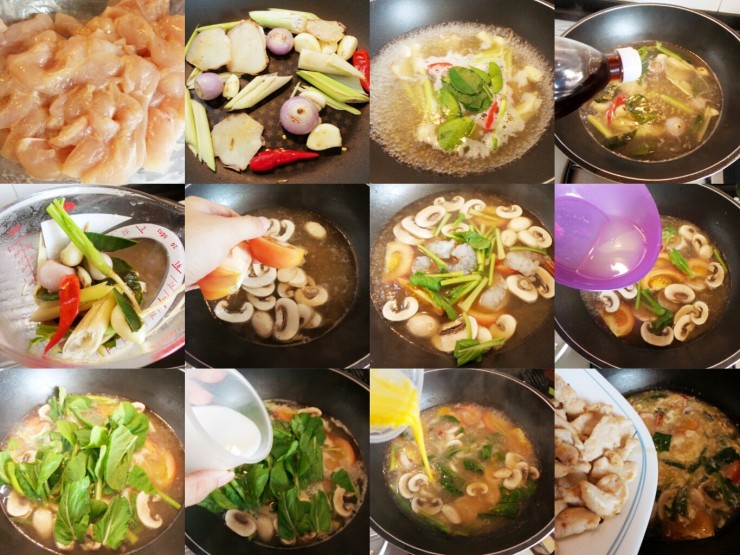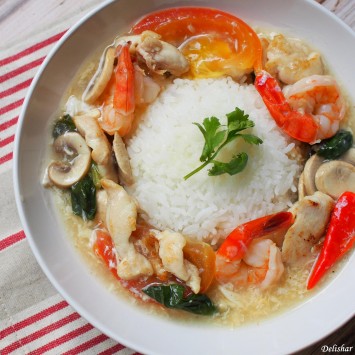 Tom Yum Mui Fan
Delishar
Chicken marinade
250

g

chicken breast

sliced

1

tsp

sesame oil

white pepper to taste

2

tsp

light soy sauce

1

tsp

corn flour

1

tbsp

cooking oil
Prawn & vegetable
12

prawns

cleaned and vein removed

3-4

bunches of cai xin

cut into 2 inch pieces

Handful of sliced button or straw mushrooms
Gravy
600

ml

chicken broth

4

lime leaves

crushed

5

slices

of galangal

3

shallot

5

cloves

garlic

2

lemongrass

bruised and cut into 2 inch pieces

1-2

coriander root

Juice of 1 lime or to taste

2

chilli padi

smashed

1-2

tbsp

fish sauce or to taste

1

tsp

sugar

1

egg

lightly beaten

1 to

mato

cut into wedges

Corn starch slurry
Assembly
4

servings of cooked rice

Chopped coriander for garnishing
Chicken marinade
Add all ingredients except cooking oil together and set aside to marinate while you prepare the other ingredients.

When ready to cook, heat pan, and add cooking oil.

Brown chicken on both sides, then remove from pan and set aside.
Gravy
In the same pan, toast chilli padi, shallots, garlic, lemongrass, and galangal until lightly browned.

Add chicken stock and bring to boil, then add lime leaves and coriander root.

Cover, reduce heat to medium and allow to infuse for 5 minutes.

Then fish out and discard lemongrass, shallot, garlic, lime leaves, coriander root, and galangal.

Add musrooms, tomato, cai xin stems, and prawn.

Allow to cook for a minute.

Season with fish sauce, sugar, and lime juice.

Add in cai xin leaves, and give it a quick stir.

Thicken gravy with corn starch slurry.

While stirring, pour in beaten egg.

Remove from heat, and stir in reserved chicken pieces.

Serve over steamed rice, garnish with coriander.
Make it child-friendly by omitting the chilli padi.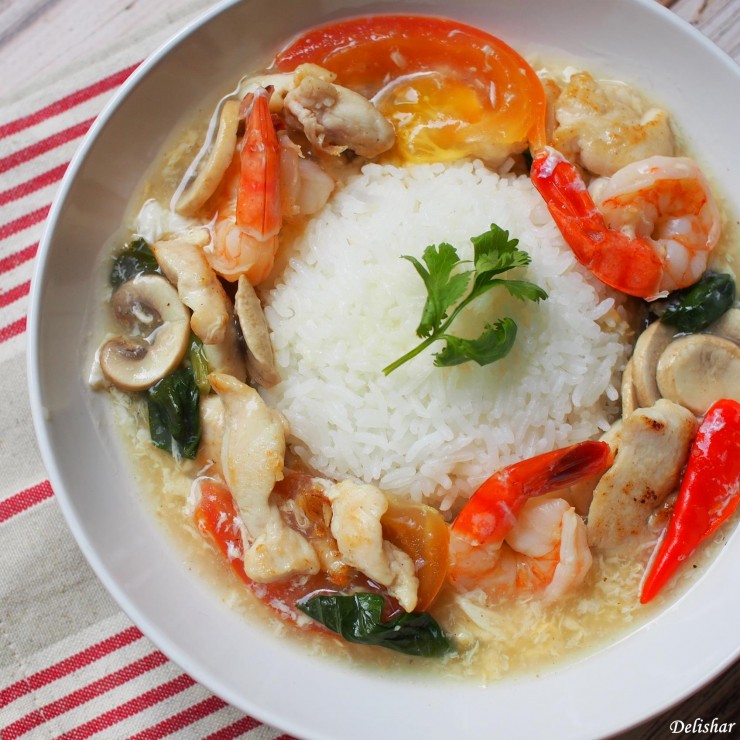 …