So glad that we have another one pot meal to add to our repertoire! This meal is a good one to bring to pot luck parties, and to make for the whole family on a busy work day. I felt that the spice level for the recipe is mild enough for the kids to enjoy or start training for spicy food. On a scale of 0 – 10 on spice level, I'd give this a 1, it's very very mild for me. But to err on the safe side, I made another portion without any chillies for the kids.
I used ready packed mild fajita seasoning that I got from Cold storage. Alternatively, you can also use Taco seasoning which seems to be more stocked up at cold storage. Both of the have very similar flavour profiles. I'd suggest using chicken thighs for the dish as the cut ensures that you'll get much more succulent chicken pieces after it's cooked. However, the breast meat will be friendlier to your waistline. 🙂
My girls really enjoyed this one pot pasta meal that I made for them. Melody, my eldest and the fussier eater of the 2 gave me a thumbs up, and requested for me to make this again for her. The husband and I loved how a small dollop of sour cream helps to round up all the flavours , and adds a creamy touch to the meal. My favourite part was the zesty lime that cuts through all the warm spices and freshens the whole meal up! If you do try this recipe, let me know what's your favourite part of this meal!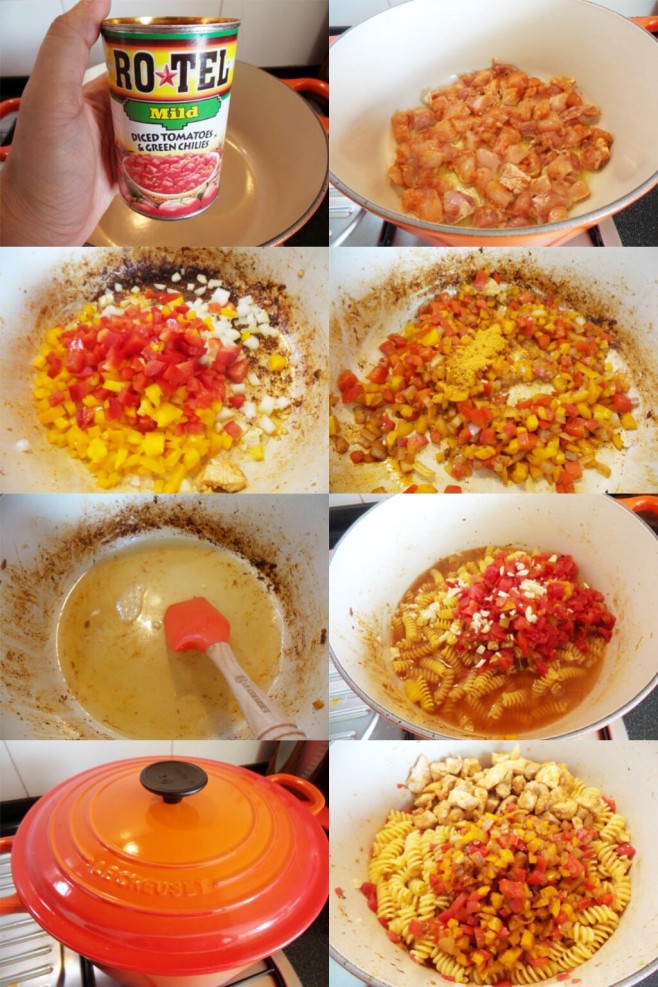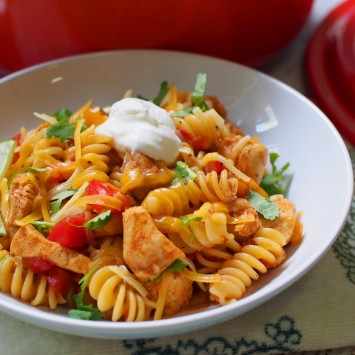 One-Pot Chicken Fajita Pasta
Delishar
500

g

Chicken thigh/breast

cut into cubes

2

tbsp

olive oil

4-5

tbsp

fajita/taco seasoning

1/2

tsp

chilli powder

1

med yellow onion

diced

3

cloves

garlic

minced

1

red pepper

diced

1

yellow pepper

diced

2

cups

chicken broth

1 283

g

10oz can mild ro-tel diced tomatoes with green chiles

200

g

fusilli pasta

1/4

cup

light sour cream

1/2

cup

shredded sharp cheddar cheese

1/4

cup

chopped cilantro/coriander

1

small avocado

diced (optional)

Salt and pepper to taste

Wedges of lime to serve
Marinate chicken in salt, pepper, and 2 tbsp fajita seasoning.

Heat 1 tbsp olive oil in French oven over medium high heat.

Add chicken and cook until no longer pink.

Remove and set aside.

In the same pot, add 1 tbsp olive oil over medium heat.

Saute onion, red pepper, yellow pepper, and garlic with 1 tbsp fajita/taco seasoning until onion is soft and translucent.

Remove and set aside.

Deglaze pan with 1/4 cup of chicken broth, scraping up all the fond in the pan.

Then add the rest of the chicken broth, chilli powder, rotel tomatoes, and uncooked pasta.

Season with 1-2 tbsp of fajita/taco seasoning.

Stir to combine, and bring to boil.

Cover, and allow to cook for 10-15 minutes or until pasta is tender and liquid is almost absorbed.

Add chicken and vegetables back into pot.

Stir to combine, and heated through, about 2 minutes.

Remove from heat, serve hot, topped with cheese and a dollop of sour cream.

Serve with lime wedges and garnished with chopped avocado & cilantro.
You can get rotel canned tomatoes from cold storage.
For a non-spicy version, I used mild seasoning, omit chilli powder, and substitute with regular diced tomatoes.
Adapted from Skinny Taste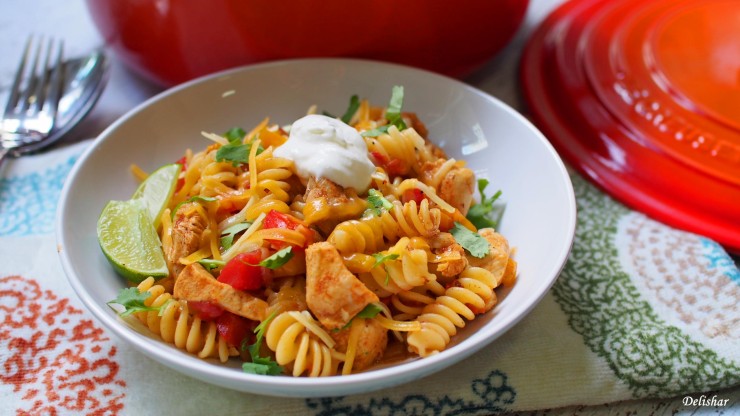 …