Day 17 of Whole 30. Still, no tiger blood. Perhaps, I'm just one of those who will never get it. That would kind of suck, because I could really use that burst of energy. The husband's energy level has been pretty low as well. He mentioned that he felt slightly light-headed when he was playing at the softball field over the weekend. This could be due to the body working extra hard to convert reserved fats in the body into energy rather than feeding off the refined sugar & simple carbs that a regular diet would have.
He also broke one rule and stepped on the scale on Sunday. I honestly don't think that's a make or break and have to restart the whole program. But he did tell me that he lost 4kg! His biggest fight is with his sugar dragon. I'm not sure if he would ever be able to slay that dragon. He snacks on a date and fruits whenever he feels the need for something sweet. Still better than him eating chocolate, or cake. Other than that, he has been really good about the diet. I'm very proud of him!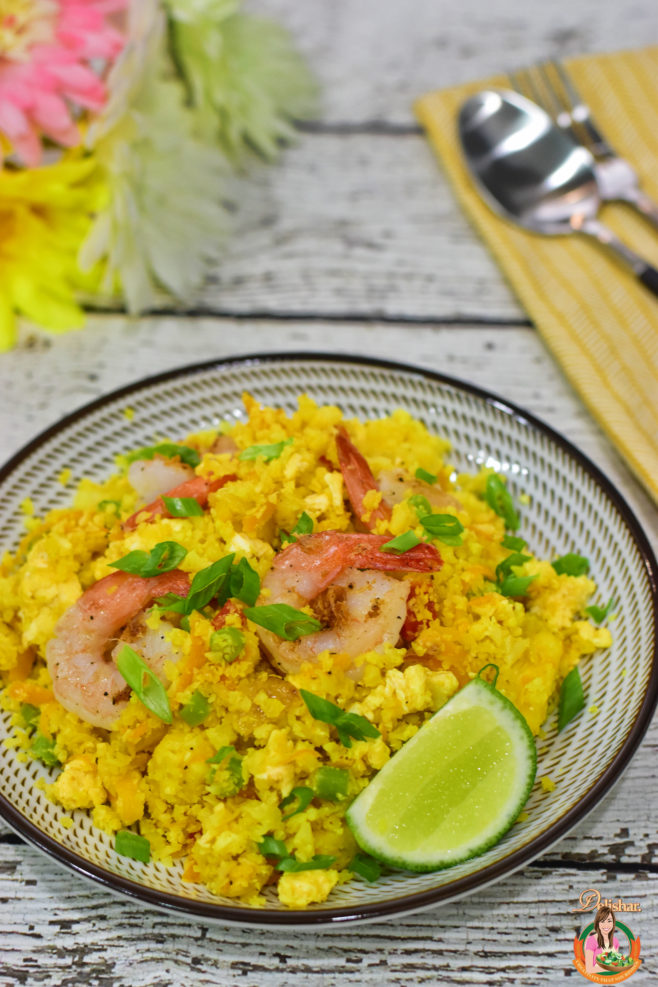 One thing I miss most is Asian food. You know, rice with several dishes laid out on the table. I miss Thai food too, so I made this whole 30 variation of Thai Pineapple Fried Rice using cauliflower 'rice'. I served it with a side of Thai Basil Beef Lettuce Wraps. It definitely satisfied my need for Asian food that night. 🙂 
I honestly can't wait for the diet to be over so I can go get some blood work done to see if my body chemistry changed. Believe it or not, my cholesterol level is borderline high, and I suffer from hypo hypothyroidism too. I tried eating bland soupy food, mainly soy, vegetables, and fish for 2 weeks and re-took the test, but it was still borderline high. Attributed it to genetics. Everyone in my family has that problem. 
I'd be very surprised if I'm able to lose a couple of pounds with this diet given my under-active thyroid condition. My metabolism rate is pretty low, and I have been struggling with losing that extra 3-4kg to get to my ideal weight. During the re-introduction phase, I'll get back to fitness routines as well which i'm sure will help burn the extra calories and help me feel better.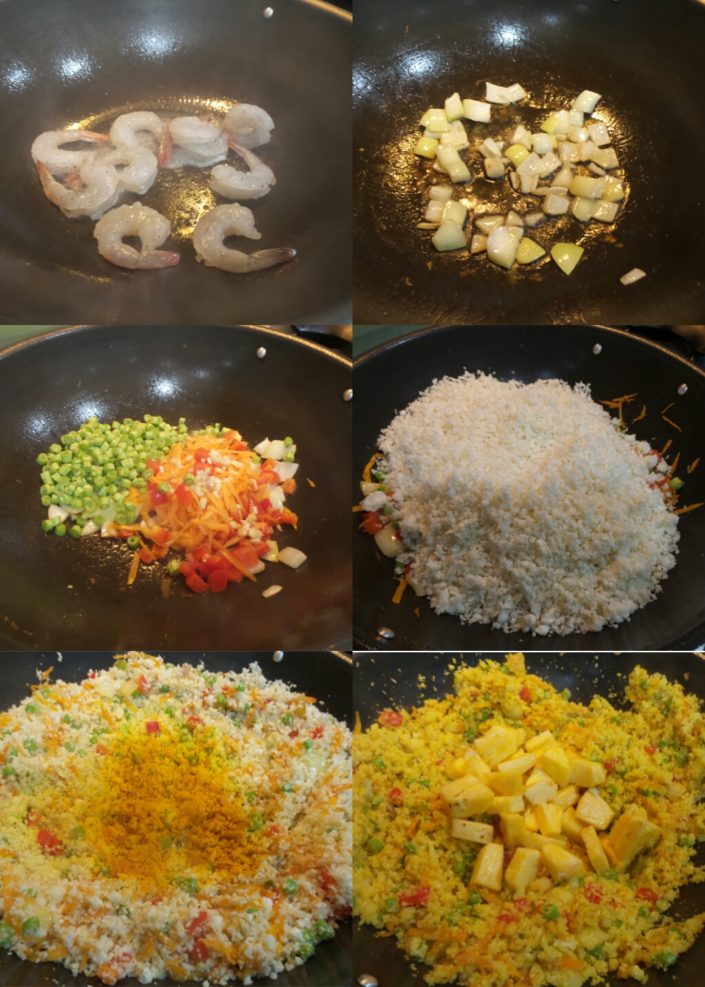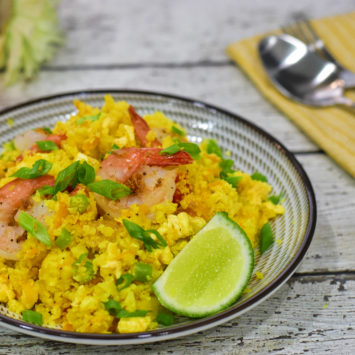 Thai Pineapple Fried Cauli-rice
Delishar
1

kg

cauliflower

cut into florets

1/2

pineapple

chunks

12

large prawns

peeled & cleaned

2

eggs

lightly beaten

2

cloves

garlic

minced

1/2

yellow onion

diced

1/2

cup

shredded carrot

1

cup

diced french beans

1/2

red pepper

diced

1

tsp

turmeric powder

1

tbsp

coconut aminos

or soy sauce if not whole30

1

tbsp

fish sauce

Salt & black pepper to taste

3

tbsp

coconut oil

Chopped spring onions to garnish

Sliced lime wedges to serve
Place cauliflower into food processor and process until you get rice like size.

Heat pan on medium high heat with 1 tbsp oil.

Season prawns with salt and black pepper.

Pan fry prawns until until cooked, about 1-2 minute each side.

Remove and set aside.

Add remaining 2 tbsp coconut oil into pan.

Stir-fry onions until soft and translucent, then add garlic to cook for 30 seconds.

Add french beans, carrot, and red pepper to cook for a minute.

Then add cauliflower rice.

Stir-fry for 4-5 minutes.

Season with turmeric powder, fish sauce, coconut aminos, black pepper, and salt to taste.

Create a well in the middle and pour in eggs.

Scramble until set and toss it together with cauli-rice.

Add pineapple chunks, and cooked prawns.

Add

Serve garnished with chopped spring onions, and a wedge of lime.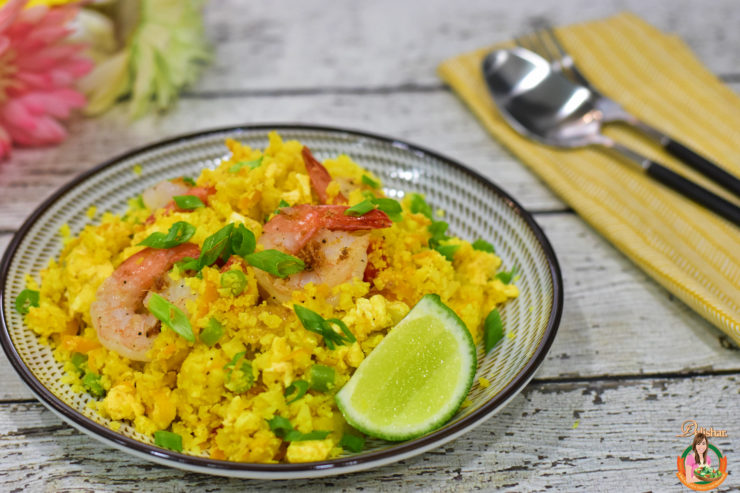 If you like my recipes, please like & follow my Facebook Page for more food related updates and new recipes. 
…