I came across this bread from my helper. She came home from her day off one day holding a brown paper bag, and happily told me that she bought freshly baked Filipino bread. The next day, my youngest daughter saw her enjoying her Pandesal and requested for one to try. From then on, she has been asking my helper to go out with her friends (translation: take the day off), so that she can go to the bakery to buy more of this bread home. 
My helper shared about how my little one has been bugging her to buy her more of this bread. She told me that the bakery sells it at $3.60 for 4 or 6 tiny rolls. Pretty pricey if you ask me. That got me curious about the recipe. So after a little search online, I decided to make it myself.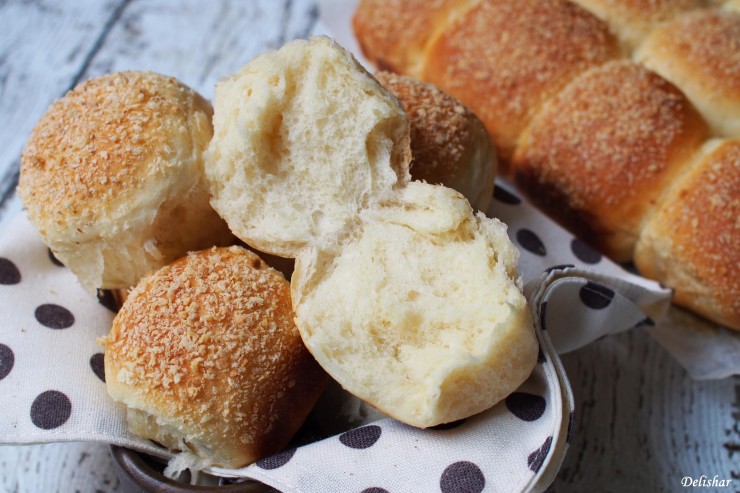 You see, this is a pretty big step for me. After about 400 recipes on my blog and counting, this is my first bread recipe. Why? Simply because I do not like kneading and working with dough. It's the texture of dough, and the mess when rolling out, kneading, or shaping dough that I do not fancy to be any part of it. Thanks to my mixer, I didn't have to knead the dough. However, I still have to roll it out on my counter top and shape it. All for the love of my little one. I have to say the recipe wasn't difficult at all, for me it was handling the dough that still kind of puts me off.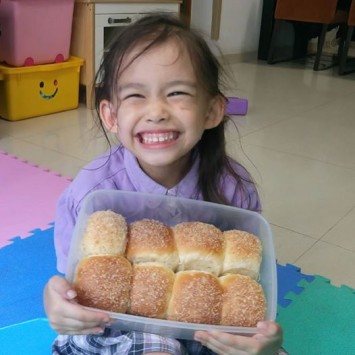 When Peighton got back from school that day, I told her I have a little surprise for her. And the look on her face when she opened up the container and saw her beloved bread rolls just melted my heart. I'll knead, shape, and even sleep on the dough for that little girl! My helper said it tasted like the ones she got from the bakery, and the husband commented that it was really good and I should make it again. I gave some to my neighbour and she too commented that it was delicious. So I guess, this will not be the last time I'll be making bread. Or should I say, this might be the start of my bread making days!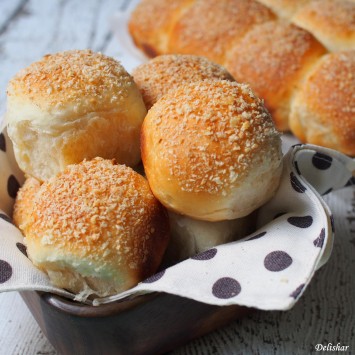 Pandesal (Filipino Bread Rolls)
Delishar
I package or 2 1/4 tsp active dry yeast

1 1/4

cup

fresh milk

warmed to 38C

3

cups

390g all purpose flour

1 1/2

204g cups bread flour

1 1/2

tsp

fine sea salt

3

tbsp

unsalted butter

melted

1/3

cup

67g granulated sugar

2

large eggs

60g each, lightly whisked

1/4

cup

panko breadcrumbs

or any bread crumbs you prefer
Add yeast and sugar in warm milk, stir to combine.

Let stand for 5-10 minutes until yeast is activated and milk mixture is foamy.

In a large mixing bowl, whisk to combine both flour and salt.

Pour yeast mixture into mixer bowl, and add melted butter, and eggs.

Using your dough hook, mix in flour mixture in 3 parts on low speed.

Increase speed to medium when all the flour is added in.

Knead until dough comes together, pulls of the side of the bowl, and forms a smooth ball (about 8 mins on mixer, or 10 minutes by hand.).

Add some flour if needed.

Transfer dough into a lightly oiled bowl, cover with damp towel or cling wrap.

Allow to proof for 1 – 1 1/2 hours.

When proofing is done, flour or lightly grease your work station and your hands. (I used oil cause it's easier for me, healthier to use flour)

Then divide dough into 24 parts.

Shape into balls, and dip the top of the bread dough into bread crumbs.

Place dough on lined baking sheet, bread crumb side up.

Cover dough balls with plastic wrap to prevent dough from drying out.

Allow bread rolls to rise for another 20 minutes.

Preheat oven to 180C.

Remove plastic wrap, and bake for 20-25 minutes or until golden brown.
I used cup measurements. Conversion was done using reference from allrecipe.com
http://dish.allrecipes.com/cup-to-gram-conversions/
Adapted from The Little Epicurean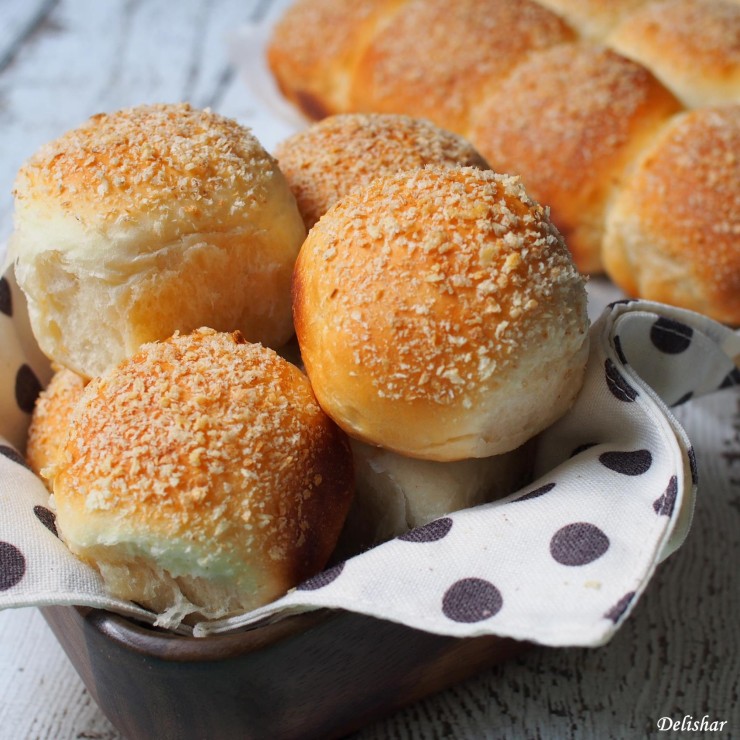 …