I'm currently in the USA now, spending time with the husband's family. It has been really liberating to be disconnected from technology during my time away. No wifi, no mobile data, no computers, and no ipad. But at the same time, I miss blogging, interacting with readers like yourself, and creating in my kitchen.
My mother-in-law has been more than generous with sharing her kitchen space with me, and I'm grateful for that. I'm also appreciative that I get to not worry about what to make in the kitchen, and get fed good food by good people. 🙂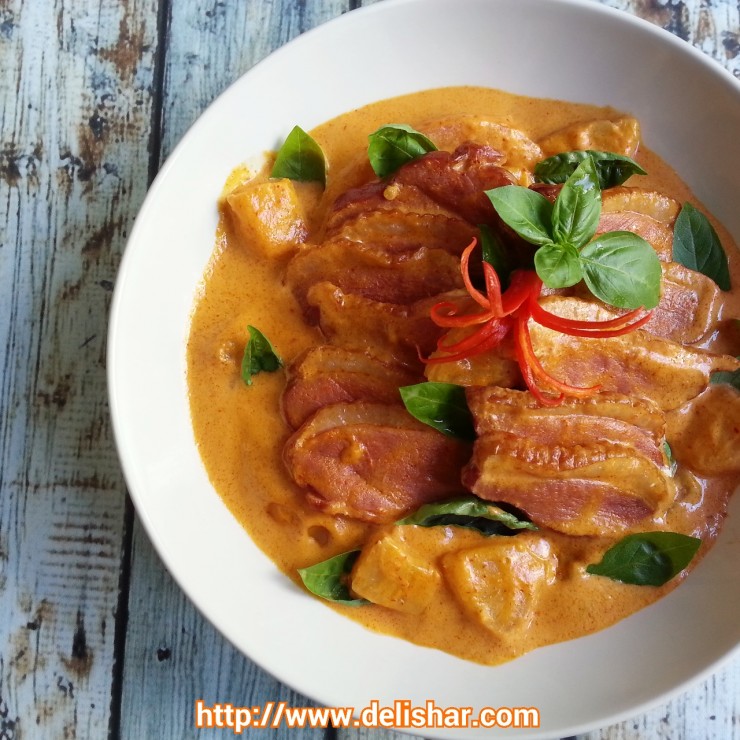 Before I left for our annual visit to the USA, I made this amazing Thai red curry with pineapple and duck. I love duck by the way, if I can have it everyday, I probably would. And by now, you would have realised that I love Thai food as well, so this was a perfect combination. Hot, sweet, slightly sour from the pineapples, and loaded with gorgeous aromatic Thai spices in this glorious thick curry over delicious roast duck breast. Oh my yum!
I would have used cherry tomatoes if not for the husband. He doesn't like those sweet-juicy-mouth-bursting little babies. He finds it explicit that I describe it that way. Oh well. But I'd highly recommend that you use cherry tomatoes instead of regular tomato like I did. Visually it'll be much more appealing too.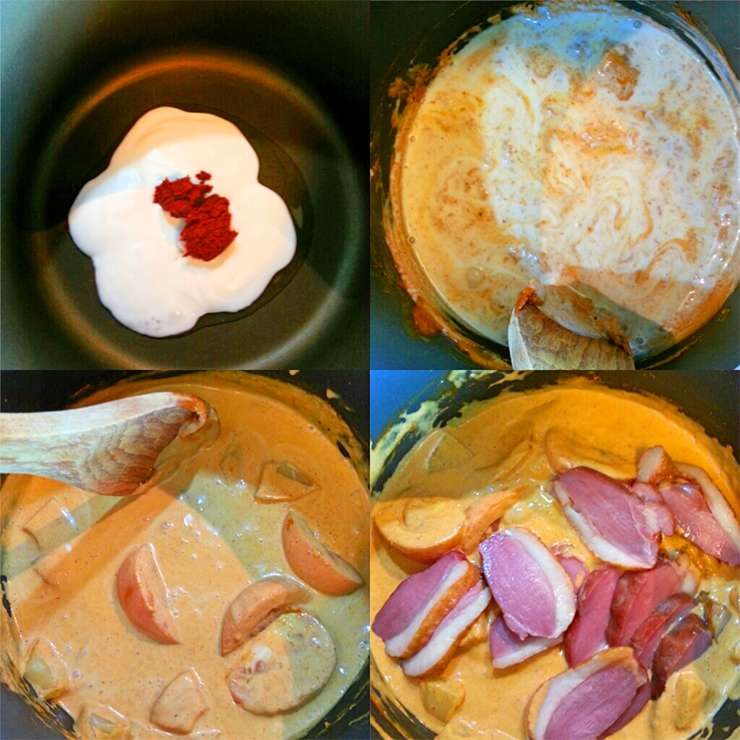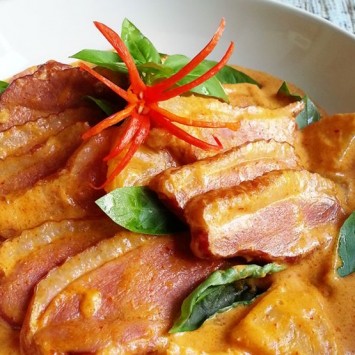 Duck in Pineapple Thai Curry (Kaeng Phed Ped Yang)
1/3

cup

coconut cream

1

tbsp

coconut oil

2

tbsp

Thai red curry paste

more if you want it spicy

3/4

cup

coconut milk

1/2 to

mato

wedges or 6 cherry tomatoes

1/2

cup

fresh pineapples

cubed

200

g

roasted or smoked duck meat

sliced

Juice of 1/2 lime

Fish sauce to taste

Brown sugar to taste

Handful of fresh basil
In a pot, combined coconut oil, coconut cream, and curry paste over medium heat.

Cook until coconut oil starts to separate, about 2 minutes, stirring constantly.

Pour in coconut milk, tomatoes, and pineapple.

Bring to a simmer, then add duck meat.

Allow to simmer until duck is heated through.

Season with fish sauce, sugar, and lime juice.

Remove from heat, and stir in fresh basil leaves.

Serve immediately with steamed white rice.
Adapted from Simple Thai Food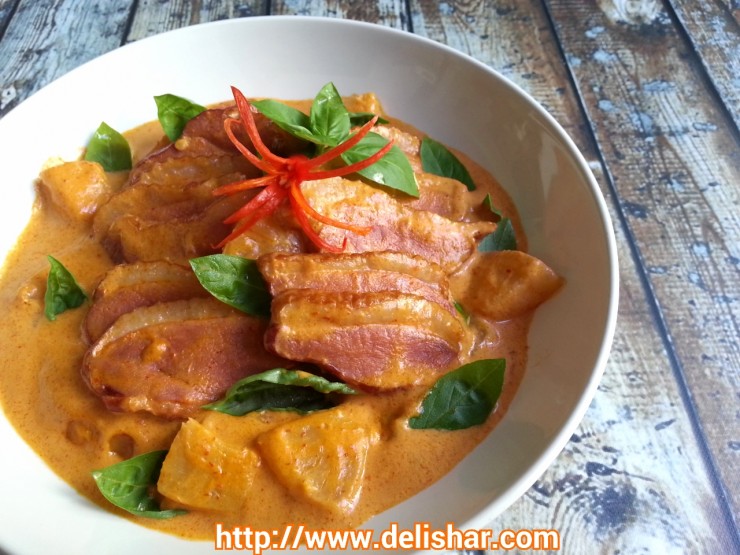 …