Before I get to talking about this recipe, I'd like to share some exciting news! I've mentioned that I have been busy working on something that's really exciting but I could not reveal what it was. So today is the day that I can finally let the cat outta the bag! I have written a COOKBOOK!
Yes, Delishar has been asked to published a cookbook with many new and exclusive recipes that were developed specially for this cookbook. The book features more than 40 recipes, sections where I share with you my kitchen tips & tricks, and also how to plan your meals to minimize food wastage. I've also had the opportunity to do my own food styling, and photography. So yes, the content of the whole book has been done with love by yours truly, and dedicated to all of you who has been so supportive of my cooking blog! Thank you, without you this would not have been possible.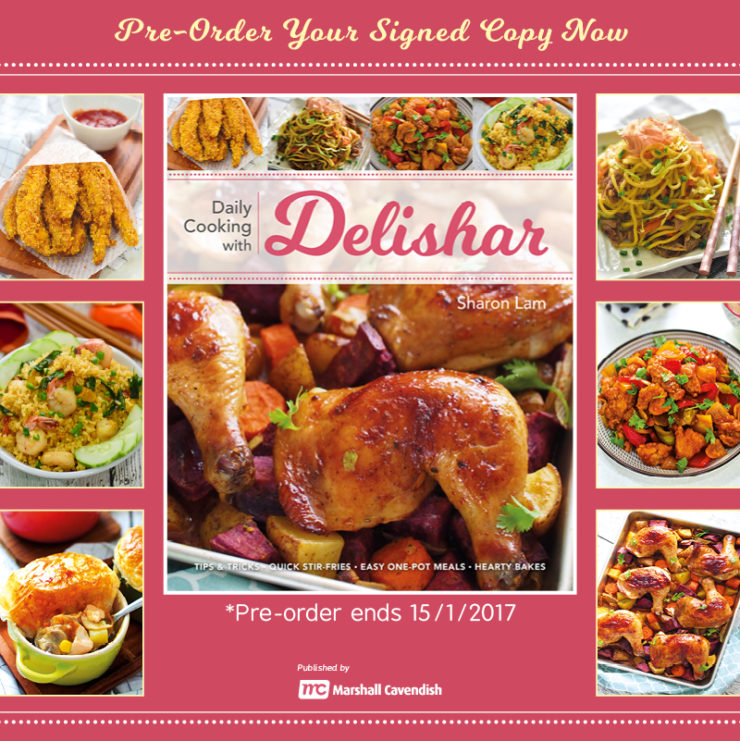 'Daily cooking with Delishar' is currently ready for pre-order from Kinokuniya webstore. They are currently offering a 20% off flash sale from until 30 Nov for all books on their webstore. That includes my title! So pre-order my cookbook today. 🙂
If you are ordering after 30 Nov, Kinokuniya is offering a 10% off pre-order deal for my book. Provide the discount code "DELISHAR" upon checkout on their webstore. This 10% off pre-order deal ends 15 January 2017.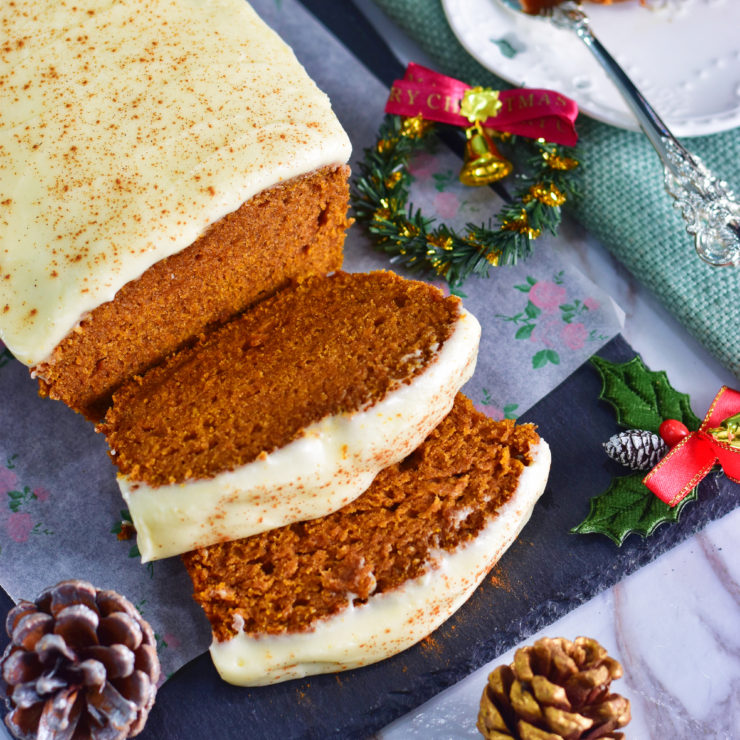 Let's move on to the cake. The moist gingerbread cake loaded with pumpkin puree and fragrant warm spices. The husband, and the girls loved it so much it was gone in 2 days. The cream cheese frosting goes so beautifully with the flavours of the cake. It is tough to put into words how this cake actually taste like, but I have to say it taste a lot like Christmas. 🙂
This recipe have been created with the intention of a one cake fit all kind of recipe. Keeping in mind Halloween, Thanksgiving, and Christmas. A mom got to be efficient right? lol. Serve it at room temperature if you like a softer cake with softer frosting. Serve it chilled to have a firmer overall texture. I like mine at room temperature. What about you?
You can have the ingredients for this recipe pre-portioned and delivered to your door-step, so you as to save you the time and effort from shopping and measuring ingredients. Head to Cookit SG to purchase your Cook Kits.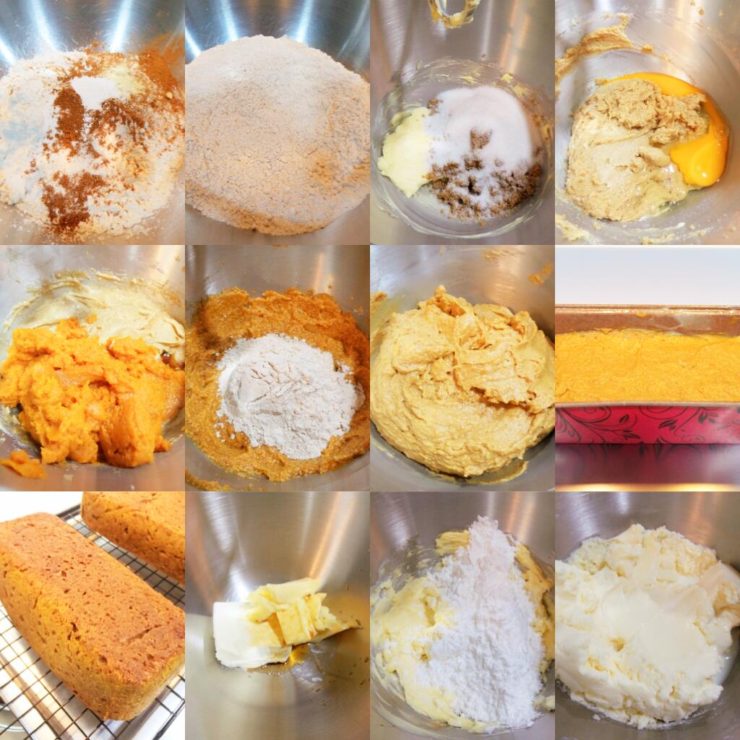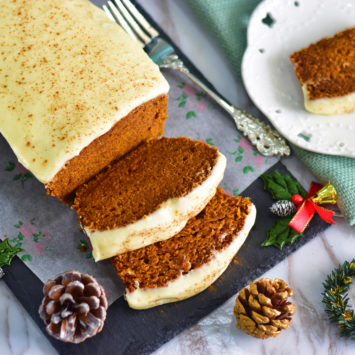 Spiced Pumpkin Gingerbread Loaf
Delishar
Makes a 8×4 loaf tin
125

g

Plain flour

½

tsp

Baking powder

½

tsp

Baking soda

¼

tsp

Ground cloves

1

tsp

Cinnamon powder

¾

tsp

Ginger powder

¼

tsp

Salt

75

g

Brown sugar

75

g

White sugar

1

tsp

Vanilla extract

85

g

Unsalted butter

softened

212

g

Canned Pumpkin

1

Egg
Frosting
57

g

Cream Cheese

43

g

Unsalted butter

1/2

tsp

Vanilla extract

188

g

1.5 cups Icing sugar

2

tbsp

Milk

Pinch

of salt
Preheat oven to 165C.

In a mixing bowl, add flour, baking powder, bakig soda, cloves, cinnamon, ginger, and salt together.

Grease loaf pan with baking spray with flour.

In your mixer, beat butter and sugars until combined.

Then add vanilla extract, and egg to beat until light and fluffy.

Add in pumpkin, and mix until just combined.

Add in flour mix in 3 parts and mix until just combined.

Pour batter into tray and smooth out top with the back of a spoon.

Bake for 55-65 minutes or until a skewer/knife inserted comes out clean.

Cool in pan for 10 minutes then turn it out onto wire rack to cool completely.

To make frosting, beat cream cheese and butter in your mixer until combined.

Then add in vanilla and gradually add in icing sugar while mixer is running.

Drizzle in milk 1 tsp at a time until desired spreadable consistency.

When cake is completely cooled, frost the top of the cake with cream cheese frosting.

Enjoy immediately, or allow icing to set in the fridge for an hour.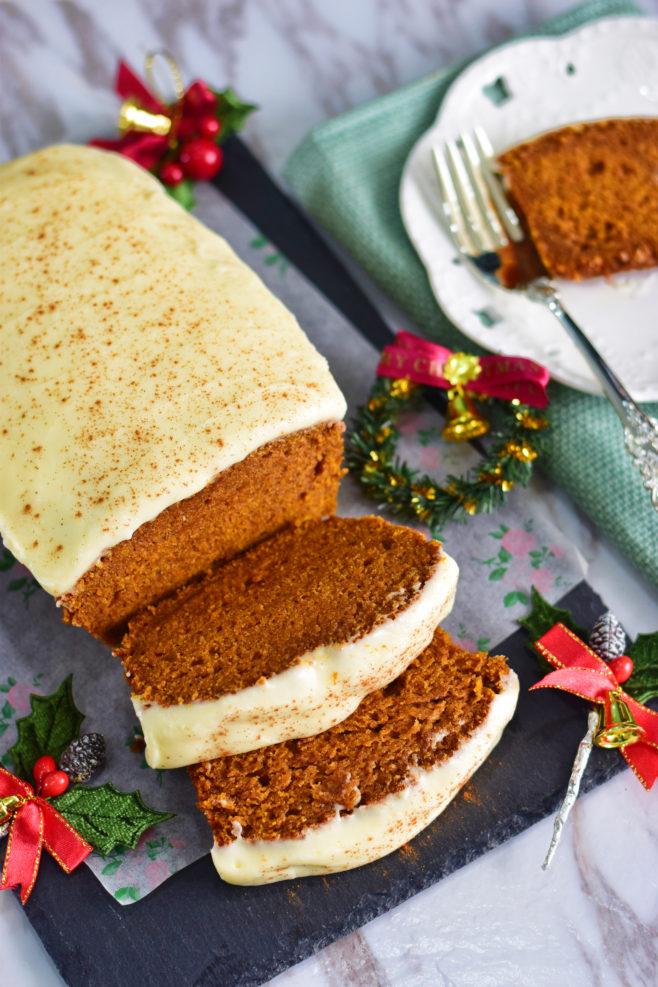 …