A few days ago I shared a recipe for Carrot Cake with Cream Cheese Frosting, that I made for the husband's mini birthday celebration. Standing in the background of the Carrot Cake picture is this super moist Red Velvet Cake. Why 2 cakes, you ask? Because we are actually a family of greedy cake eating monsters!
Well, that was my lame attempt to crack a joke. But I can certainly imagine my daughters being very tickled by that statement, and loving it at the same time. The truth is that we were celebrating 2 birthdays on that day. I invited my mother and brother's family to come over for dinner and cake. In the conversation, my sister-in-law mentioned that it's her helper's actual birthday that day. So I told her that we will celebrate her birthday as well.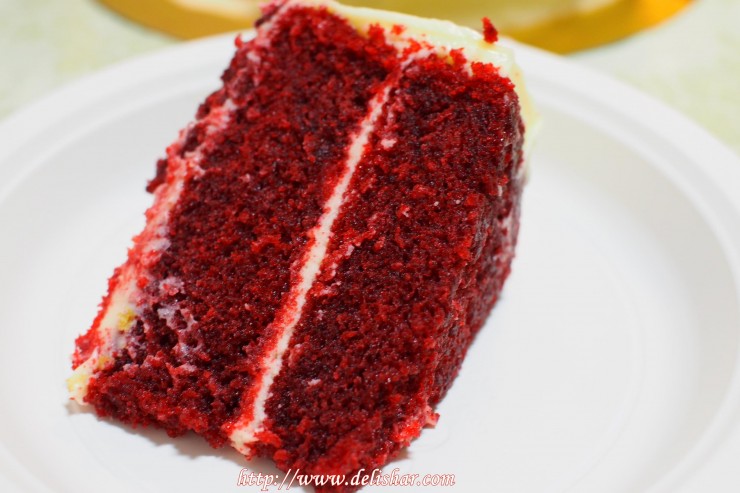 Since I'm already making cream cheese frosting, for the carrot cake. I whipped up a double batch to be more efficient. Baking a red velvet was a no brainer because it's an easy one bowl bake, and it goes so well with the cream cheese frosting!
Here's a cross section of the cake. Just look at how moist the crumbs turned out to be! I should have pulled out my food processor to get finer crumbs for topping the cake. But having it like that adds a little texture, and a different rustic look to the cake. I had very good feedback for the cake that night. I'm not someone with a sweet tooth, but this cake is one that I will make over and over again.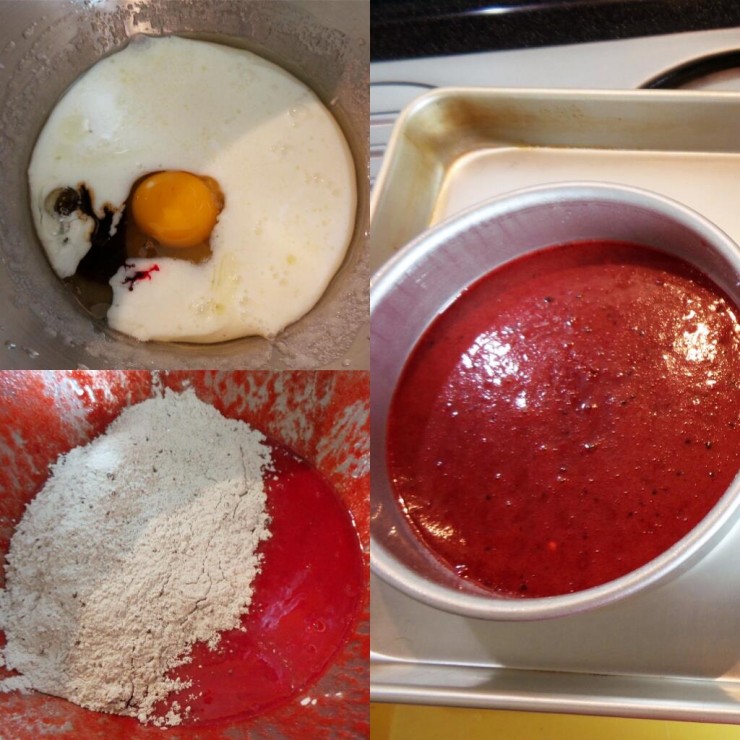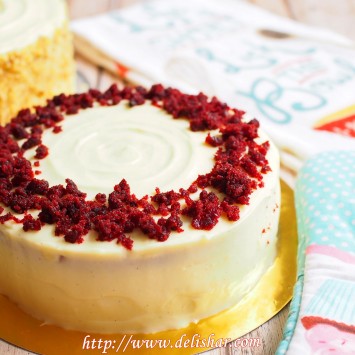 Red Velvet Cake
Delishar
Makes ONE, 2 layers 6 inch cake
Red Velvet Cake
1

cup

plain flour

128g

1/2

tsp

baking soda

1/2

tsp

baking powder

1/4

tsp

salt

1

tbsp

cocoa powder

14.25g

3/4

cup

white sugar

150g

1/2

cup

vegetable oil

120ml

1

large egg

1/2

cup

buttermilk

120ml

1

tsp

vanilla extract

1/2

tsp

white vinegar

1/4

cup

hot coffee

60ml

Red food colouring

as desired
Cream Cheese Frosting
1

block 8 oz cream cheese

225g, room temperature

1/3

cup

butter

75g, room temperature

1

tsp

vanilla extract

pinch

of salt

2

cups

powdered sugar

256g, sifted
Red Velvet Cake
Preheat oven to 325F/160C.

Grease and flour 2 x 6 inch round baking tin.

Sift together flour, salt, baking powder, baking soda, and cocoa powder.

In your mixer, beat sugar and oil until combined.

In another bowl, beat in egg, buttermilk, vanilla, and red food colouring.

Then add in coffee, and white vinegar.

Add 1/3 of the flour mixture into mixer bowl, then 1/3 of the buttermilk mixture.

Allow to mix after each addition.

Alternate until done, and just combined.

Divide batter into the 2 prepared baking tins.

Bake in middle rack for 30-40 minutes, or until skewer inserted comes out clean.

Allow to cool in pan for 5 minutes before de-moulding.

Cool completely on wire rack before frosting.
Cream Cheese Frosting
Using your mixer, cream butter and cream cheese together until smooth and lump-free.

Add vanilla extract and salt.

Mix until combined.

Lower speed to low and gradually add in sifted powdered sugar.

Then increase speed to medium-high and beat until combined.

If too thin, add more powdered sugar, too thick, add milk tsp at a time.

If too runny, pop it in the fridge to chill before frosting.
Level the cake layers before frosting, and save the crumbs as toppings.
Either blitz it in your food processor or crumble it with your fingers.
Adapted from Divas Can Cook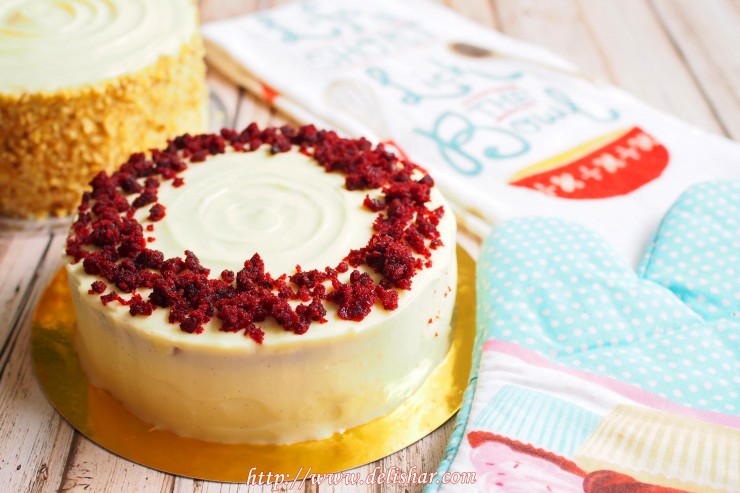 …