A couple of friends came over for a casual dinner last week, which gave me the perfect excuse reason to braise some short ribs. The idea came from an awesome restaurant, that the husband brought me to for our 5th year anniversary. That dinning experience was hands down my best. Every single course was amazing, although I have to admit that I'm not a big fan of the dessert round. Much too sweet for my liking. But every dish was made with such finesse. Their beef short ribs got me wanting more short ribs.
So when I invited my friends to have dinner at our place, I took that opportunity to braise some. Although the result wasn't not the same as the one I ate at moto. But I was pleased with what came out of my Le Creuset French Oven. I love that I can move the dutch oven direct from stove top to oven. The oven did most of my cooking, while I got busy with the appetizer and dessert.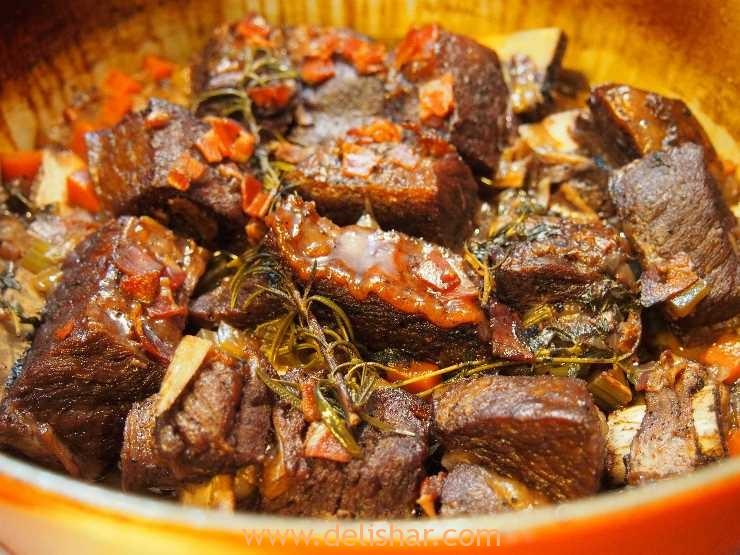 The meat was fall off the bone tender. In fact, it was tough for me to serve with the bone in, because it slips off once I try to lift the meat up. When I lifted the lid, the aroma sent me into a happy foodie trance. Then I got a little worried about the discolouration of the pot again. However, once the warm water touches the side of my pot, my worries were immediately washed away. Spanking clean again! <3 That why Le Creuset has a reputation of products that are made to last!
Everyone at the dinner table enjoyed dinner that night, and I especially enjoyed the company. I served the short ribs on Garlic Mashed Potatoes and sautéed baby carrots, radish, and asparagus. Will I make this again? Definitely! Well, the husband wants me to, so I can't say no to that!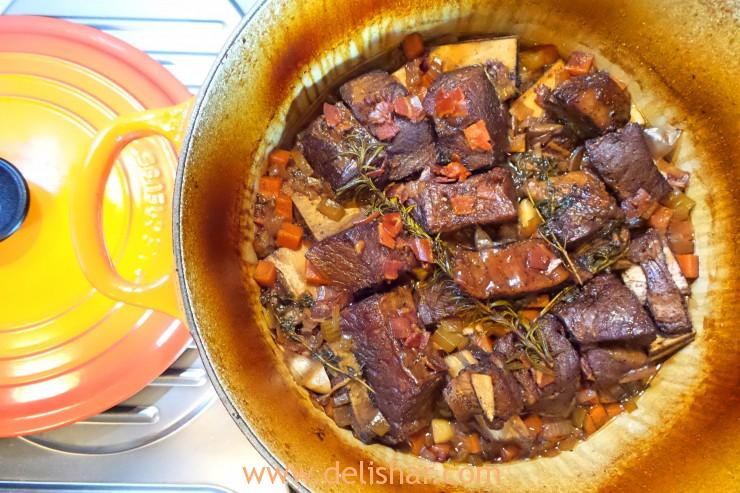 Have you taken part in the current Mayer Airfryer GIVEAWAY? Details below.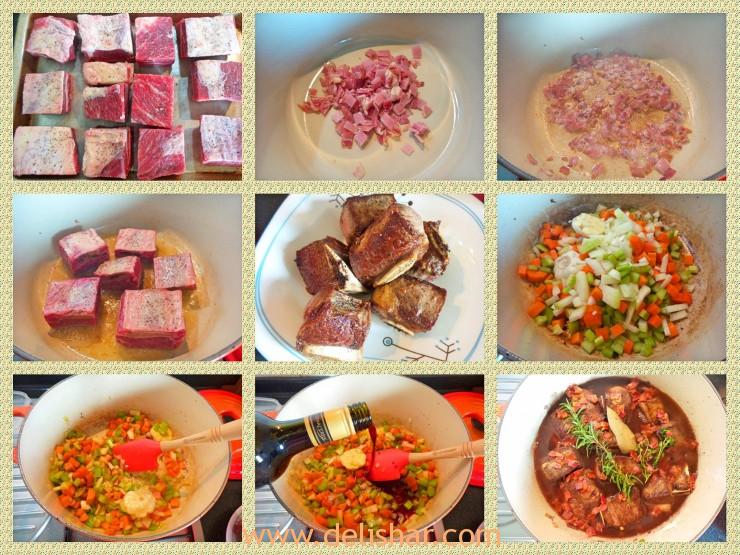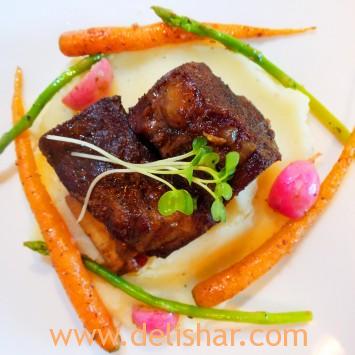 Braised Short Ribs
Sharon of Delishar
12

pieces

of beef short ribs

6

pieces

pancetta

diced

1

medium onion

diced

2

carrots

diced

2

stalks celery

diced

1

head garlic

sliced half across

1

cup

red wine

3

cups

beef stock

2

sprigs of Thyme

2

sprigs of Rosemary

Salt and pepper to taste

3

tbsp

olive oil

Radish sprouts to garnish
Preheat oven to 175C.

Pat dry short ribs, and season generously with salt and pepper.

In your dutch oven, pan fry pancetta over medium heat until crisp and fat rendered.

Remove pancetta pieces, add olive oil, and turn heat to high.

When oil is shimmering, add short ribs, meat side down.

Allow to sear on all sides, about 45 seconds/side.

Remove ribs and set aside.

Turn heat down to medium.

Use a paper towel to remove grease, leaving a little.

Add onion, carrots, celery, and garlic.

Cook for 2 minutes, then add wine to deglaze the pot.

Allow to cook for 2 minutes.

Add 1 tsp sea salt or more to taste, and black pepper.

Then return short ribs and it's jus.

Pour in the beef stock. It should be enough to almost submerge the ribs.

Add Thyme and rosemary.

Bring to boil, cover, then transfer to preheated oven.

Cook for 2 hours and 15 minutes or until fork tender and falling off the bone.

Skim off fat off the top of the sauce and serve over ribs.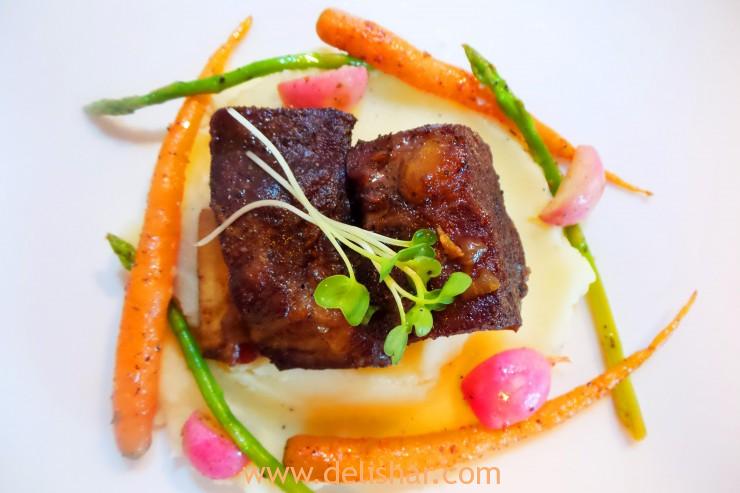 a Rafflecopter giveaway
This giveaway ends on Tuesday, August 11, 2015 at 12:00 a.m. Singapore time (GMT+8). The winner will be selected by random.org and will contacted by email. The winner will need to respond within 48 hours. If there is no response from the winner after 48 hours, another winner will be selected. Meet up required for prize collection, therefore it is open to Singapore entrants only.
…