Each time I go grocery shopping, I'll walk pass an aisle that sells Korean food items. This red colour plastic packaging always got my attention. I'd stop, give it a glance, and continue walking. But the last time I was there, I stopped, picked it up, and into my shopping cart it went. I knew it was some kind of spicy Korean paste, but I had no idea what it really was. I'm not a big fan of Korean food to began with, for some reason, I always find that Korean food lacks flavour and taste rather fermented. 
However, to be fair I haven't really given Korean food a second chance. I have probably ordered chicken bulgogi once or twice at food court and didn't find it too appetising. I felt that it was kind of a tease actually, because it was not spicy (well, at least not to me) and lacks strong flavours that I love. But I did enjoy bibimbap when the husband and I decided to give it another chance at the Korean restaurant during one of our date nights.  When I found out that the Koreans used this spicy chilli paste (Gochujang) to make the sauce for bibimbap, I was convinced that I need to use this sauce in my cooking.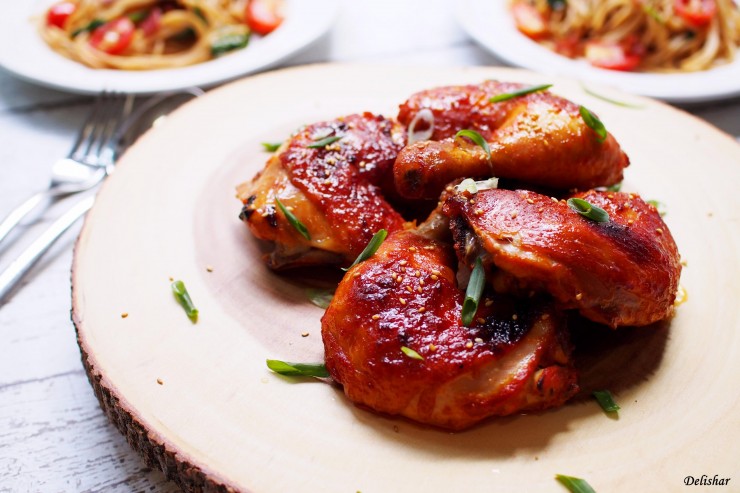 The first thing that came to mind was this simple dish. I made the marinade with flavour profiles that I love, sweet, spicy, and salty. Then let the chicken marinate over night, soaking in all the gorgeous flavours. Then pop it into a hot oven and let it roast. The sugar in the marinade caramelised, resulting in delicious charred bits all over the chicken. The husband came back from work and exclaimed, "Whoa, love the colour on the chicken!". Because I don't make Korean food at home, I asked what did he think of the dish. He said that it tasted different, but a very good tasty different. 🙂 
Don't forget to take part in the Chinese New Year 2016 S$500 Paypal Cash Giveaway! Click to go to GIVEAWAY PAGE and complete the rafflecopter widget at the end of the post!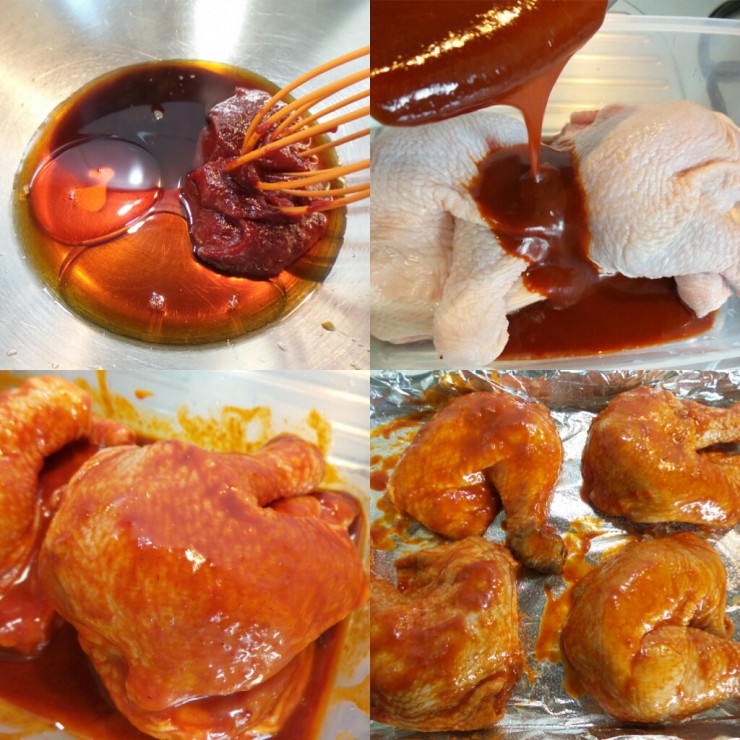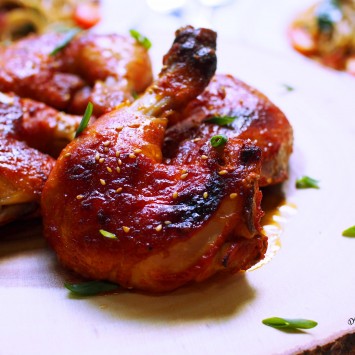 Spicy Korean Roasted Chicken
Delishar
4

chicken legs

bone-in & skin on

2

tbsp

gochujang

1

tbsp

sesame oil

2

tbsp

soy sauce

2

tbsp

bown sugar

Salt & black pepper to taste

2-3

cloves

garlic

minced

2

tsp

grated ginger

1/2

tsp

red chilli flakes

optional

1

tsp

toasted sesame seeds

to garnish

1

tbsp

chopped spring onions

to garnish
In a mixing bowl, add gochujang, ginger, garlic, soy sauce, sesame oil, and sugar together.

Season both sides of chicken with salt and pepper.

Pour marinade over and allow to marinate for 1 hour to 24 hours.

Bake in preheated oven for 30-40 minutes at 200C or until done.

Sprinkle some toasted sesame seeds, and garnish with chopped spring onions.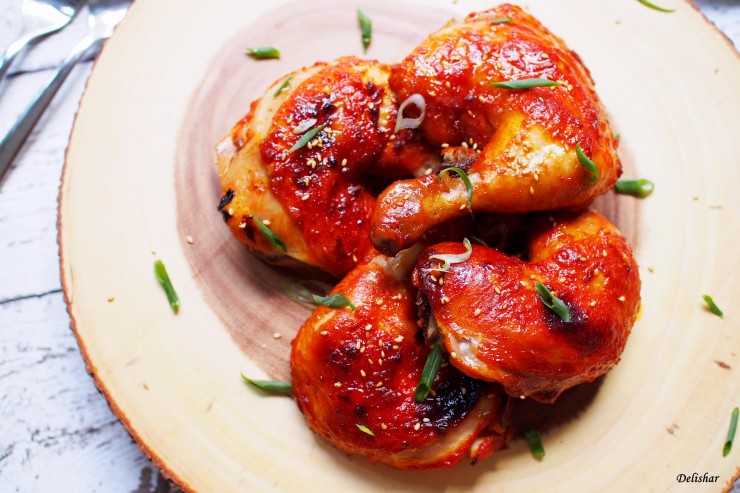 …