I was intrigued when I learnt about a no-stir risotto recipe. Risotto is pretty labour intensive as you need to stand by your stove, constantly stirring and slowly adding stock a little at a time. Therefore, when I read about a 'hands-off' method, and a pot-one cooking at that, I could not pass up that offer. Don't you just love lazy efficient cooking?!
I knew that without all the stirring, I'm going to be missing out on some of that really starchy and creamy texture of a traditional risotto. I didn't quite know what exactly to expect, so to be safe, I amped up on the flavours to compensate.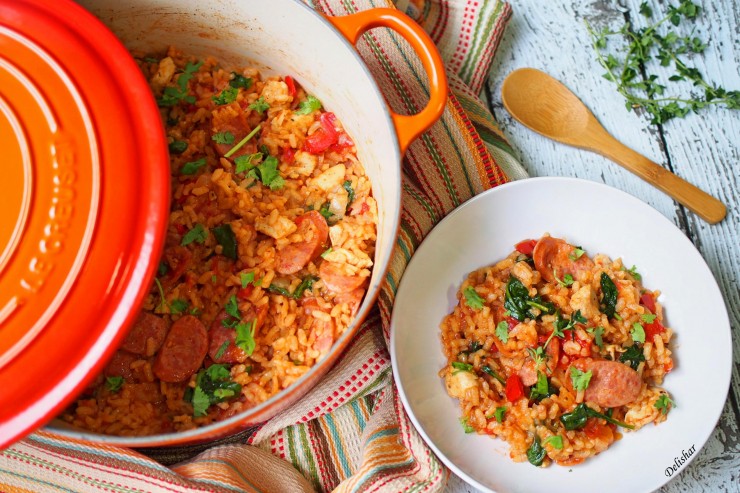 Although, as I have predicted, the risotto didn't have that starch & creamy texture. I was actually very glad with how it turned out! It was still starchy and not mushy (I was afraid it will turn out like congee, but it didn't, so yay!). The arborio rice was al dente with a nice bite to it, and every single grain of rice absorbed the flavours of the wine, stock, herbs, and smoky sausages like a sponge! So if you are looking for a flavourful one pot meal with relatively hands off cooking, this is your go-to recipe! 
Don't forget to take part in the current giveaway! Win 1kg of wild caught Alaskan Halibut valued at $82! Click here to go to giveaway page.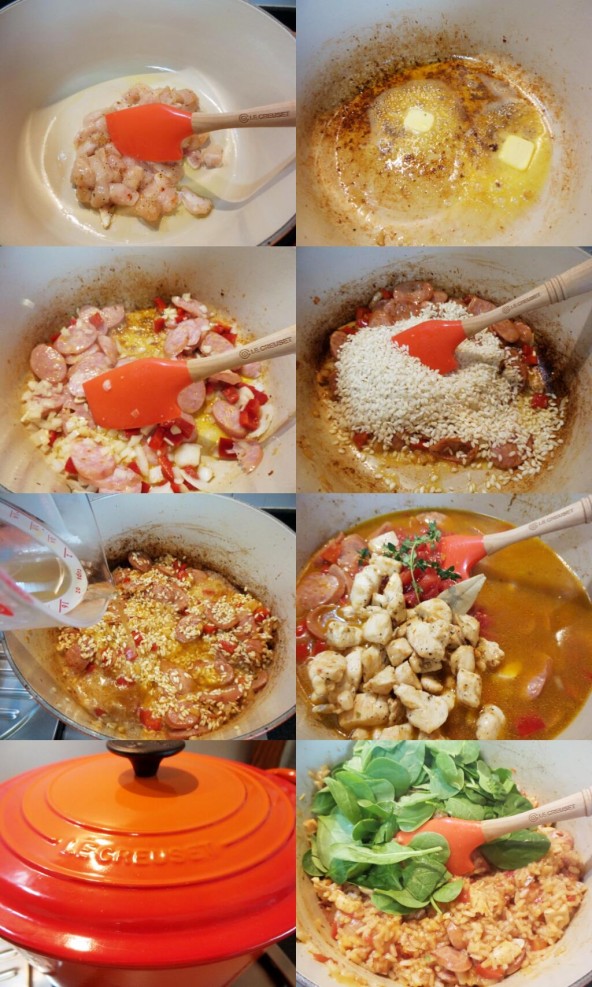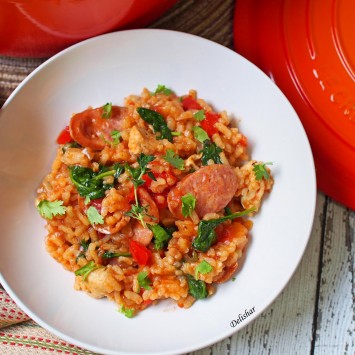 No Stir Chicken & Sausage Risotto
Delishar
1

tbsp

olive oil

1

tbsp

butter

400

g

chicken breast

cubed

2

sausages of choice

thinly sliced

1/2

red pepper

diced

1/2

yellow onion

diced

3

cloves

garlic

minced

2

cups

fresh spinach

1 1/3

cups

Arborio rice

1/2

cup

white wine

400

g

can diced tomatoes

2 1/2

cups

chicken stock

3

sprigs fresh thyme

1/4

cup

chopped parsley

Salt and pepper to taste
Season chicken with salt and pepper.

In a French oven, heat oil over medium high heat.

Brown chicken in pot, remove and set aside.

In the same pot, melt 1 tbsp of butter.

Saute sausage, onion, garlic, and red pepper for about 3 minutes or until sausage browns and onions are translucent.

Add rice, and stir to coat.

Add wine, and cook stirring until wine evaporates, about 2 minutes.

Return chicken to pot, add can tomatoes, stock, and thyme.

Mix to combine, reduce heat to low.

Cover and allow to cook for 20 minutes or until rice is tender, and liquid evaporated.

Remove from heat, stir in spinach and allow to wilt.

Season with salt and pepper as needed.

Cover and allow to stand for 5 minutes.

Stir in parsley before serving.
You can fine arborio rice from NTUC finest, or cold storage. You could probably get it from Tanglin Marketplace too.
Adapted from Taste.com.au
Get the pre portioned cook kit for this amazing dish and
cook it in your own kitchen! Order Now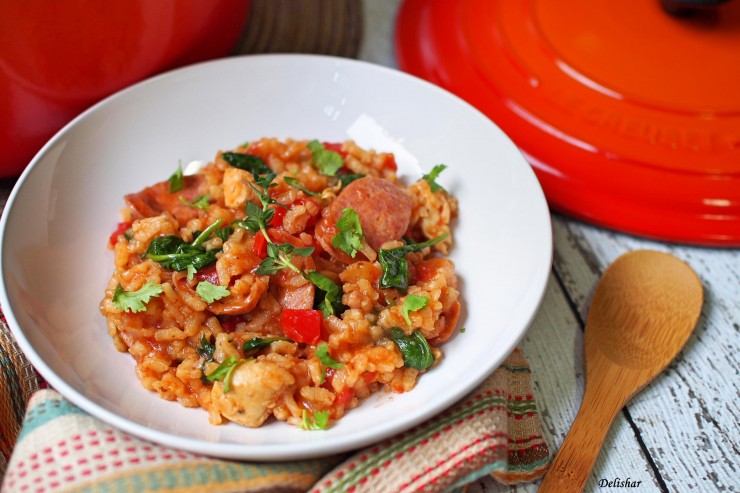 …