I am obsessed with chilli. Hot & spicy chilli peppers. I find it difficult to order something without that spicy kick, so much so that I always bring my own packets or sambal terasi whenever I'm travelling to the USA or European countries.  I've made a few variations of dishes, creating fusion between the east and west with the concept of the popular Singapore Chilli Crab. The dishes I've shared are Chilli Crab Cake Pasta, Chilli Crab Burger, and Chilli Crab Cream Pasta. Today, it'll be another east meet west fusion. 
The inspiration popped up while I was cooking with the founder of Cirrus Culinnaire. She was teaching me how to make her famous ravioli from scratch, and that lady is a perfectionist! Her handmade pasta was rolled until paper thin, it was not easy for me to pass her test. I asked why do we need to roll it so thinly, and she explained that it makes a world of difference with the texture. The ravioli we purchase outside usually has pretty thick doughy wrappers and very little filling. I have to agree to that.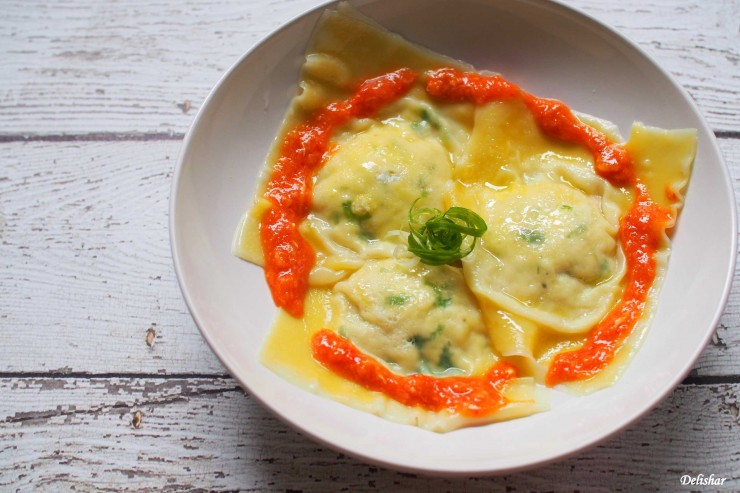 Already, I'm not a big fan of working with dough. So having to roll it over and over again through the pasta machine, and making sure it doesn't tear was really work intensive. So when I went home, I improvised. Being the lazy efficient cook that I am, I used wonton skin to save me the trouble of working with dough. 😛 It worked out really well, and saved me so much time / heartache.
The cream cheese serves 2 purpose in this dish. It acts as a binder to hold the crab meat together, and the creaminess helps to balance and tone down the spiciness of the chilli crab sauce. He husband kept saying, "wow, that's really good" while he was enjoying his serving. Went back into the kitchen and helped himself to a 2nd serving. Definitely something to try if you are looking to impress your guests! And so much cheaper to make than to purchase too!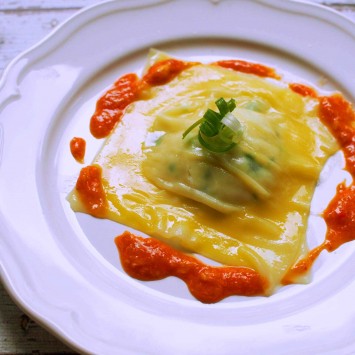 Chilli Crab Wanton Ravioli
Delishar
Makes about 22 ravioli.
Serves 4-6 people
Wonton Ravioli
500

g

crab meat

I used OKEANOSS from ntuc

22

bay scallops

113

g

cream cheese

softened

3

tbsp

chopped coriander leaves / cilantro

1

pack of wonton skin

about 50 pieces

Salt and pepper to taste
Chilli Crab Sauce
2

shallots

3

cloves

garlic

1

inch

thumb ginger

1

stalk lemongrass

2

chilli padi

seeds removed (or to taste)

1/2

cup

ketchup

1

tbsp

vinegar

1 1/2

tbsp

sugar

1/2

tsp

belacan chilli

or to taste

3/4

cup

chicken stock

1

egg

lightly beaten

salt and pepper to taste

1

tbsp

oil

spring onions to serve
Wonton Ravioli
In a large mixing bowl, add cream cheese, crab meat, and cilantro.

Season with salt and pepper.

Place a wonton wrapper on work surface, scoop about 1 heaping tbsp of filling on the wonton.

Push a bay scallop into the middle of the filling.

Using your finger or a brush, wet the sides with water.

Lay another piece of wonton skin over, and start sealing the sides, making sure there's no air trapped in there.

Then lay it on a tray lightly dusted with flour until ready to use.

Cover with a damp cloth while you continue wrapping the rest.

To cook, bring a pot of water to boil, then add some olive oil.

Drop ravioli on the olive oil to coat so that it doesn't stick.

Cook in batches, so not over crowd your pan/pot.

Cook for 3-4 minutes or until done. (about 5-6 minutes if frozen)

Drain and plate on serving plate.
Chilli Crab Sauce
In a food processor, blend together ginger, garlic, shallot, chilli padi, and lemongrass to get a paste.

Add a splash of chicken stock if it's not blending well.

In your frying pan, add 1 tbsp oil, and saute paste with belacan chilli for a minute.

Then add in chicken stock, and ketchup

Season with vinegar, sugar, salt and pepper.

Bring to a boil, then lower heat to medium

Slowly drizzle in beaten egg while swirling with spatula to thicken sauce.

When sauce is thicken and egg is all cooked, remove from heat.
To assemble
Plate ravioli on plate, then drizzle some chilli crab sauce over.

Garnish with spring onions and serve.
To get rid of the fishy smell of frozen crab meat.
Soak it in milk for 30 minutes, drain and squeeze out all the liquid.
Freeze the prepared ravioli on a single layer and transfer to zip lock back for storage after it is frozen.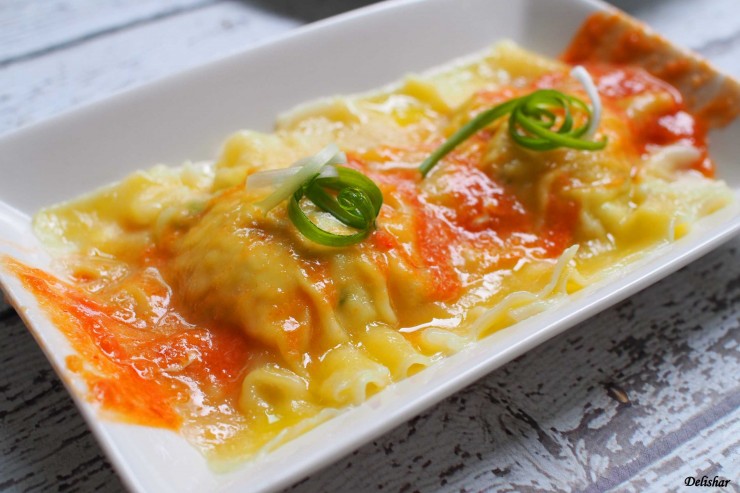 …