We took the girls prawning one weekend, and the girls had so much fun that day! They were so excited to catch their first prawn, but it was mummy to the rescue when it comes removing the hooks. We caught a good amount of prawns that day, which I froze when we got home. Just before we left, the owner of the place handed me a bag of what I thought was prawns. But when I got home, and was cleaning up the shell fish, I realised that she handed me a bag of crayfish instead! 
That same week, The Alaska Guys passed me some of their Alaskan Pollock to try out. So that week, I made this seafood  skillet paella for the family. Threw in a couple of bay scallops to the mix to make it a little more wholesome. Instead of using chicken stock, I used the shells of the prawns and crayfish to make my own seafood stock.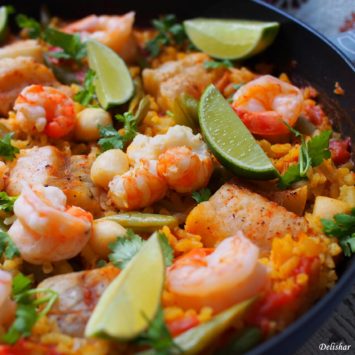 The family loved the paella, especially my youngest daughter who absolutely loves eating prawn. The sweet seafood stock gave the whole dish it's lift, and the saffron and paprika gave it the rich colour and deepens the flavour of the dish. A little spritz of lime before serving gives the hearty dish a lift of freshness. I simply love the all in one skillet meal, which means less clean up for me! 🙂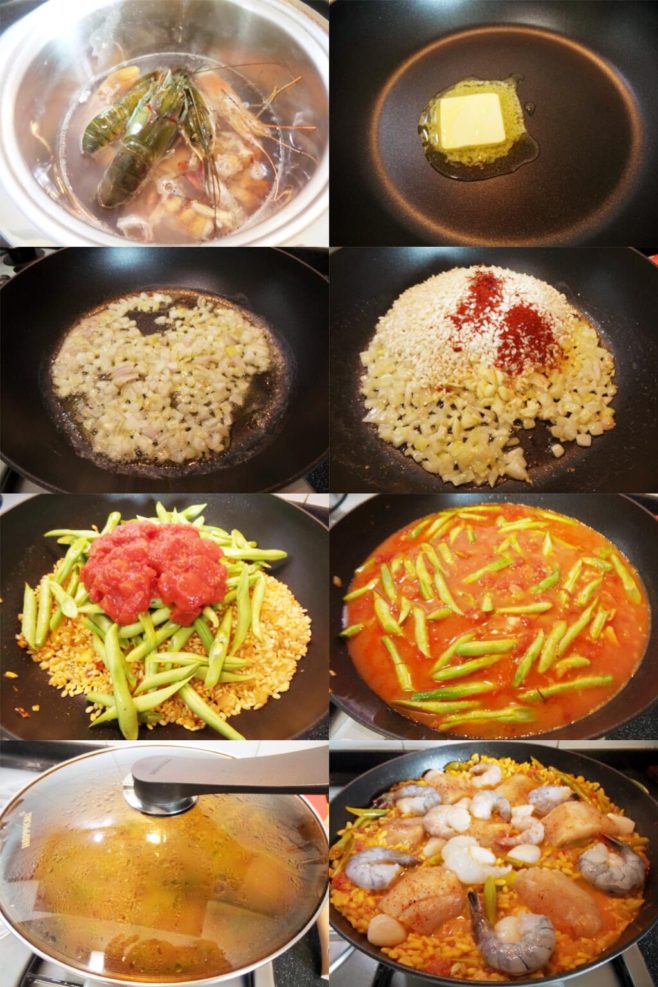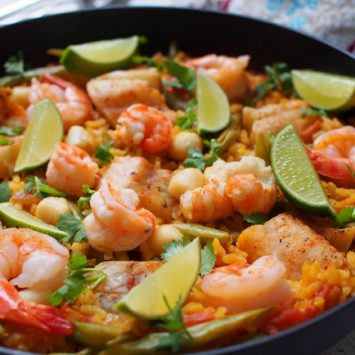 Skillet Seafood Paella
Delishar
Serves 4-6
2

cups

aborio rice

4

cups

seafood stock

2

fish fillets about 500g

cut into chunks (I used Alaskan Pollock)

12-16

bay scallops

15-20

prawns

head & shells removed for stock (I used a mix of prawns and crayfish)

150

g

French beans

cut into 2 inch length

1

tsp

+ 1/2 tsp paprika

Pinch

of saffron

1

can chopped tomatoes

411g

1

medium yellow onion

diced

4

cloves

garlic

minced

3

tbsp

butter

Salt and pepper to taste

Lime wedges to serve

Chopped cilantro to garnish
Seafood stock
4.5

cups

water

Head and shells of prawn/crayfish

Ends of onions and garlic

optional

Salt to taste
Paella
Season both sides of fish fillets with salt, pepper, and 1/2 tsp paprika.

Set aside for use later.

Melt 3 tbsp butter in skillet.

Sauté onion and garlic until soft and translucent.

Add rice, paprika, and saffron, then sauté for 2 minutes.

Pour in diced tomatoes and French beans.

Add in stock, stir, and bring to boil.

Season with salt and pepper, then lower heat to a low simmer.

Cover and cook on low heat for 20 minutes.

Uncover, spread prawns, bay scallops, and fish fillets on top of the rice, pressing it down slightly.

Cover and cook for 10-15 minutes, or until seafood is cooked through.

Serve with lime wedges and garnish with chopped cilantro.
You can replace seafood stock with ready made chicken stock.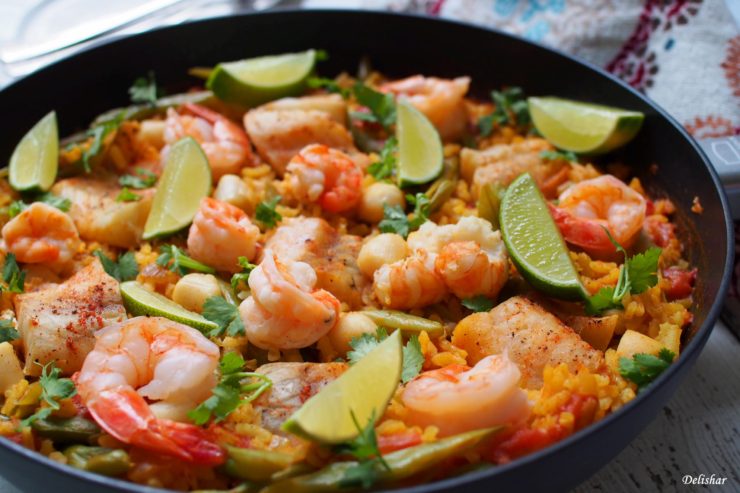 …