Ahh yes, Thai food to nurse my Thailand Withdrawal Syndrome. It's not the same as actually being in Thailand, but this will satisfy for now. Since I just got back from a short trip from Bangkok, I stocked up my pantry with sauces from the local supermarket. So this is meal will taste as authentic as it gets! 
I went on one of the best shopping trips with the BFF about a week ago, to my favourite shopping destination, Bangkok. It was awesome because we had the same goal in mind, plus she was great company! She has been my BFF for close to 20 years now (man, do I feel old!). We pretty much have a language of our own and know each other's idiosyncrasies. In other words, we are pretty similar in many ways but appreciates each other's differences too. Or what you'd say 'same same but no same'. Now, I can't wait for our next trip to Thailand for more great food and even better shopping!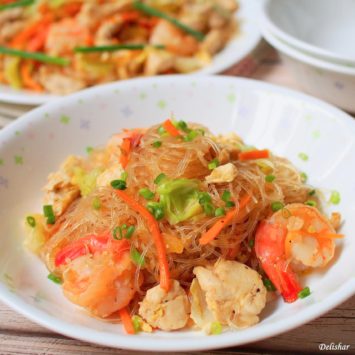 For now, I'm just going to enjoy my homemade Thai food. This dish got polished off as quickly as it took me to make it. With meals like this being so simple & speedy to make, not to mention cheap! Sometimes I wonder why I'm paying $12 for the same food at a restaurant when I can feed my whole family for less than that! The girls and husband loved this dish, even my new helper told me that after having worked at our place and learning how easy it is to make different cuisine. She doesn't like eating out on her off days any more. She also doesn't enjoy the unhealthy, greasy, or overly salty taste of outside food now that she's eating what I cook for the family.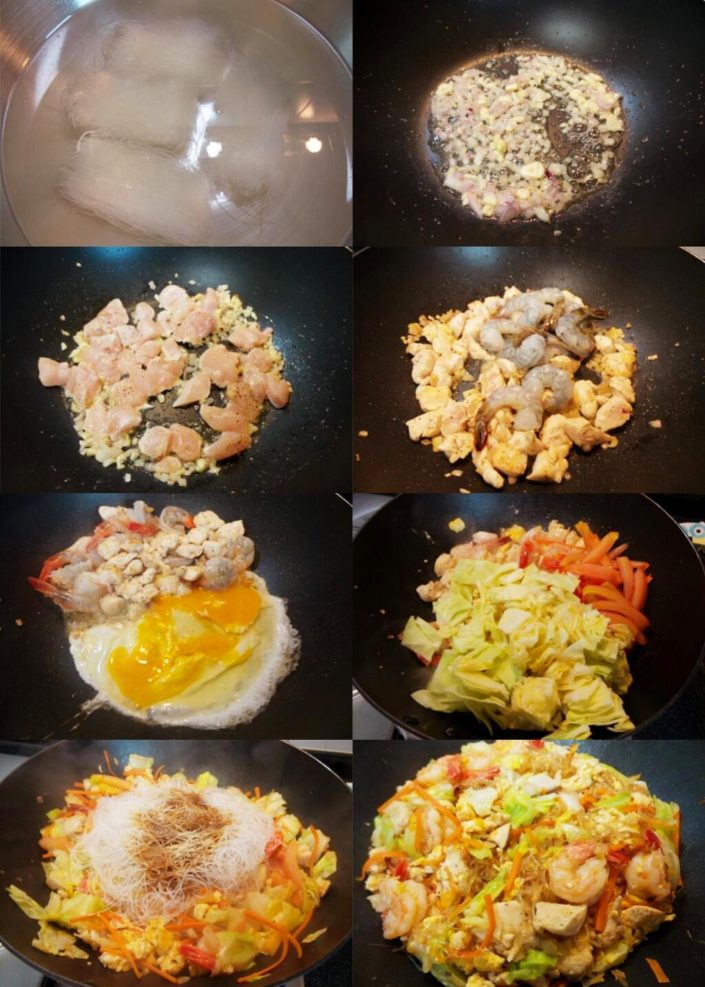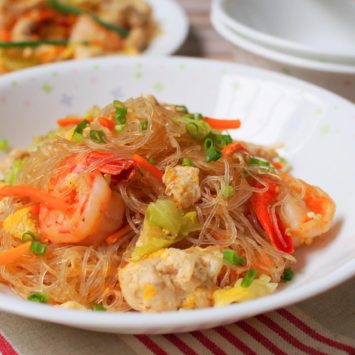 Pad Woon Sen
120

g

dry glass noodles

200

g

chicken breast

cubed, marinated in 2 tsp fish sauce, dash of white pepper, and 1 tsp corn flour

12

large prawns

shelled

2

Tbsp

oyster sauce

1

tbsp

fish sauce

1

tbsp

Maggi seasoning sauce

1

tbsp

dark soy sauce

optional

3

cloves

garlic

chopped

1

shallot

diced

2

eggs

2

cups

cabbage

bite-sized

1

carrots

cut into matchsticks

2-3

tsp

sugar or to taste

Ground white pepper to taste

1 to

matoes

wedges, seeds removed

2

tbsp

cooking oil + 1 tsp cooking oil

Chopped spring onions to garnish
Soak glass noodles in room temperature water for 10 minutes until soft and pliable.

Drain, then cut the noodles with scissors to shorten them.

Mix together oyster sauce, fish sauce, Maggi sauce, and dark soy sauce in a small bowl.

Heat 2 tbsp oil in a wok or a large saute pan, when hot, add garlic and shallots.

Cook until fragrant.

Add chicken, and cook just until the pieces are well separated.

Add prawns and cook until prawns are just about done.

Push everything in the pan to one side, add 1 tsp oil in the empty space, and add eggs.

Lightly scramble and let the eggs set about half way, then mix with the chicken.

When eggs are done, add cabbage, carrots, and 1 tablespoon of the sauce mixture.

Toss quickly just to mix.

Add noodles, followed by the sauce, sugar, and white pepper.

Cook, stirring constantly, until the noodles are done and have absorbed all the sauce.

Add tomatoes, toss just to heat through for 10-15 seconds.

Remove from heat and plate.

Serve garnished with spring onions.
Adapted from hot thai kitchen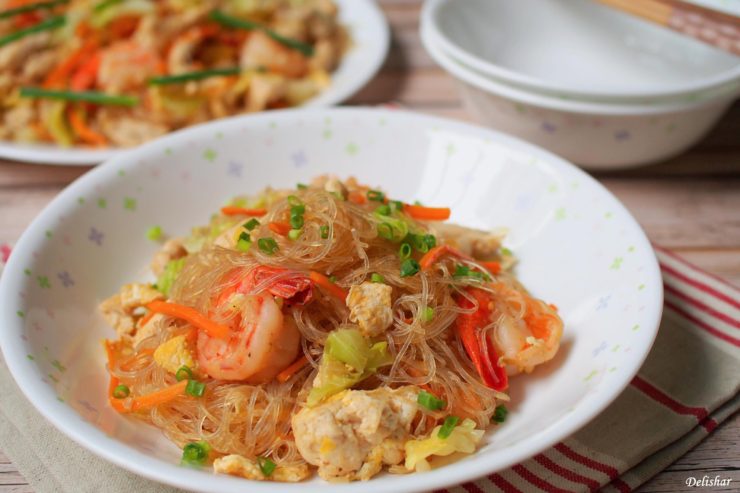 …