Happy 2019!! Are you getting ready to usher in the year of the Pig yet? I know a lot of my friends are already busy preparing for Chinese New Year with cookie baking and pineapple tarts making. Besides the sweets, we have 2 other must-haves for CNY. That is Pen Cai (盆菜) and Yu Sheng (鱼生). This DIY piggy Yu Sheng dressed with liquid gold will be what I'd be sharing with you today.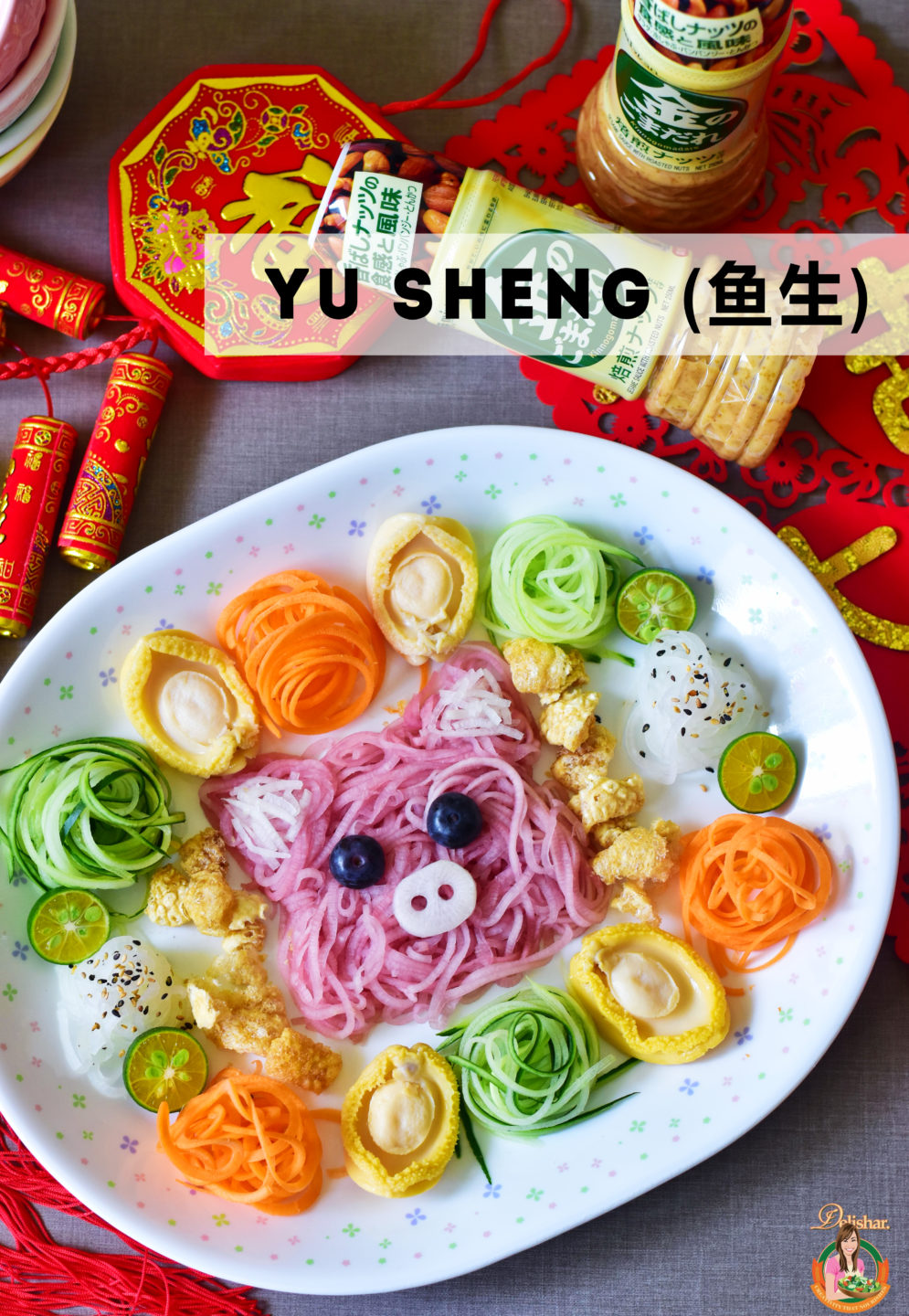 To be honest, I've never been a fan of Yu Sheng because of the artificial food colouring and pickling of the so-called vegetables that never needed to be refrigerated. Along with that, a bunch of sauces that I'm unsure of, and often leaving me with a taste that isn't very appetizing. Hence, this year I'm making my own Yu Sheng with freshly shredded vegetables, no artificial food colouring, and dressed with this delicious liquid gold dressing.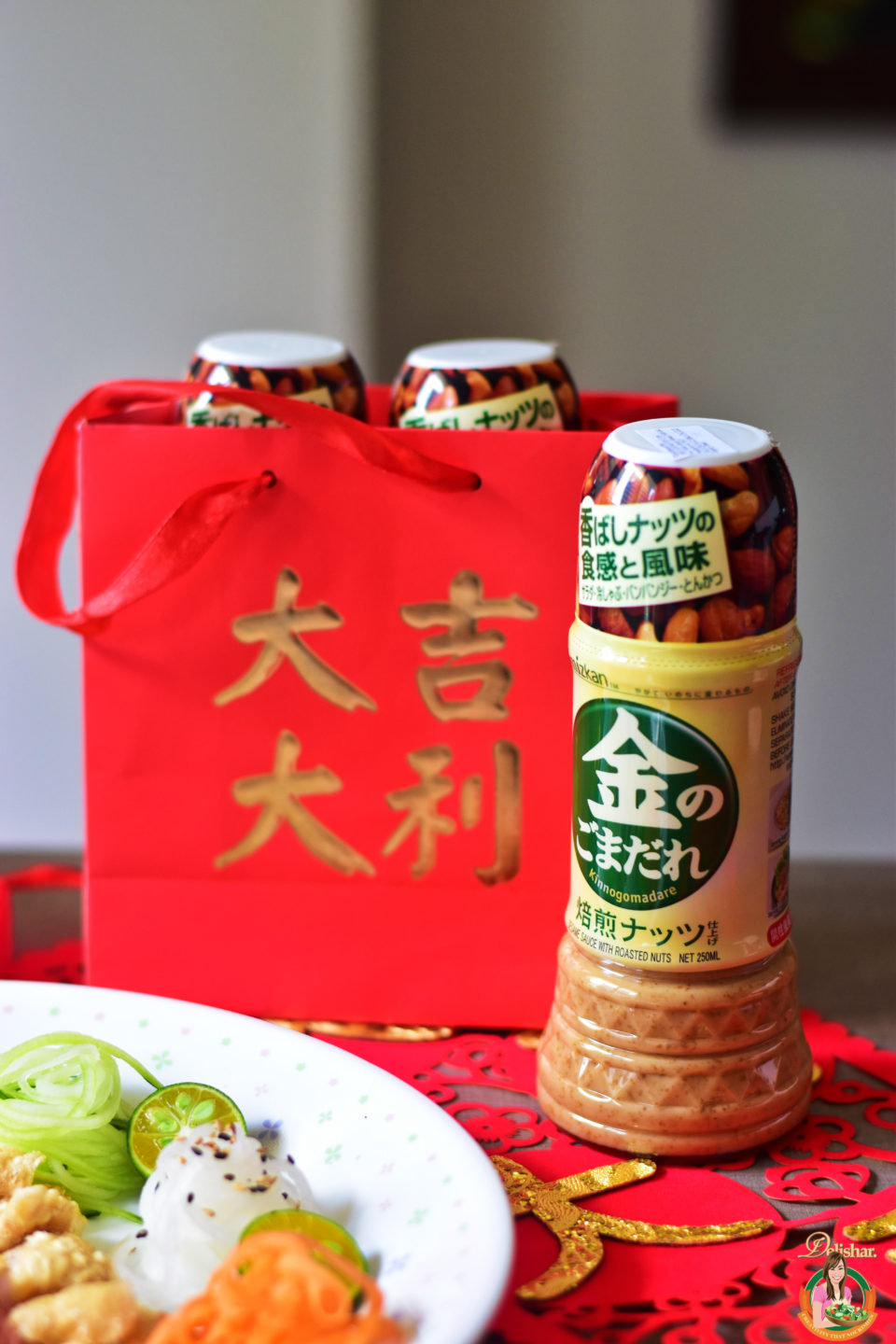 Yes, you heard right. Mizkan Roasted Sesame Sauce with Nuts is the liquid gold that I'm talking about. Appropriately labelled with the Chinese word "金" meaning gold. This creamy, savoury, and nutty dressing marries all the fresh flavours of the shredded vegetables and crispy pork rinds beautifully!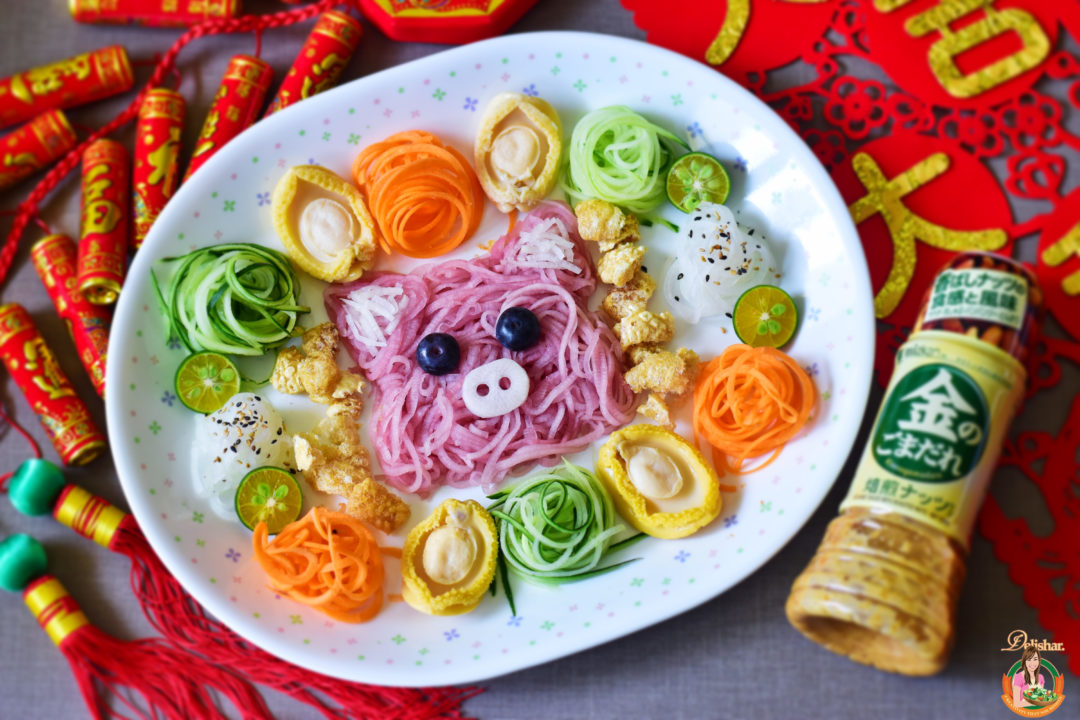 I'm planning to bring bottles of Mizkan Roasted Sesame Sauce with Nuts with me as gifts to house visits. I'm sure the host will be stoked to receive bottles of liquid gold! Hopefully, I can get them to use it on the Yu Sheng too!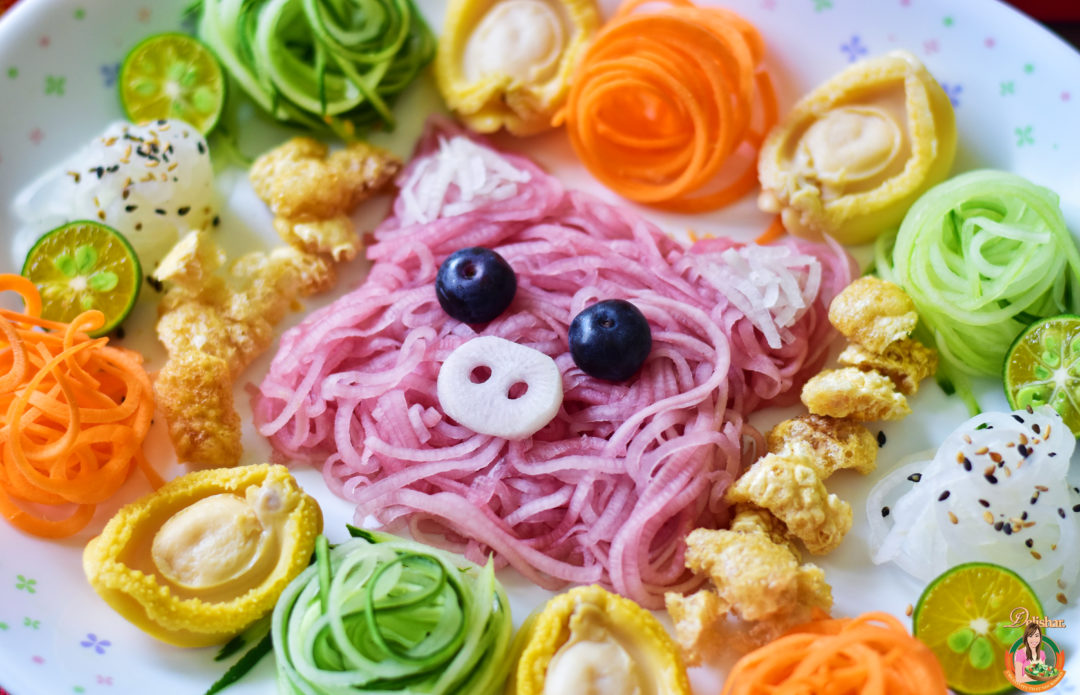 Mizkan's products have provided me with convenience without compromising on taste, and that's what I really like about the brand. Their ready-to-use soup based and dressings are easily available and extremely versatile.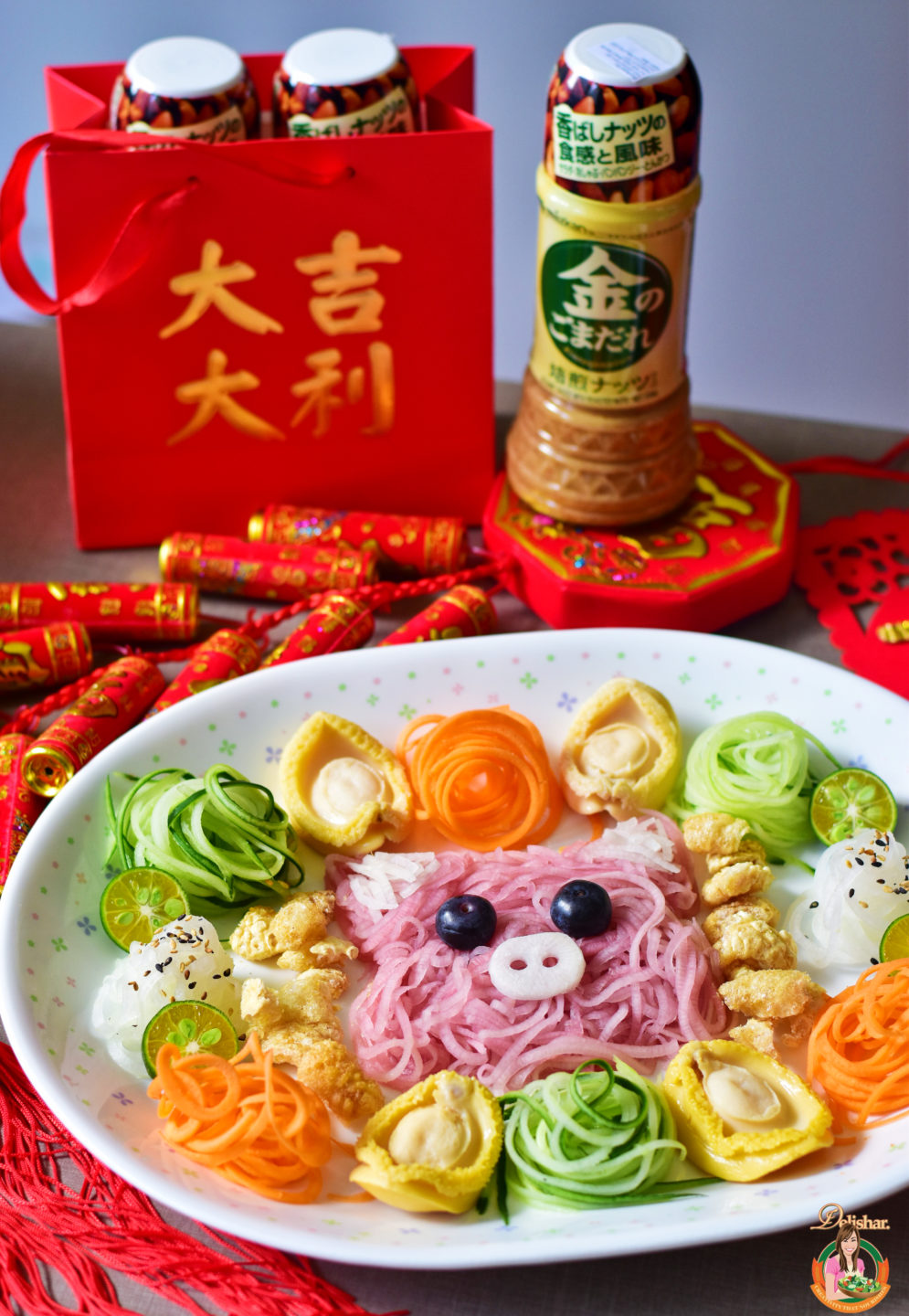 You can get Mizkan's products at any major supermarkets and Redmart. Looking for inspiration for your CNY feasts? Here are some other ways you can use Mizkan's products: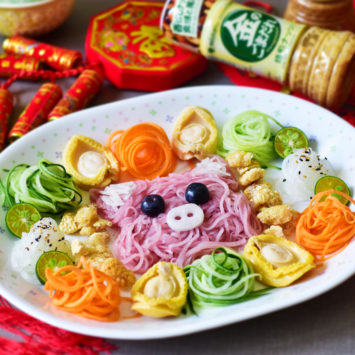 Yu Sheng (鱼生)
Sharon Lam
8

pcs

baby abalone

300

ml

Pomegranate juice

1

small

carrot

shredded

1

small

daikon radish

shredded

1

small

japanese cucumber

shredded

1/2

tsp

white sesame seeds

1/2

tsp

black sesame seeds

2

pcs

blueberries

for the eyes

1

round

thin slice of daikon radish

for the nose

2

pcs

kalamansi

halved

Mizkan Roasted Sesame Sauce with Nuts

to taste

Pork Scratchings / Rinds / Chicharrones

to taste
Reserve a little of the shredded daikon for the piggy's ears and for the sides. Then submerge the majority into the pomegranate juice to get it tinted. Let it sit for at least an hour or overnight.

Drain when ready to use. 

Assemble by shaping the tinted daikon into a piggy shape. Carve out the piggy's nose using the daikon round. Punch out using piping tips. Create eyes with blueberries.

Place the rest of the shredded veggies on the side. 

Place baby abalone between shredded vegetables and sprinkle sesame seeds on vegetables. 

Place kalamansi halves around the plate and crispy pork rind around the piggy. 

Dress with liquid gold (Mizkan Roasted Sesame Sauce with Nuts) to taste.

Toss and huat ah!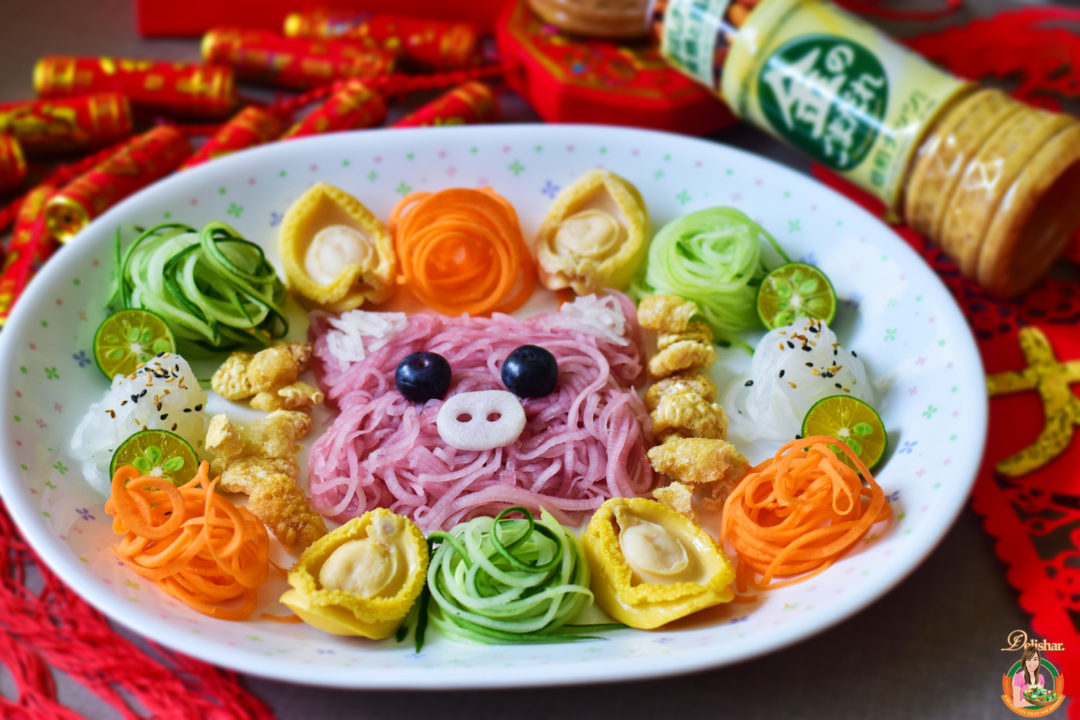 This post is in collaboration with Mizkan Asia. However, all opinions are of my own. 
…