Two days ago, I posted a recipe of One Pot Spinach and Tomato Pasta on my cooking blog. I served that together with this super easy crispy skin chicken. When I said easy, I mean really easy. It only requires 4 ingredients. Salt, pepper, butter, and chicken (duh!).
When I took the chicken out of the oven, it got the husband very excited. Well, to be honest, it got be excited too! The hardest part of this recipe is the waiting time. Not waiting for it to be cooked, but waiting for the chicken to rest so that it's juices distributes evenly. Searing the chicken skin keeps the chicken moist while it continue to cook in the oven. I regretted not taking a picture of the chicken when I carved into it. But if you make it, you'd understand why. We were way too excited (and hungry) for another picture.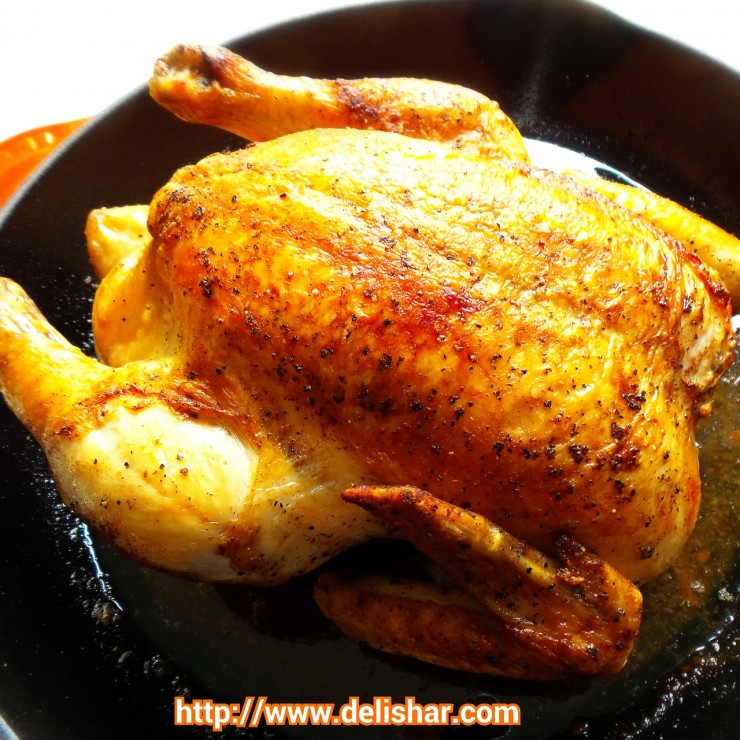 Wash up was so easy, all thanks to my 26 cm Le Creuset Skillet. Psst, Le Creuset is currently having some awesome promotions on their cookware! Because everything was done in the skillet, from searing the chicken, to roasting, and even serving. I only had that very few things to clean up that evening. 
The whole family thoroughly enjoyed our dinner that night. Efficient cooking and lesser dishes to wash, means that I get to spend more quality time with the husband and girls! We cuddled up on the couch for a little TV time that evening before retiring for the night. Every night should be so simple, blissful, and blessed! Surrounded by love ones, and good food. It is the simple pleasures like this that makes me smile. Do you feel the same too?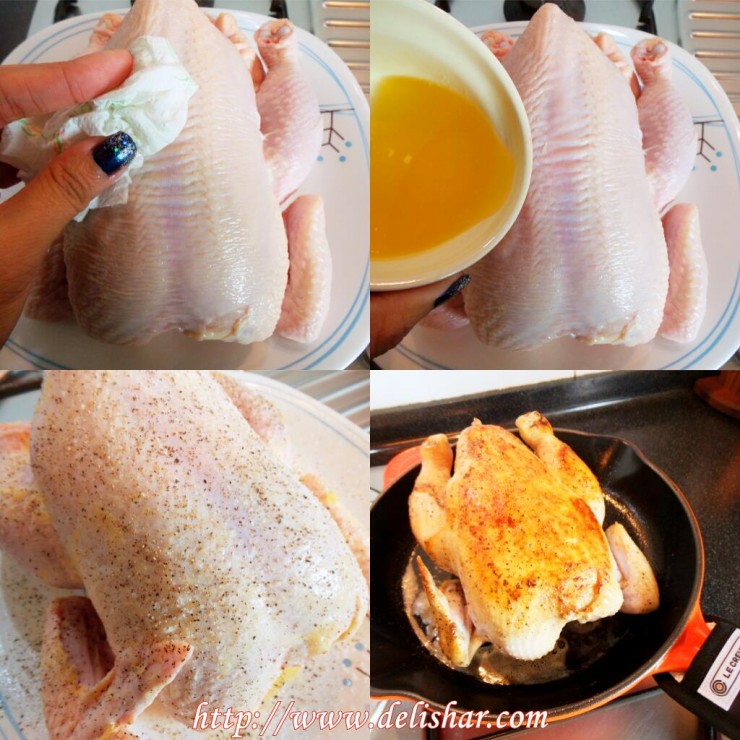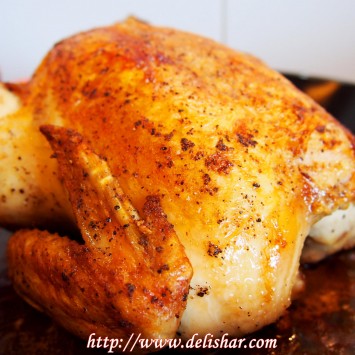 Skillet Crispy Roast Chicken
Delishar
1.6

kg

whole chicken

cleaned

1/4

cup

melted butter

Salt and black pepper to taste
Preheat oven to 190C

Rinse and pat dry chicken with kitchen towel.

Brush on melted butter all over the chicken.

Liberally season with salt and pepper.

Heat pan on medium to medium high, then brush on remaining butter to grease pan.

Sear chicken on all sides, about 3-4 minutes each side.

Place chicken, breast side up on skillet.

Bake for 1 hour to 1 hour 10 minutes or until juices runs clear. (Mine was done at 1 hour)

To be safe, the thickest part of the thigh should reads 74C when probed with an instant read thermometer.

Allow to rest for 15 minutes, tented with foil before carving.
Truss the chicken if you prefer. 🙂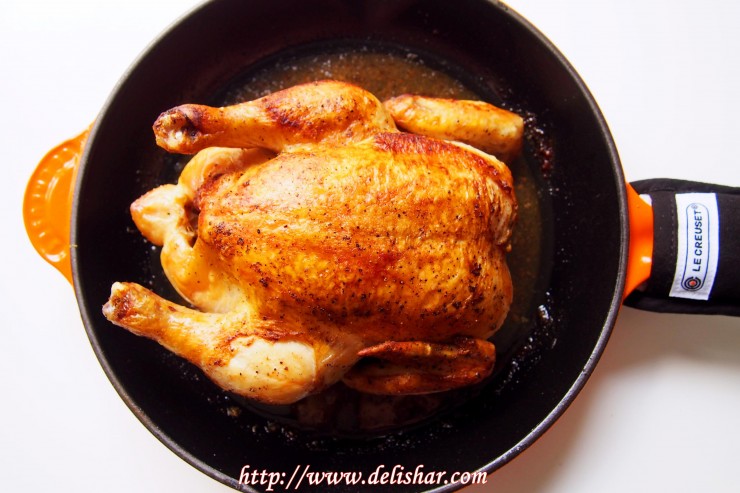 …