A couple of weeks ago, I got to work with an electronic kitchen machine, the Bellini SuperCook Kitchen Master. I conveniently named her Belle. Belle was the sous chef in my very tiny kitchen. And she was an awesome help, not only because of the efficiency of her work, but also because she worked over-time for me without complaining. That freed up my time for me to do some very important stuff, shopping. On-line shopping for CNY clothing to be specific, and 2 dresses to be even more specific. 😛 So, thank you Belle. Without you, I'd be standing by the stove, sweating my behind off and working the arm muscles with the constant stirring of the risotto.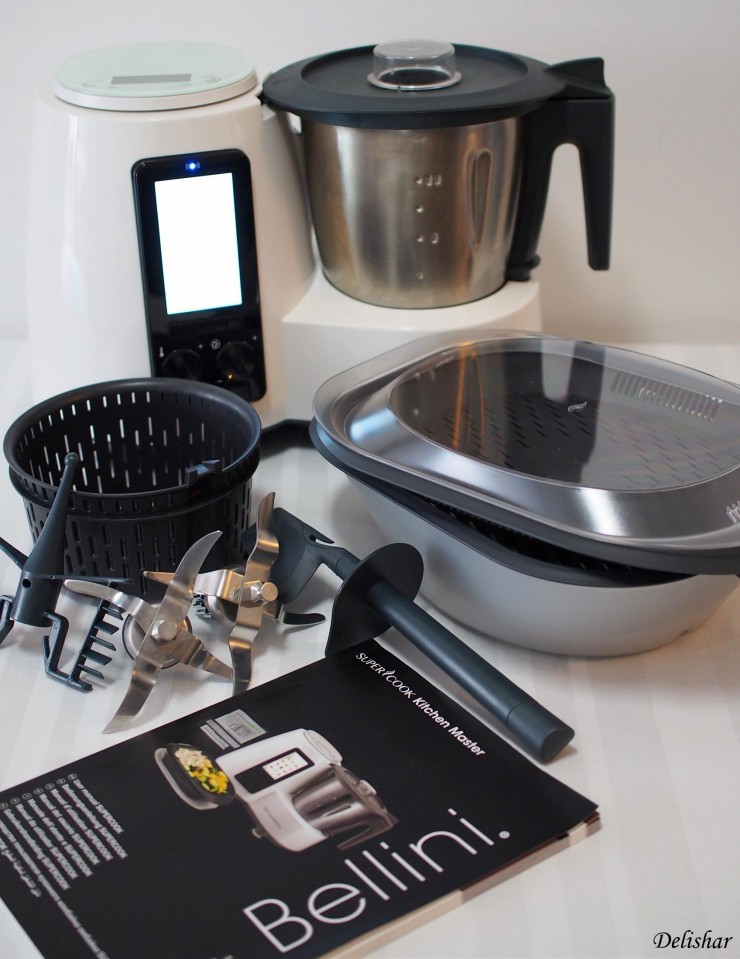 Two weeks ago, I shared how I used the Bellini SuperCook to make Hainanese Chicken Rice. The machine allowed me to steam a whole chicken, collect the juices to make fragrant chicken rice. As mentioned before this affordable German engineered cooking machine that will be available in SG soon. Priced at almost half of what you will pay for competing brands. 
Hereis a quick look at the Specifications of the Bellini SuperCook:
2 Liters Stainless Steel Jar
13 functions including steaming, blending, kneading, pulverising and chopping
Cooking temperature: 40 ° – 130 °C, in 5 °C steps
1000W heating for cooking, 500W for mixing
10 speeds + turbo mixing functions
Libra Weighing scale
Standard accessories: Vapore steam trays, measuring cup, 
stainless steel knife (Sharp), 
stainless steel knife (Blunt),
stainless steel jar, cooking basket, whisk paddle, spatula, recipe book, Yumi App with SD card.
Yumi Control System with 36 installed recipes collection and access to over 3800 free online recipes that you can download and save on the system.
Wifi synchronisation between the Yumi Control System and SuperCook Yumi App on your mobile phone. Your phone would then guide you through the precise steps of cooking your favourite dish. You can either create your own recipes and upload them or you can download the free recipes and use them at your convenience
This time, I made a creamy risotto that packs a punch, then topped it with a 75C sous vide egg with lava yolk for the double oomph factor. When I first received the machine, and learned about the stirring blade, it struck me that I can make creamy risotto without any effort at all! So naturally, I started pairing ingredients in my head.
A lot of my cooking blog readers have requested for vegetarian recipes (yes, of course I heard you). So here's one to add on to your cooking repertoire. Of course, the egg is up to your personal preference. I opted for an organic vegan curry paste in this recipe, but you can use whatever you fancy. 
The SuperCook did a wonderful job as you can see. From chopping to sautéing, and cooking the risotto perfectly! The risotto turned out al dente and absolutely creamy. Because I left it up to the machine to do the cooking & stirring, I have to admit that I was slightly worried that my risotto will turn out like congee, but it didn't!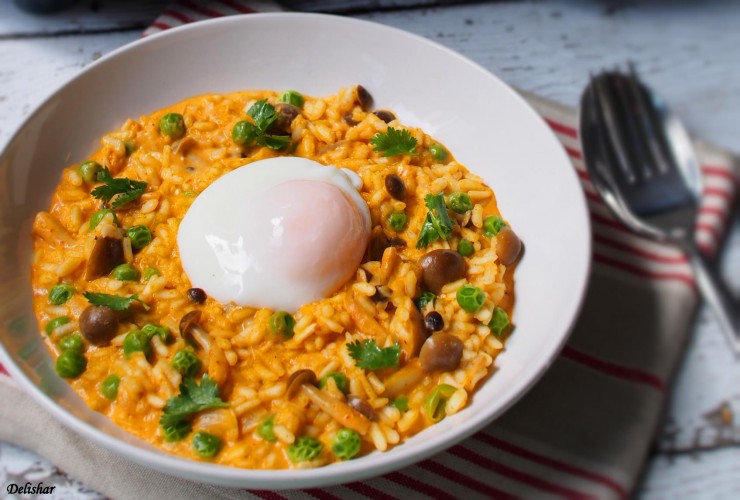 Let's talk about the egg. Yes, I made it in the SuperCook as well. The cooking machine allows you to set and maintain a cooking temperature, and with that function I though why not try to see if I can sous vide something. And sous vide I did. It took a while for the water in the jar to get to the set temperature. I had to do a little trial and error, nothing too major. I used a kitchen thermometer to monitor the water temperature.
First time, I set the temperature to 75C, speed 2 and it took about 18 minutes to get the water up to temperature. Then the next time, I set it at 80C, speed 3 to get the water moving a little more. This time, only about 8-10 minutes to get the temperature up. I lowered the temperature to 75C, and popped the eggs in for 13 minutes. The eggs turned out AMAZING. The husband came home from work, and had 2 servings of the risotto. He commented that it was spicy but could not stop eating it. 2 hours after dinner, he went to the fridge and had another serving.
If you are interested in the SuperCook, and would like to learn more about it, visit www.sgsupercook.com for more details, and like their Facebook Page to keep abreast to tips, and promotions. The Bellini SuperCook Kitchen Master is set to launch sometime in March 2016. Register your interest now. 🙂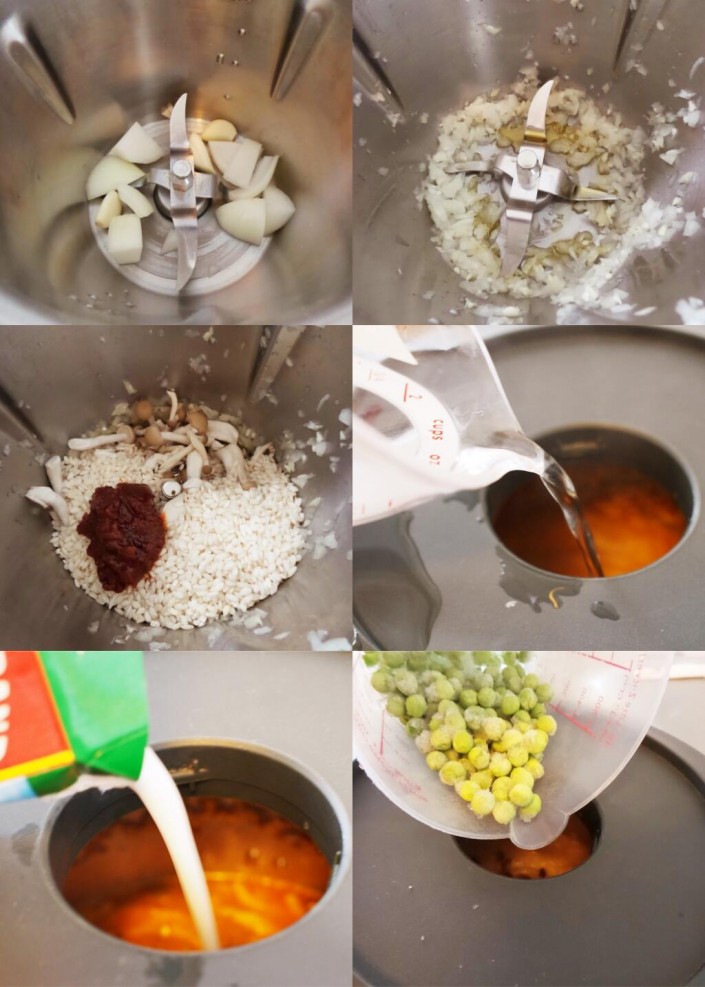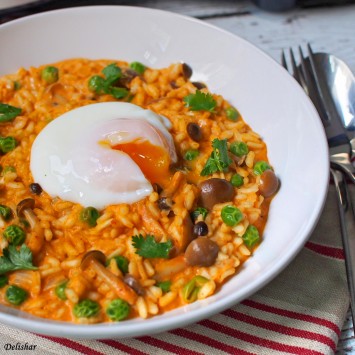 Thai Curry Risotto
Delishar
200

g

Aborio Rice

200

g

Shimeji Mushrooms

cleaned and separated

1

tbsp

coconut oil

or olive oil

2

cloves

garlic

1/2

yellow onion

400

ml

hot water or salt free vegetable stock

200

ml

coconut milk

1/2

cup

frozen peas

1 1/2

tbsp

red curry paste

or to taste

Salt and pepper to taste

Chopped parsley to garnish
Place onion and garlic into jar with sharp blade attached.

Process at speed 5, 10 seconds.

Scrap down with spatula, and sauté at speed 1, 90C, 3 minutes.

Add mushrooms, curry paste, and arborio rice.

Sauté at speed 1, 80C, 90 seconds.

Pour in hot water/stock, coconut milk, and cook at speed 1, 90C, 18 minutes.

Add frozen peas, season with salt and pepper to taste, and cook at speed 1, 90C, 2 minutes.

Remove to serving plate, and garnish with chopped parsley.
Directions for cooking in pot/french oven.
Dice onions, and mince garlic.
Saute onion until translucent with coconut oil, then add garlic and saute for 30 secs.
Add rice, mushroom, and curry paste. Saute for 1 minute.
Add hot water/stock 1/2 cup at a time, stirring constantly allowing liquid to be absorbed before adding the next 1/2 cup.
Do the same for coconut milk until desired consistency.
Season with salt and pepper to taste.
Add frozen peas 2 minutes before removing from heat.
Rice should be tender but still firm to the bite, cooking time about 25 minutes.
Garnish with chopped parsley.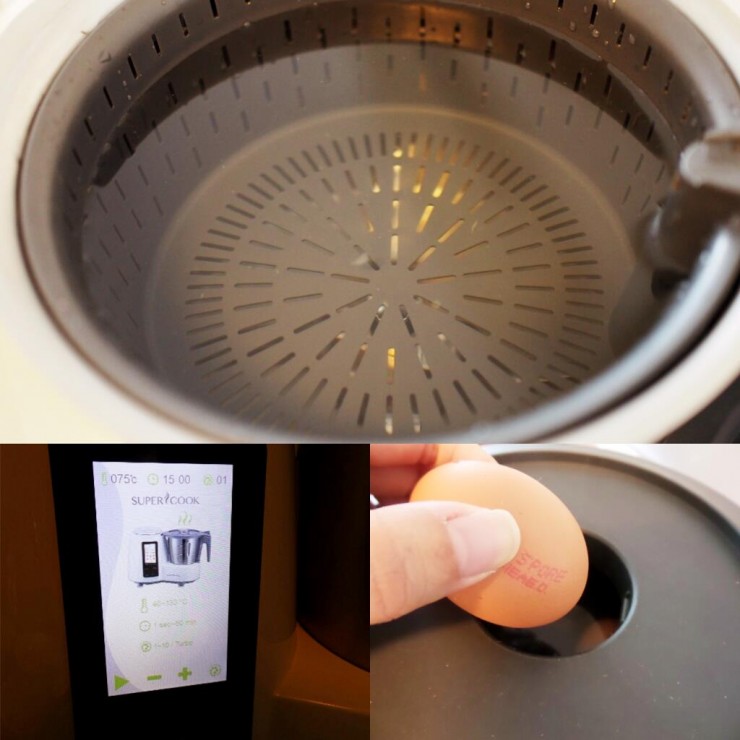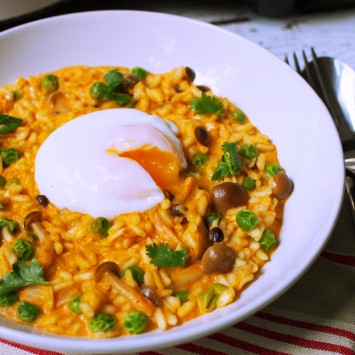 75C Sous Vide Egg
Delishar
2

large eggs

2

litres water
Place rice basket into jar.

Add enough water to submerge eggs.

Remove eggs, and bring water up to temperature.

Heat water at speed 3, 80C for 10 minutes.

When timer is up place eggs in basket, set at Speed 2, 75C, 13 minutes.

Remove from basket and place eggs in cold water to stop cooking process.

I recommend to serve immediately.

Crack egg over risotto and serve.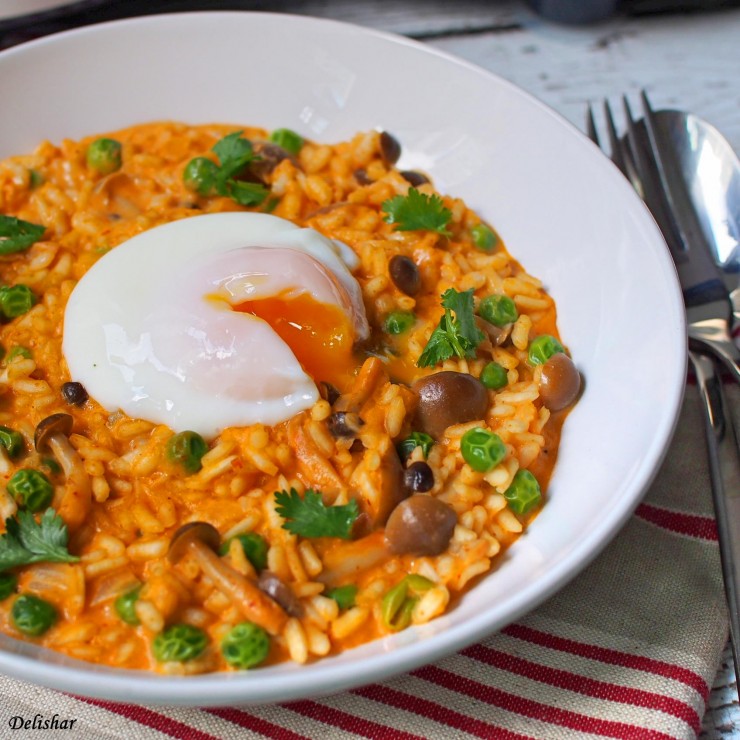 Disclaimer: While this post was a made possible by SGSuperCook.com. All the above opinions are of my own.  
…