This is another recipe that is close to the heart. It reminds me of the time that I used to live with my maternal grandparents when my grandfather was still around. I still think of him every now and then, and it reminds me that I need to make time to visit my ageing grandmother. Yes, I've got to be better at prioritising!
 You see, my grandmother or Popo as I called her, is 86 now. She is still healthy and active, but her memory is failing her. She can't create new or short term memories any more. I love that woman right down to each and every single winkle on her. Mind you, my popo isn't someone you want to mess with, she can be difficult, very difficult. But I love her anyway, even her mean streaks, and I would never want anything about her to change. 🙂
This dish is something that my popo or gong gong (grandfather) would make for dinner. Something that I really look forward to after a long day at school. Pork pieces stewed until tender with melt in the mouth root vegetables. I particularly enjoyed ladling the thick gravy over steaming white jasmine rice, and enjoying it pipping hot! Just writing this is making my tummy growl! I will be making this again real soon, and bringing it to my Popo so we can both enjoy it. 🙂
This will be a good dish to bring to a reunion pot luck. It's a dish that is perfect for both adults and children. I can't wait to be spending time with my family over reunion dinner this Chinese New Year. And speaking about it, have you participated in the CNY 2016 S$500 Giveaway yet? If not, go to the end of this post and complete the giveaway widget! Remember the more options you complete, the more entries you will get! Good luck!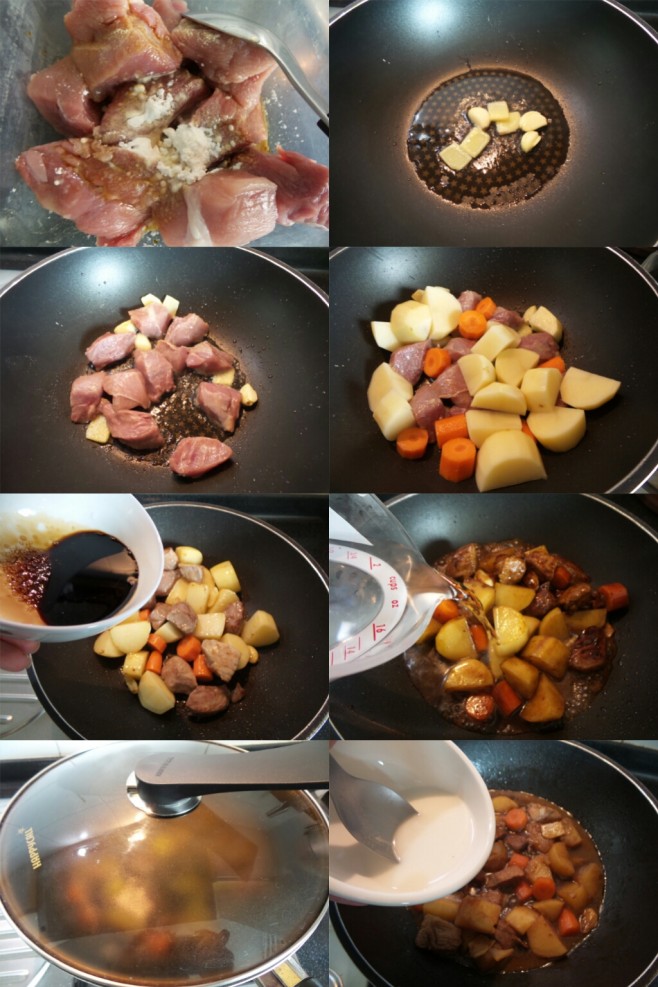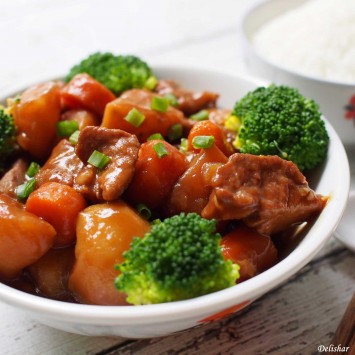 Pork and Potato Stew
Delishar
Serves 2-4 as a multi dish meal
400

g

pork shoulders

cubed

2

potatoes

peeled and cubed

1

large carrot

cut into 1 inch rounds

3

cloves

garlic

smashed

4

slices

old ginger

1

tbsp

cooking oil

1

tbsp

sesame oil
Marinade
2

tsp

light soy sauce

1

tsp

sesame oil

1

tsp

corn flour

White pepper to taste
Stewing sauce
2

tbsp

light soy sauce

1

tbsp

dark soy sauce

1

small piece of rock sugar

or 1-2 tsp brown sugar

1

cup

water

Corn starch slurry
Heat your pan on medium high heat, add oils.

Saute ginger and garlic until fragrant.

Add pork cubes and cook for 2 minutes.

Then add potatoes and carrot.

Saute together for a minute.

Add light soy sauce, dark soy sauce, rock sugar and toss to coat.

Pour in water and bring to boil.

Lower heat to low, cover, and allow to simmer for 25 minutes or until potatoes are soft and pork tender.

Thicken gravy with cornstarch slurry.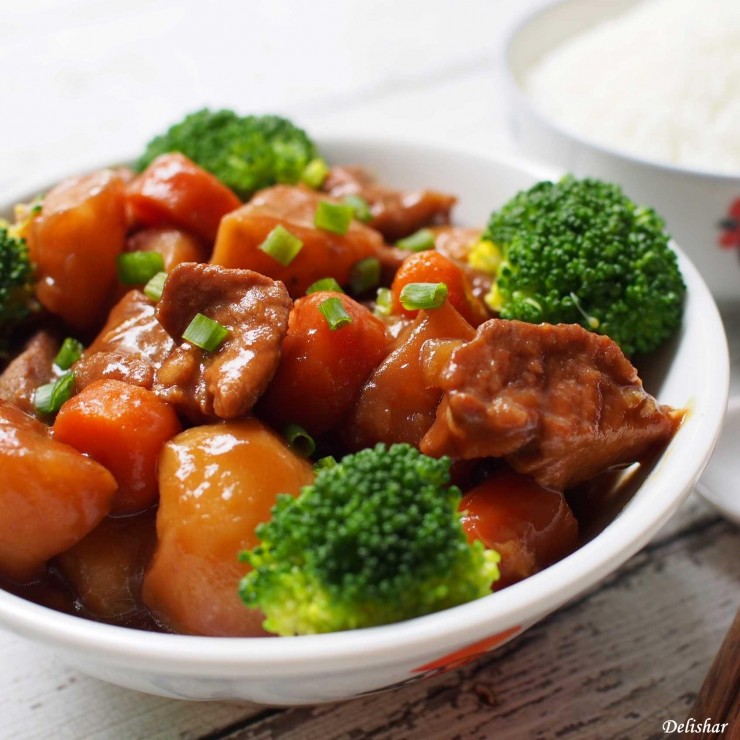 a Rafflecopter giveaway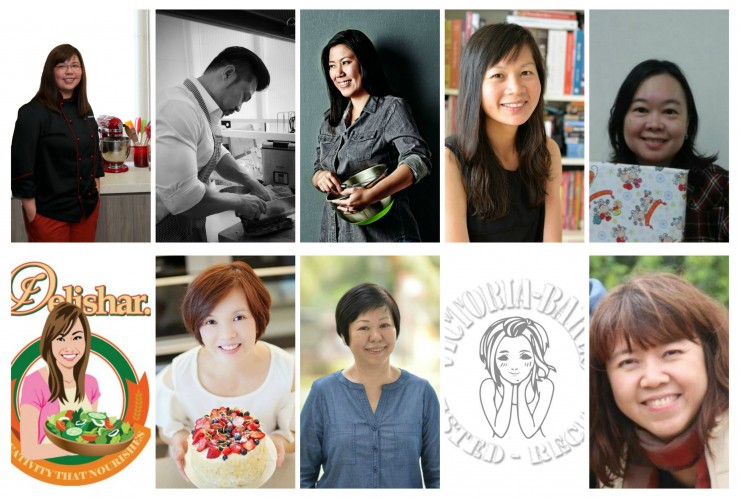 This giveaway is brought to you by:
*One Prize of SGD500 will be sent to one winner via Paypal (or bank transfer within SG). An email will be sent to the winner to notify him/her of the win. Should the Organiser (Diana) not receive a reply within 48 hours, another winner will be selected. This contest is opened to overseas participants. 
…