Yup, I think I get a little out of control with the peanut butter cups when I visit the USA. It is so cheap there! We lugged back about 1.5 to 2 kg worth of Reese's peanut butter cups. *grin* And as I was unpacking, I was mentally going through what I'll do with them. I'm was jet lag, but I yearn so badly to make something with the abundance of PB cups.
In my head, I was battling between going to bed or going to bake. Well, as you can see. Going to bake won, and I'm glad it did. 40 minutes to whip this up and pretty effortless. But my girls were so happy to be able to enjoy this treat (although they were only allowed to share one) and I got to deliver some the muffins to some really awesome people. 🙂 Makes me happy to know that it put a smile on their faces.
The muffins turned out moist and chocolately. My dear friend loved the hint of saltiness from the peanut butter cup and chips. Can't go wrong with peanut butter and chocolate can we?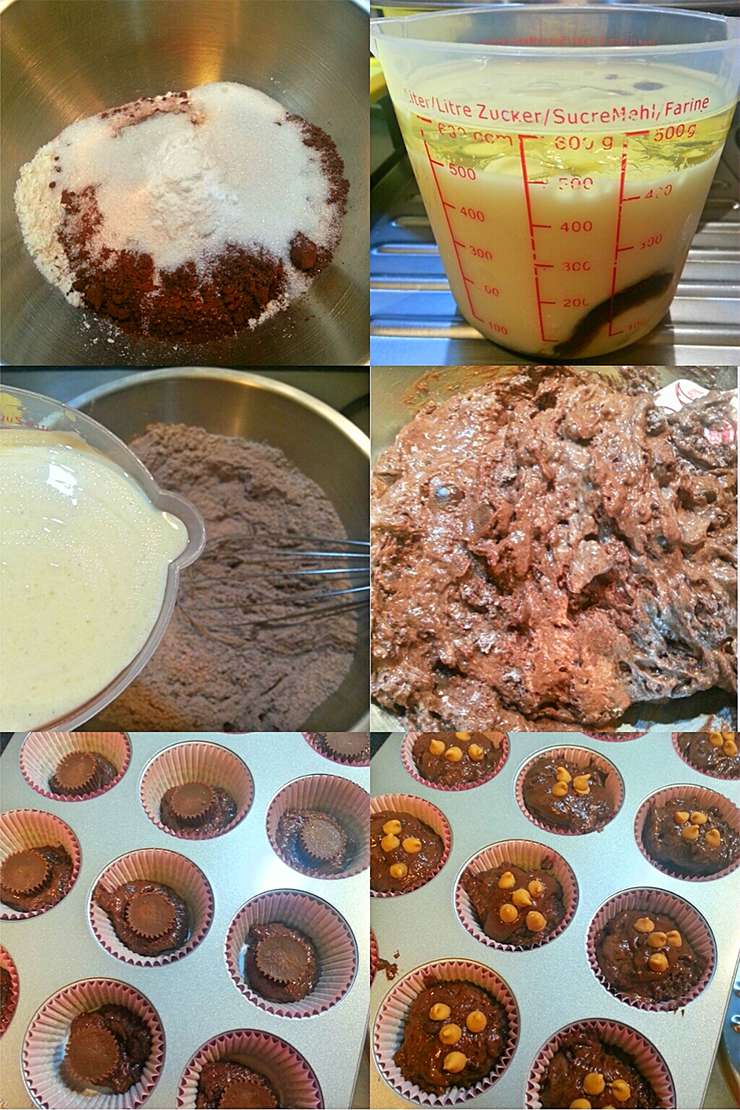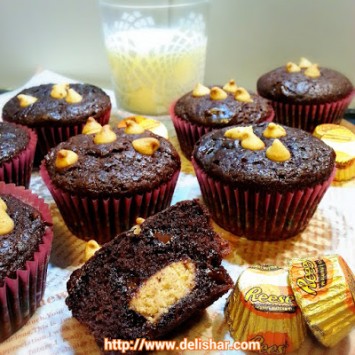 Reese's Peanut Butter Cup Stuffed Chocolate Muffins
2

cups

all purpose flour

3/4

cup

castor sugar

1/2

cup

good cocoa powder

I used Valrhona

1

tsp

espresso powder **

optional, read note

1

tsp

baking soda

1/2

tsp

salt

1

cup

chocolate chips

18

Reese's peanut butter cups

frozen

1

cup

greek yoghurt **

1

egg

1/2

cup 

+ 2 tbsp milk

1/2

cup

vegetable oil

1

tsp

vanilla bean paste/vanilla extract

1/4

cup

Reese's peanut butter chips for topping
Preheat oven to 180C.

Line muffin pan with paper liners.

In a large mixing bowl, add flours, baking soda, salt, sugar, cocoa powder, sugar, espresso powder, and 1 cup chocolate chips.

Whisk to combine.

In a measuring cup, add yoghurt, egg, oil, milk, and vanilla extract.

Whisk till combined.

Pour wet ingredients into dry ingredients.

Using a spatula, mix until batter is just combined and still lumpy.

Do NOT overmix!

Spoon 1 tablespoon of batter into prepared liners, and top with a frozen peanut butter cup in each liner.Then spoon in batter to cover peanut butter cup, and fill liner to 3/4 full.Top with peanut butter chips.Bake for 18-20 mins or until skewer comes out with a few moist crumbs.

Leave to cool in pan for 10 minutes before transferring to wire rack to cool completely.

Store in airtight container.

Serve with a glass of milk.
The only purpose of the espresso powder is to enhance the taste of the chocolate. You will not be able to taste the coffee, and the amount is too little to keep you up. If you don't have it or is uncomfortable adding it, then please omit.
Greek yoghurt has a thicker consistency as compared to regular plain yoghurt. However, you only have regular plain yoghurt, it is a good substitute.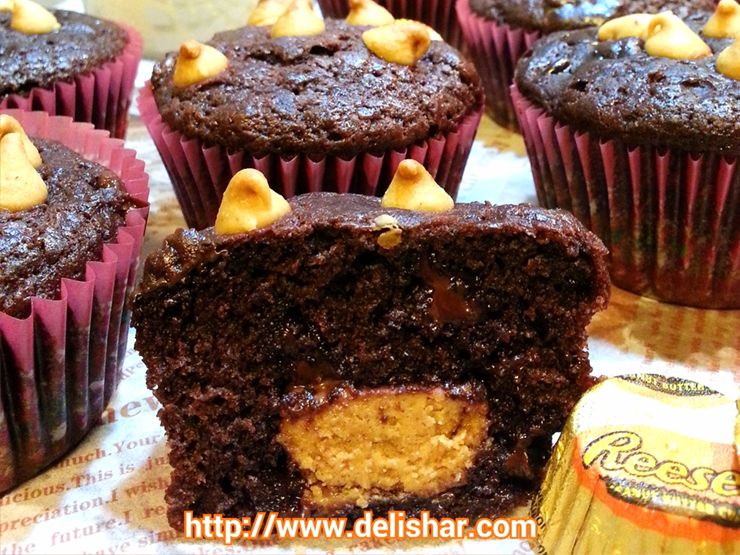 If you enjoy this combination too, check out my other PB and chocolate recipes:
…