I have no idea why it took me this long to make sun dried tomato pesto for the family. That thing is amaze-balls! I did make amends for that though. The day after I made this recipe, I went out to get more sun dried tomatoes. Proceed home to make myself a huge tub of pesto, which I have been using for chicken, fish, pasta, wraps, and sandwiches. It taste so good and it is so versatile!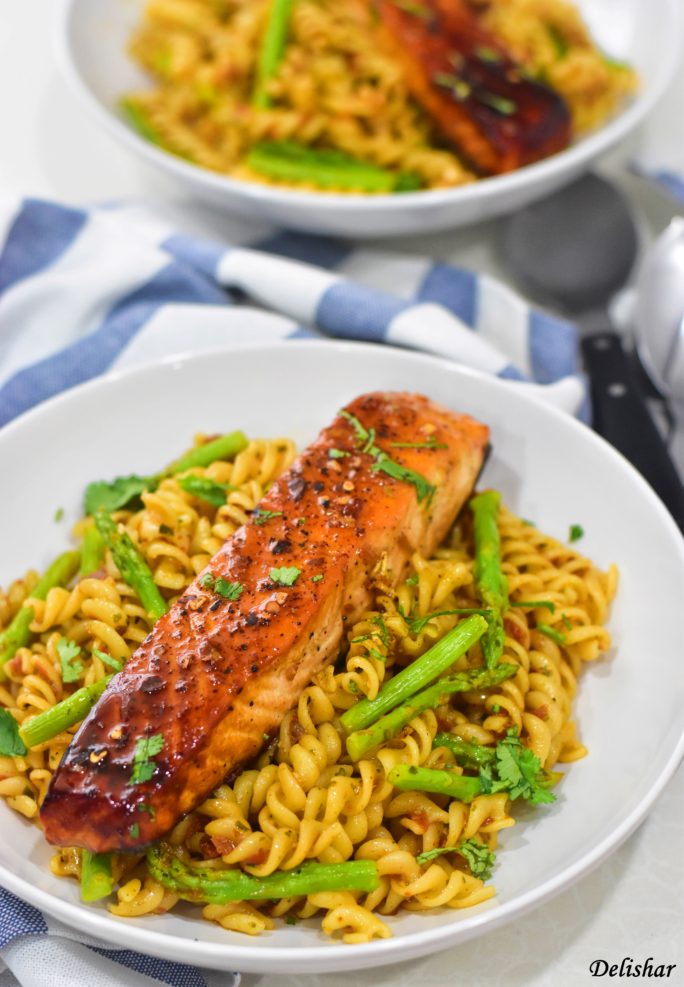 The husband and kids absolutely adored me that evening because of this dinner. The husband was going on about how good the pasta was, and how the sweetness of the salmon beautifully compliments the pesto. The girls enjoyed their dinner so much that they requested for me to make it again, to pack in their school lunch box. Did I also mentioned that they were asking for additional serving? There were not enough to go around, twice! So, if you are making it. Make more. Leftovers, if any, is always good for lunch the next day.
I used organic extra virgin olive oil from Naturel and their range of organic pasta as well. Don't skim on the fish. If you have not tried wild caught salmon, you are seriously missing out on the good stuff. I promise you, you will be able to taste the difference. I get my supply of wild caught fish from The Alaska Guys.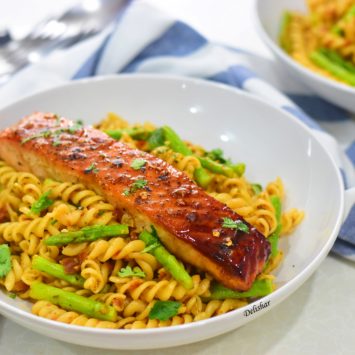 Browned Butter Salmon on Sundried Tomato Pasta
Delishar
Sundried Tomato Pasta
240

g

fusilli

200

g

asparagus

woody ends removed and cut into 2 inch length

1/4

cup

pasta cooking liquid

1

cup

25g fresh basil leaves

85

g

sundried tomatoes

1/4

cup

59ml extra virgin olive oil

2

tbsp

shredded Parmesan cheese

Salt and pepper to taste
Brown Butter Salmon
4

pieces

200g each Wild caught salmon fillet from The Alaska Guys

4

tbsp

57g butter

4

tbsp

honey

1

tbsp

lemon juice

1/4 – 1/2

tsp

red pepper flakes

adjust to taste

3

cloves

garlic

minced

Salt and black pepper to taste
Sundried Tomato Pasta
Cook pasta in salted water until al dente.

In the last minute of cooking the pasta, add in asparagus.

Drain and set aside.

Place all the ingredients into food processor EXCEPT pasta and pasta liquid.

Process until you get a paste. If too thick, thin it out with pasta liquid.

Toss pesto with cooked pasta & asparagus.
Brown Butter Salmon
Preheat oven to 200C.

Season fish with salt and black pepper.

In a oven safe pan over medium heat, melt butter and allow to cook until it starts to brown and smell nutty. (be careful not to burn it)

Add lemon juice, honey, red pepper flakes and garlic into the pan.

Cook for 45 seconds, and scoop out half of the sauce for serving later.

Add salmon into the pan skin side down and cook for 3 minutes.

Flip, and transfer the pan to the oven to broil further 5-6 minutes.

Drizzle with the reserved brown butter sauce to serve.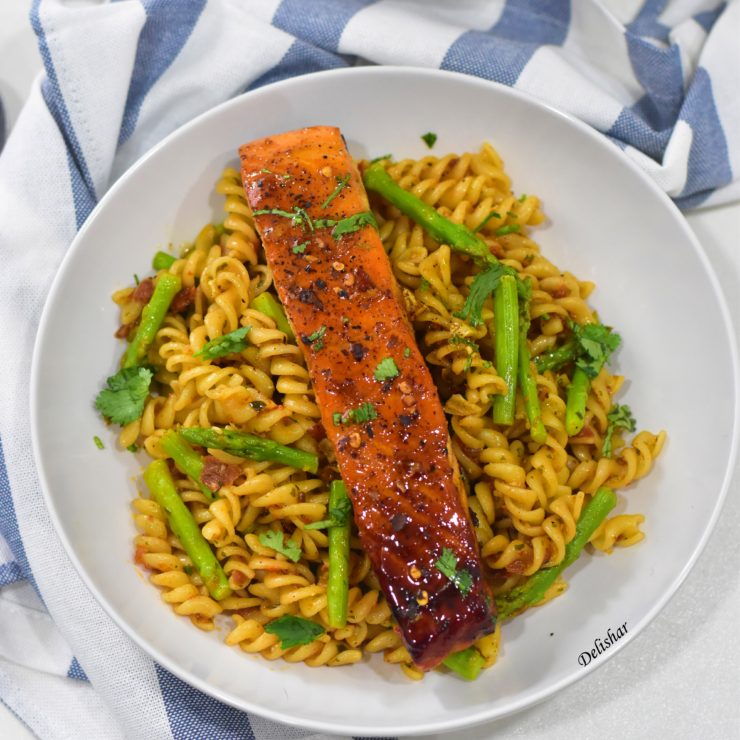 …