Very recently, I had a change in helper. So that meant that it is a start over for us. I have to re-orientate the new helper with our tasks and routines. However, she has very limited knowledge when it comes to the kitchen and cooking. So I've been showing her the ropes around the kitchen. With her earnest and eager to learn personality, I'm sure she will be comfortable in the kitchen soon.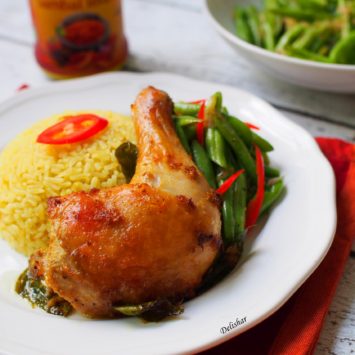 With her in mind, I have been creating recipes that requires little monitoring so she can multi-task, or speedy recipes where she only needs to spend limited amount of time in the kitchen. I often find paste very helpful. They save you time and energy to have to make it from scratch. It's especially helpful when it's Organic, preservative-free, and colours & flavours-free, that way I know I'm not consuming a bottle of chemicals.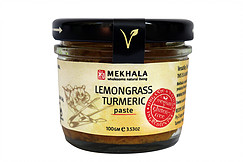 I used Mekhala Living's Lemongrass Turmeric paste to help me with this dish. Here's where you can find their products. I love the flavour it imparts to the chicken! If you don't mind deep-frying, by all means, do so. It'll taste even better. It's just my family preference to opt for baking as a healthier alternative. However, the chicken does not lack in flavour, and it turned out succulent as well! Paired with spiced coconut rice, and simple stir-fried French beans that took me no time at all to cook, our completed dinner was served, stress-free to growling tummies.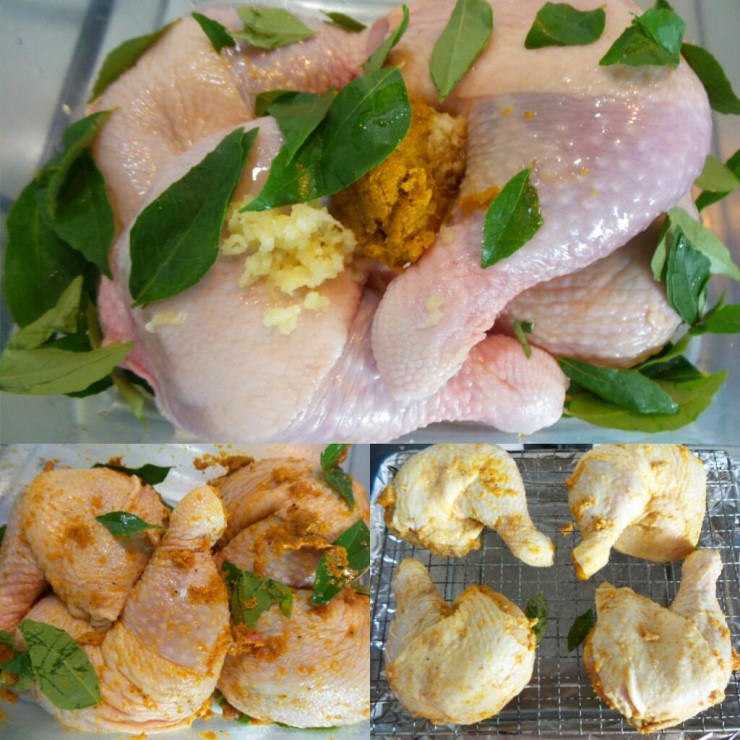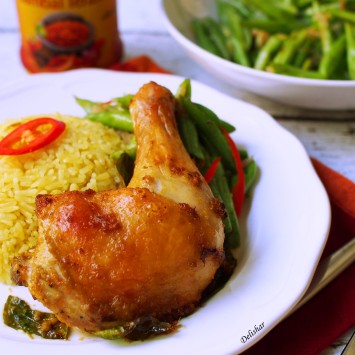 Lemongrass Turmeric Chicken with Fragrant Rice
Delishar
Lemongrass Turmeric Chicken
4

chicken legs

2

cloves

garlic

minced

2

tbsp

lemongrass turmeric paste

I used ready paste from Mekhala

Fish sauce to taste

1/4

tsp

brown sugar

2

sprigs curry leaves

Black pepper to taste
Turmeric Ginger Coconut Rice
2

tbsp

of Mekhala's Lemongrass Turmeric paste

2

cups

of rice

rinsed

200

ml

coconut milk

2-3

tsp

grated ginger

I used 3 coz I like it stronger

1

knotted pandan leaf

water to fill up to your rice cooker mark for 2 cups rice
Lemongrass Turmeric Chicken
Mix all ingredients except chicken and curry leaves together.

Rub marinade all over chicken and place in container.

Crush curry leaves and scatter over chicken legs.

Marinate for at least 4 – 24 hours. (I marinated overnight)

When ready, take chicken out of chiller.

Preheat oven to 200C.

Place chicken on lightly greased wire rack and spray on some oil on chicken skin.

Roast for 35-40 minutes.
Turmeric Ginger Coconut Rice
In your rice cooker, add rice, ginger, and coconut milk.

Top up enough water till your rice cooker marked 2 cups.

Stir in lemongrass turmeric paste.

Add pandan leaf.

Press cook.

Remove pandan leaf and fluff rice before serving.
To make substitute paste:
2 stalks lemongrass, cut into pieces
1 thumb size turmeric
1 thumb size galangal
1 shallot
1 tsp lime juice
salt to taste
1 tsp oil
Splash of water
Blend in food processor until you get a thick paste.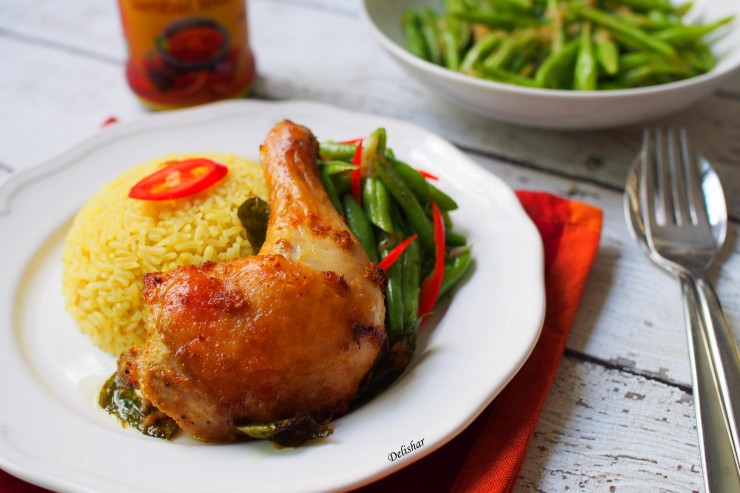 …