While we were visiting my MIL over the Xmas holiday, I came across a TV show that demonstrated how to make stuffed tenderloin with sweet Italian sausage. The next day, we went to the supermarket and I bought some ingredients to replicate the dish. I adapted to the recipe and added fresh spinach and cheese to the stuffing, then grabbed a pack of applewood bacon to complete the mix. 
I have a lot of friends that do not like using tenderloin as they commented that it's a lean, flavourless cut of pork. However, tenderloin is my favourite cut of pork simply because of those reasons that was stated. This cut of meat is tender, lean, and because it is pretty neutral in taste, it will take in whatever flavour you season it with. In this case, the bacon and sweet Italian sausages lend its' flavour in seasoning the tenderloin beautifully. It's even okay to skip the step of seasoning the tenderloin with black pepper. It will still taste amazing, I promise.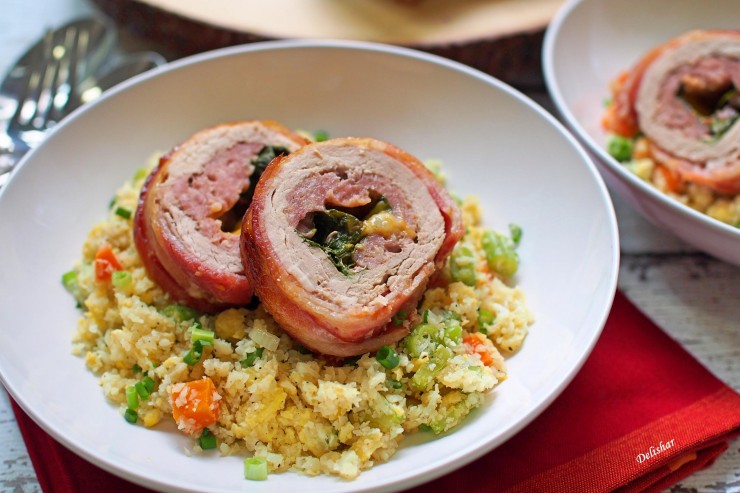 When I served this gorgeous dish up at my MIL, it was all ooos and ahhhs, then everyone started raving about it. That was when I knew I had to recreated in my kitchen to share with you people this amazing recipe. My favourite part of this dish is the first cut when it's still piping hot. How it falls apart with steam streaming upwards, and the cheese, of the glorious cheese oozing out together with the jus of the moist moist meat dripping onto the cutting board. It was pure food porn.
If you are into the keto diet, this will be the perfect high fat, low carb meal. I served it with my Cauliflower Fried 'Rice' for a complete meal. If you do not eat pork, opt for beef tenderloin with turkey or beef bacon and turkey or beef sausages. I'm sure it'll be equally delicious.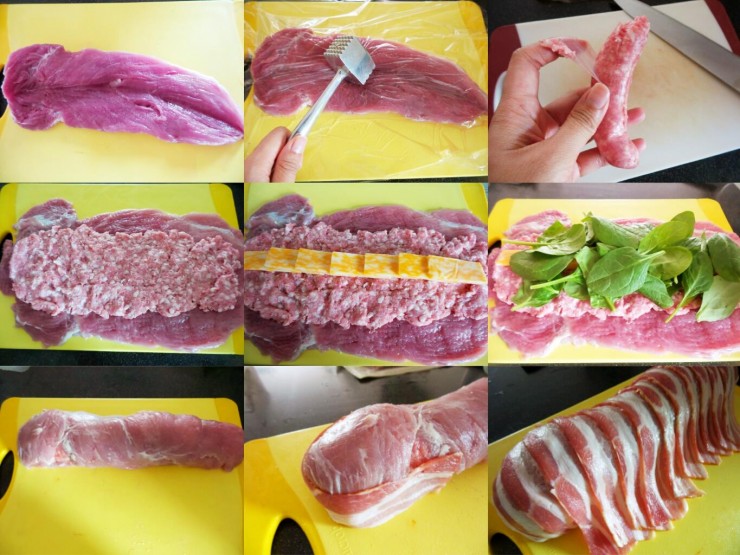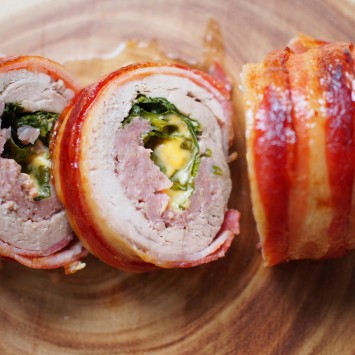 Bacon Wrapped Stuffed Tenderloin
Delishar
Serves 4-6
700

g

pork tenderloin

silvers removed and butterflied

300

g

sweet Italian sausages

casing removed

350

g

streaky bacon

about 150g Colby Monterey jack cheese

cut into 1/4 inch thick pieces

2

cups

fresh spinach

Black pepper to taste

2

tbsp

honey
Preheat oven to 175C/350F.

After your butterfly the tenderloin, place a place of cling wrap over tenderloin.

Pound tenderloin with meat mallet or rolling pin to flatten tenderloin.

Season with black pepper.

Spread sausage meat on flattened tenderloin.

Top with cheese pieces, and fresh spinach.

Roll it tightly.

Wrap tenderloin with bacon strips with seam side down.

Bake for 50 minutes at 175C.

Remove tenderloin from oven and brush on honey over the bacon.

Return to oven to bake for another 10 minutes, or until tenderloin is done.

Allow to rest for 10 minutes before carving.
You can use any cheese of your choice.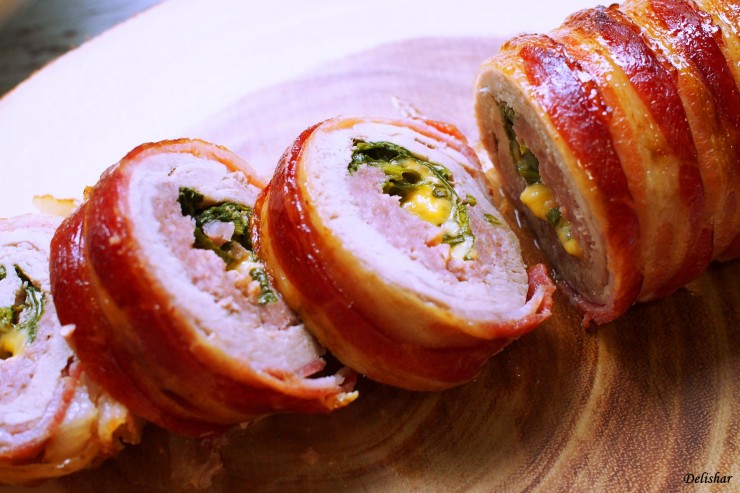 …